6 Necklace Design You Should Check out This Wedding Season
Customize your jewelry with us and express your attitude with your gems on the wedding day.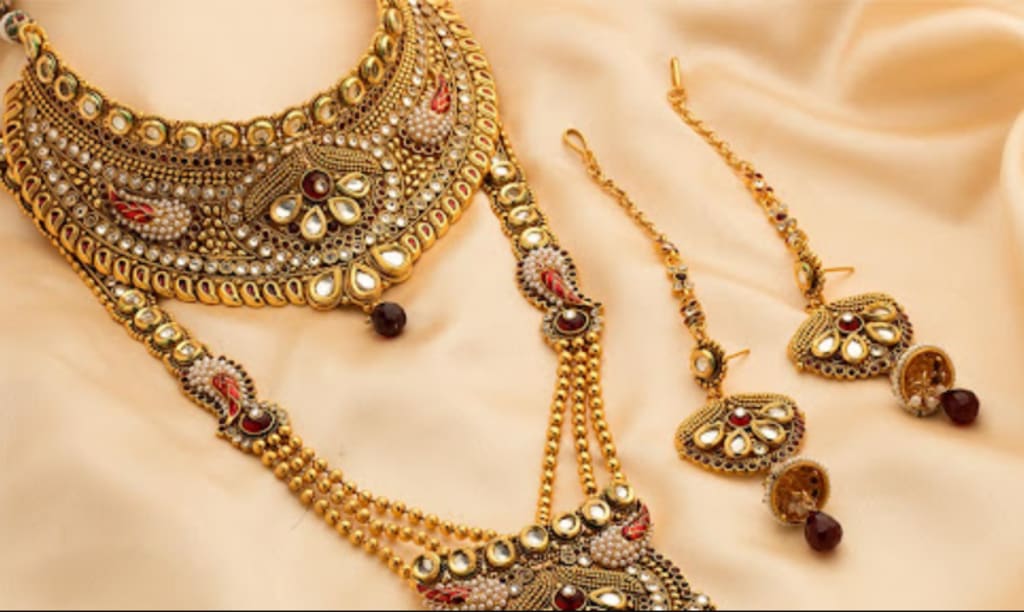 Every girl dreams of a fairytale wedding, in this wedding she is a magnificent bride with a typical gold bridal necklace around her neck, achieving perfection between elegance and sophistication.
We personalize your Gold Plated Jewelry to your liking, and provide handcrafted wedding gifts, using exquisite gems to form dreams. In this wedding season, choose our complex and elegant diamond necklace design to become a model bride.
1) The Diamond Necklace:
As the name suggests, this necklace is an ornament that can be passed down from generation to generation as a family heritage. This extraordinary diamond necklace design features brilliant cut diamonds with modern Western motifs, handmade according to your preferences.
It is modern and elegant in all respects. This unique combination gives the illusion of intricate leaf design patterns, making this necklace legendary enough to become its statement. Use this masterpiece with our Art Deco-style diamond earrings to add more brilliance to your evening.
2) The Bridal Meenakari Necklace:
Bring back nostalgic charm this wedding season by showing off the gorgeous Meenakari Bridal Necklace. Its elegantly assembled traditional design is sure to make you look and feel like a retro goddess.
This beautiful 22 karat necklace features a unique Meenakari design that contrasts with the delicate drops of gold hanging below. You can also enjoy the alternate design of our Meenakari Paisley Traditional Necklace Set to make sure all eyes are on you on your big day!
3) Gold Plated Necklace:
This is another skin-friendly red beauty whose refined and timeless style is unmatched. Her gold-plated necklace and beautiful earrings take her to look to a new level. Nobody usually thinks that this beautiful miniature is included in the Gold Plated Necklaces that are prepared for this wedding season.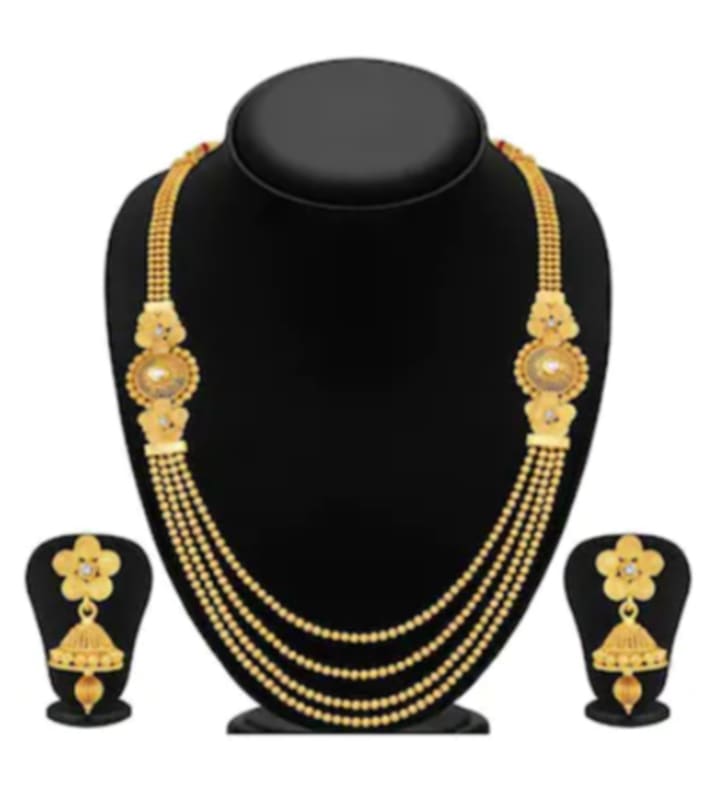 The reason we like our collection of southern bridal jewelry is the range of hair accessories you can choose from. Braid a braid or a bun or tie a knot to your heart's content and you've got a hair accessory to suit every style you like.
4) The Traditional Temple Necklace:
This typical jewelry for traditional South Indian brides is inspired by the ornaments used to decorate the gods and goddesses during the Chola dynasty. Become a South Indian witch with intricate traditional patterns, including dazzling clear-cut diamonds, sparkling rubies, and sparkling emeralds set in pure gold, allowing you to stay true to your conservative roots.
The sheer nature of this personalized necklace stands in stark contrast to the simple and soft South Indian bridal saree. Pair this spectacular piece with our traditional custom-made temple jumkas and bask in the glow under the spotlights like a queen of the monarchy.
5) The Vintage Kundan Necklace:
This huge necklace from Gehna's private collection is a real masterpiece. The vintage Kundan necklace is inlaid with exquisite uncut diamonds, rubies, and emeralds in the eternal Kundan traditional style, adding drama and balance to each bride's jewelry box. The heavy necklace immediately takes you into ancient India, making you feel like a powerful and fearless royal queen.
Also Read: Top 8 Customized Jewelry pieces that you cannot miss on
6) The Intricate Filigree Necklace:
Our filigree bridal necklace uses elegant and delicate filigree craftsmanship to bring a modern and timeless look to every bride. The luxurious twisted strands of 22 karat gold are woven into a complex labyrinth in a modern paisley shape with striking ruby ​​droplets, making the necklace lightweight and suitable for other occasions. Pair this stunning piece with a mesmerizing lurex necklace, or enjoy our intricate alternative lurex necklace design to become a fashionable bride.
Conclusion:
When shopping for jewelry, you can carefully read our handy guide to the essentials. You can also be inspired by these amazing designs and let us personalize the jewelry for you because every bride deserves something unique. Choosing handmade products has many advantages, the most valuable of which is their uniqueness. Customize your jewelry with us and express your attitude with your gems on the wedding day.
fashion and beauty
Our motto is to create a unique jewelry experience for you. We provide Indian, Mexican, brazil, and US wholesale jewelry like Oro Laminado, bracelets, rosary, pendants, CZ jewelry, and many more. Go ahead with Kaash.