Your Junk is an Untapped Treasure of Crafting Supplies
Don't throw that away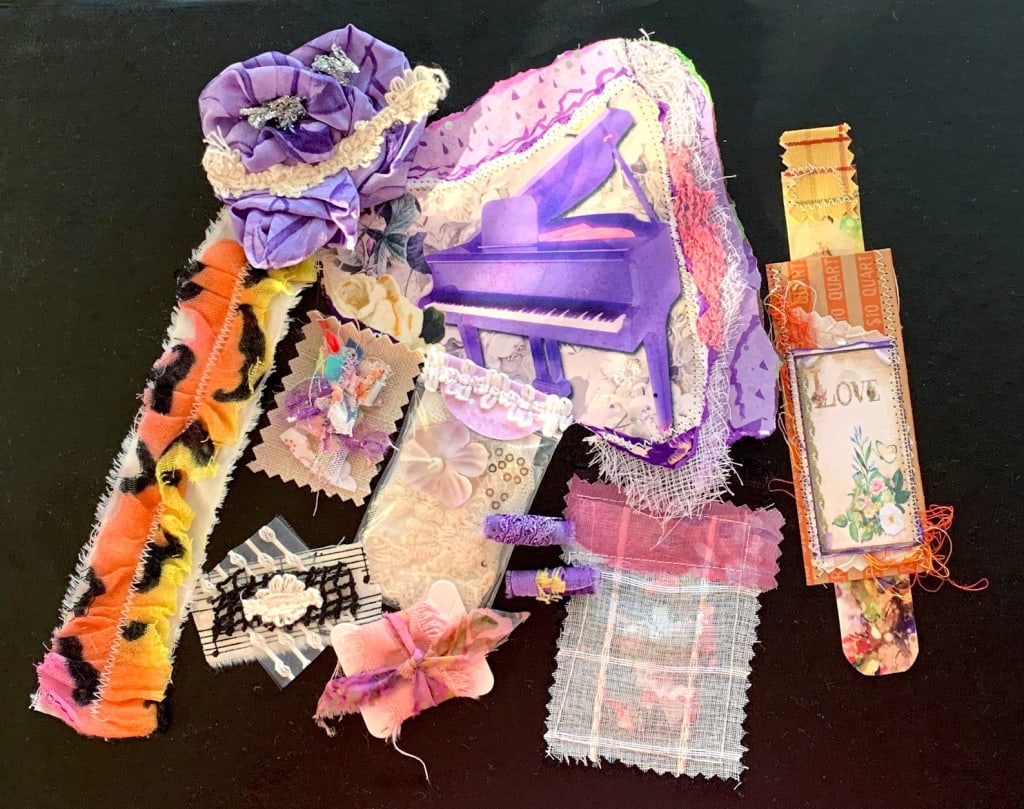 Photo by Lynda Coker
What is a junk journal
It seems that the idea of junk journaling is a little different for each person. There is no 'one size fits all' explanation. This is because each creator puts their own touch and style into their journals.
But generally speaking, most of them share several primary characteristics. They are handmade and created from a mix of found and recycled items such as junk mail, old book and magazine pages, etc.
It's amazing how many of us love our planners, journals, notebooks, diaries, etc. It seems we all have an attachment to the little darlings. Recently I've found a new love for handmade junk journals.
Before you read further, I wanted to give you a friendly warning. Junk journaling can be very addictive!
The most exciting thing about junk journaling is that you can literally make beautiful, heirloom-quality journals from the junk you find around your home. I discovered how to recycle trash into decorative elements to embellish my journals.
This junk journal cover was created using 12" x 12" double-sided scrapbook paper and fabric. But any light-weight chipboard, etc., could be used as well. Cereal boxes make great cover material and they can be decorated to suit your purpose.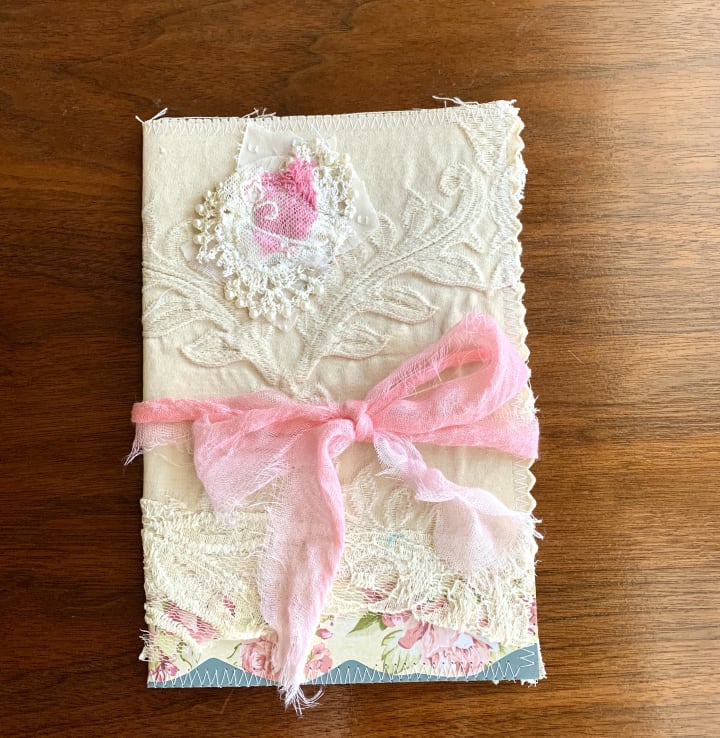 What to put inside
Inside pages can be created from purchased digital kits or created from your personal drawings and artwork along with rescued papers that would normally be trashed.
8.5" x 11" copy paper is a good size and weight for inside pages. These pages are folded and then attached to the cover using a pamphlet stitch. This video will help you understand how to do the pamphlet stitch method.
The most fun for me is in creating the embellishments. I've shown a variety of them in the cover photo for this article. Small crafty elements that create pockets and tucks and the fun things that go into them. Scraps of fabric, trim, torn paper, junk mail, torn magazine pages, used greeting cards, used envelopes, can be used as crafting supplies. The list is really only limited by your imagination.
The photo above shows a page that was created from torn magazine pages that were then collaged to create a new image.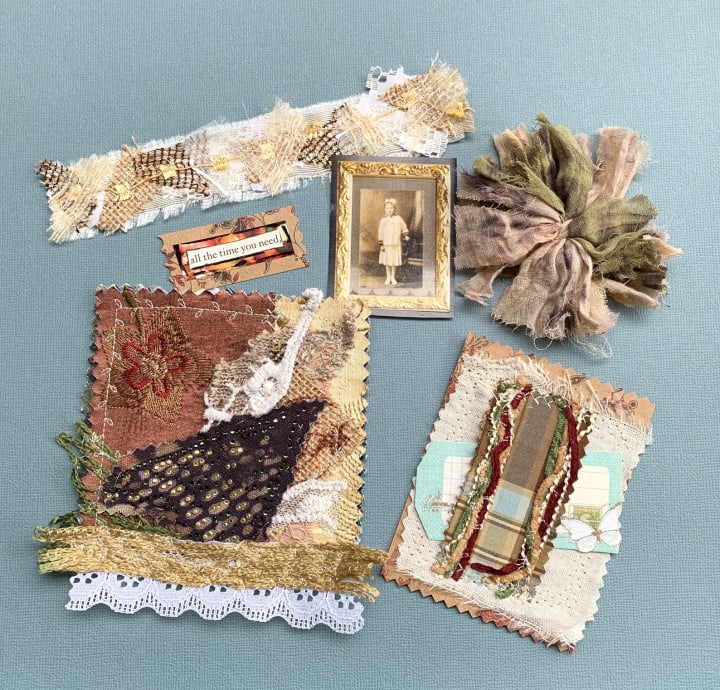 This photo illustration shows two pockets I created from torn papers, fabric, and bits of trim. I sewed the elements together. When placed on one of my journal pages, I would choose two or three sides to glue to make a secure pocket into which I could slip other decorative elements. I like making small booklets and envelopes filled with slips of paper, old tickets, and ephemera to fill these pockets with interesting elements.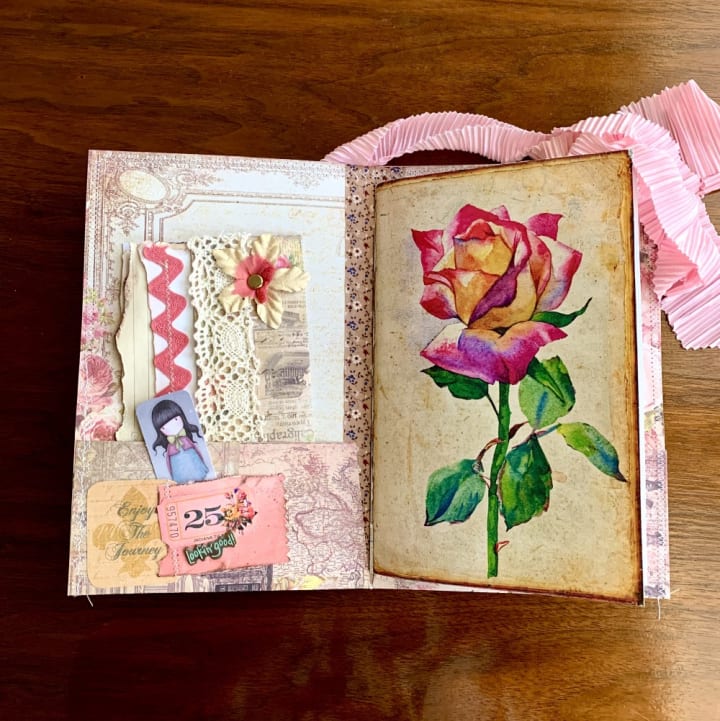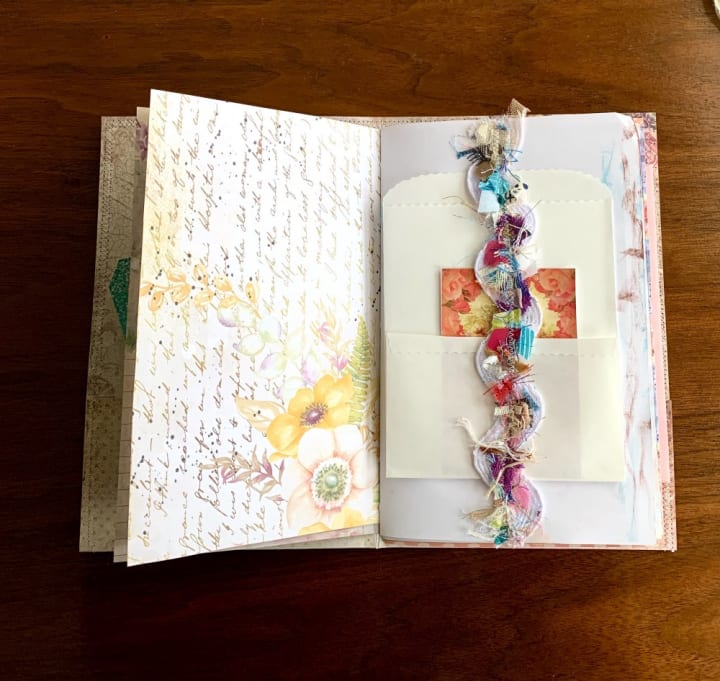 A large piece of Ric Rak with bits of fabric scraps that are glued or sewn to the page at the top and bottom makes a fun belly band for tucking larger items in my journals. Small paper sacks or large envelopes can then be secured behind the belly band and gives more space to tuck away some treasures.
Other things that can be used as pages are large paper dollies, small paper gift bags, old book pages, old ledger pages, coffee or tea-stained paper, watercolor pages, etc.
How to use a junk journal
These are just suggestions. You're only limited by your imagination and passion for a specific idea, memory, event, goal, etc.
Memory keeping is always appropriate
Future goals, strategies, and progress
Special planner
Note-taking for conventions, meetings, seminars, classes, where you want to remember key points
Scripture/Bible meditations
Personal diary
Guest/Friendship registry or sign/autograph book
Coffee Table book
Yearbooks for high school and college
Special Event Planner
Dream journal
Daily habits
Tracker for TV, Movie, Music favorites
Logbook
Financial log and receipt keeper
Doodle art and glue book
Wish lists
Brilliant Idea collections
Words of wisdom and encouraging quotes
Celebrate small achievements and wins
'Let it go' lists
'Want to do' lists
Log important questions you want to find the answers to
Record friendships and why they were successful or not
Map occupational goals
Poetry
Therapy journal
Wedding planner
Fashion journal
Dream Home journal
Sticker/stamp collection
Career Events
Gratitude journal
The most important thing about a junk journal is the fun of creating and using this unique treasure. Why not take a second look at what you throw away as trash and see if you can be inspired to make something truly special.
_____________________
Originally published here