Your 5 Step Guide to Furnishing an Apartment from Scratch
How to Furnish Your Own Apartment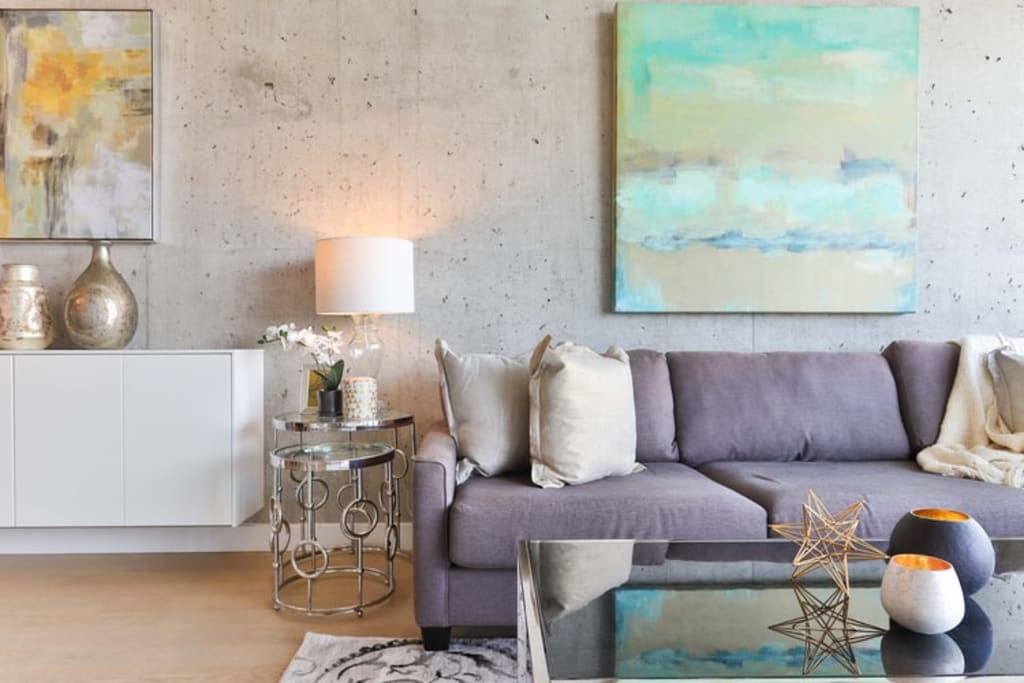 Leasing a furnished space might seem like an easy way to simplify a move.
But is it?
Wouldn't you rather live in a space designed according to your tastes and comfort rather than a standard based on fleeting trends?
The fantastic news is that there are many simple hacks for furnishing an empty apartment. Plus, you have the creative freedom to use your imagination to design a space that suits you.
Time and effort don't have to be huge factors. We'll show you quick and easy ways to procure furniture have it delivered, and even set up.
The process of furnishing your apartment doesn't have to be stressful. With these five tips, everything can and should go smoothly.
1. Assess
Take stock of what you already have and what you need to buy.
It can be overwhelming to tackle every single room at once. Concentrate on one room at a time, formulating ideas for each room.
You should measure each room before you select the furniture. If you already have furniture, measure it as well, so you can match it up to different walls or spaces in your new apartment.
If you're not sure how much more furniture you need to buy, sketch out a rough floor plan of each room. Or, grab a floor plan of your apartment layout from a leasing manager.
On the layout, write down the measurements of each room and walls followed by the measurements of the furniture you already own.
After you have a rough design plan for each room, you can begin moving what you have into place. Keep your sketch on hand so you can reference it as you move each piece of furniture into the room.
2. Tips for designing a layout
If you feel like your design layout is repetitive and boring, it might be because you have too many straight lines. If that's the case, try switching things up.
You can implement furniture placement techniques like the ones below.
Focal point
Setting up a focal point in each room is an excellent place to start. Sometimes a focal point will appear naturally, such as a prominent window. Sometimes you'll have to create one. Putting a large framed piece of art in the middle of your wall is an example of creating a focal point.
Make sure there's plenty of space to move.
One of the most important aspects of arranging furniture is thinking about traffic flow. In other words, your guests should never be running into one another or tripping over furniture to get into another room.
Make sure you plan for ample space between chairs, coffee tables, and sofas—plan for future pieces as well.
A clear path will keep each room looking well organized, and you won't have to worry about people falling and hurting themselves.
Create a balance.
While arranging furniture and other elements in each room, consider the placement and size of each piece. For example, don't put all your large pieces in one area because it can make a room look unbalanced. If possible, implement a variety of furniture with different shapes (as long as everything flows together well).
3. Buy the basics and have them delivered
To decide which furniture is the most important to buy first, try thinking of furniture in terms of function. Whatever furniture you buy, you will need somewhere to sit down and eat, sleep, relax, and furniture to put accessories on, such as a bookshelf.
As time goes by, you can add unique pieces that you'll treasure. But right now, you're building a foundation to support those future finds.
Before you do anything else, focus on purchasing essential furniture.
The easiest way to do this is to shop for basics online and have them delivered. Even high-end retailers have an online presence.
If you want a more hands-on experience, look at the websites of furniture stores near you. You'll get a quick idea of which stores best match your own style. Set aside an afternoon to visit only those stores. Have each store deliver your items on or near your move-in date.
Don't forget a mattress.
4. Select multi-functional furniture
Even if you have a spacious apartment with plenty of room to decorate, you should always keep functionality in mind. Incorporating creative storage is better all-around because it prevents clutter from piling up.
And, if you anticipate collecting more belongings as time goes on (as most of us do), having functional furniture will help solve this issue.
Here are a few creative storage ideas.
Accent tables and nightstands that provide storage with shelves
Storage ottomans which can double as coffee tables or seating
Bed with underneath storage to store blankets or clothing
Dining tables or coffee tables (or both) with shelves or drawers
Room dividers with shelving
Sofas and sofa beds with storage options
Floating shelves that keep clutter under wraps
5. Get help
If you purchased your new furniture from a furniture store, they might offer extra services to help you out. Some furniture stores offer assembly and/or furniture arrangement.
If you ordered from a website or the store doesn't offer those services, you can find reliable help online. There are websites like Handy and TaskRabbit that match you with a professional that has undergone a background check. You can hire people to do almost anything from hanging pictures to arranging furniture to full interior design.
Do you still have things of your own to move? If you have time to pre-plan, you can use traditional movers. If you're working last minute, you can find on-demand moving help online that can get it done now. Try GoShare or Bellhops.
As time goes on, you'll continue to piece your apartment together. You may need to move furniture around based on your lifestyle changes. The good news is this is your apartment, and you can arrange your furniture however you'd like.
Decorating an unfurnished apartment doesn't have to be a battle. The process of furnishing your new digs should be fun. Once you have a plan in place, it shouldn't be all that bad.
In summary, taking stock of the furniture you have, figuring out what you need to buy, and coming up with creative floor plans are all the start of developing a beautiful apartment.
Arranging furniture and creating a functional and fun space will help ease you into apartment living. Setting up the perfect space will also encourage you to enjoy life to the fullest.
After all your hard work, you deserve to come home to an aesthetically pleasing apartment you're proud to call home.
Keep in mind that there may be restrictions from the management company of your apartment complex. If ever in doubt on what you can and cannot do in your apartment (such as painting a wall a different color), contact them before making any changes.
Author Bio:
Broadstone Brickell ensures you won't need to venture far to satisfy all your professional and social desires. Live up your lifestyle, surrounded by first-class shopping, dining, arts and entertainment. Come tour this stunning Miami property, where life is truly exquisite.