Woodworking Safety Tips That You Should Know
Safety First! Every woodworker should follow these 5 tips for maximum safety.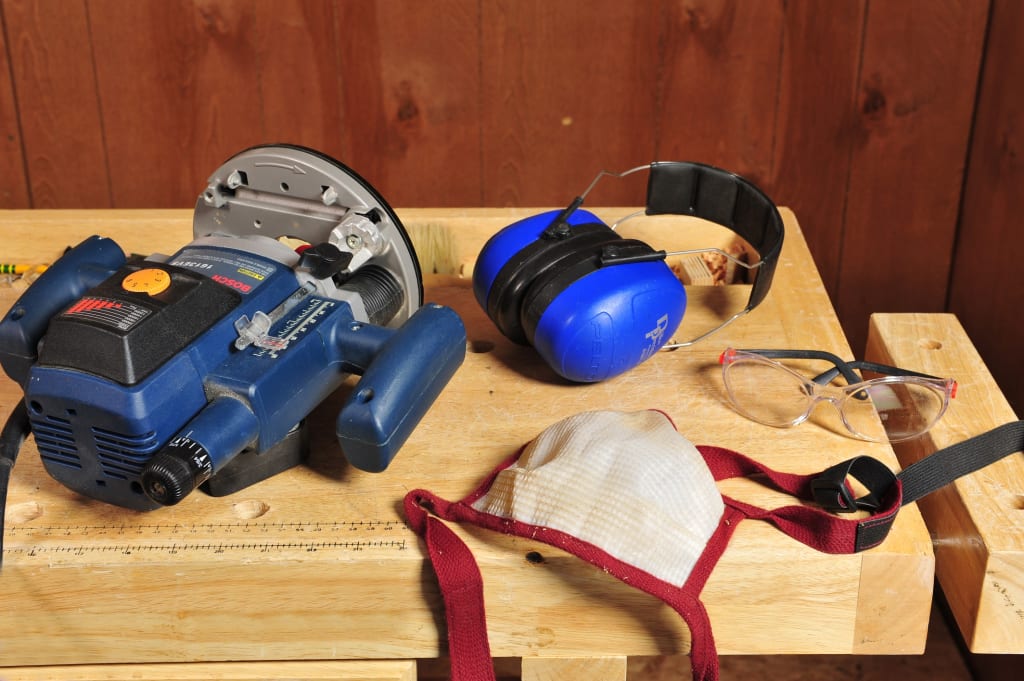 Are you worried about your safety while working with wood, sharp objects, and machinery? If yes, then you've landed on the right page! To ensure your safety while working with woods, here are the top safety rules that every woodworker should know.
Woodworking is fun and interesting but on the other hand, it can cause extreme harm if you are not familiar with the basic safety tips and tricks. Whether you're a woodworker or a professional, safety while working with wood is a primary concern.
In the field of woodworking, carelessness or ignorant have no place. Your safety is the first thing that you should keep in mind before getting started with your work.
Here in this article, we've created a list of essential woodworking rules that you need to remember in order to prevent yourself from any kind of damage. Scroll down to read the top 5  woodworking tips that every woodworker should know!
Safety First!
Safety is always a priority in every case and this is the most common and important rule on our list. It's more of common sense than a rule, but it's our duty to make sure that you keep this in mind before getting started with your work.
Taking precautions is the first step towards preventing yourself from getting hurt in your field of work. As you always have to work around loud and sharp power tools, make sure to wear gloves and DO NOT WORK WITHOUT YOUR SAFETY GLASSES as they protect you from getting hurt.
Some of the few things that you should keep in mind during woodworking are:
Always wear comfortable clothes while working.
Do not wear work gloves, neckties, rings, or any kind of jewelry that might get entangled with machines.
Do not go for awkward hand positions and uncomfortable habits while working as they will increase the chances of you getting hurt.
Your Alcohol level should be 0.00% while you're working.
Do not work when you're feeling tired or impaired.
Make sure to keep your fatigue level as low as possible.
Do not Encourage Shortcuts or Easy work.
Do Not Reach Out For A Running Blade!
Moving blade can cause extreme harm to you if they're reached without safety. To be on the safe side, do not touch the blade when it's still spinning even if your work is done. Before reaching to cut-offs or to remove waste, first make sure that the blade is still.
You can remove the waste from the blade with the help of a push stick of a piece of wood/scarp. Take your time to reach around a running blade of you need to get behind it. To do any kind of work with the blade, wait till the blade stops moving, and clean it (if required).
IMPORTANT: To prevent any kind of blade injuries, always wear your blade guards.
Avoid Unnecessary Activities
While working, it's better to stay away from any kind of distractions. Being distracted in your workshop is one of the main things that you should avoid. Distractions can leave you vulnerable to any harm and might take your mind somewhere else while you're working.
You can be distracted by many things at work, it could be machine sound, your environment, maybe a radio program or something else. In order to prevent these, make sure to rest before starting your work, or simply stop working if you don't feel like it. Keep your workplace clean and noise-free.
IMPORTANT: After your work is done, don't forget to turn off the machine(s). Always leave the workshop only after all the machines are completely shut down.
Use Push Sticks Or Pads
While working with a table saw, jointer, sharpener, router table, or bandsaw, always use push sticks and hand savers. Placing your finger too close to spinning bands is unnecessary and can be extremely dangerous if you're not careful.
Pads and push sticks are a life savior when it comes to working with wood. Not only they are easy and comfortable, but they can also save you from any kind of harm at your workplace.
Check Woods For Nails
Reusing wood is usually the best way to recycle old wood that can't be used anywhere else. The feel and charm of old ages wood is definitely something else. But for those working with old wood, here are few things that they need to keep in mind.
First and the most important thing would be the presence of additional sharp nails and metals in old wood. Before getting started with your work, make sure to check the wood for nails, or other sharp additional objects.
You can easily find these additional nails in the woods visually. If not, you can always use the metal detector to detect the presence of metal in the wood. Nails or other sharp metal attached to the wood can ruin your blades or machines and can cause you injury.
Reader insights
Be the first to share your insights about this piece.
Add your insights