Why Shopping for a Mattress Online is The Best Way To Go From a Busy Mom of Two
From my past experiences, I have learned that finding a comfortable mattress can be a very difficult task.

Supported ByLull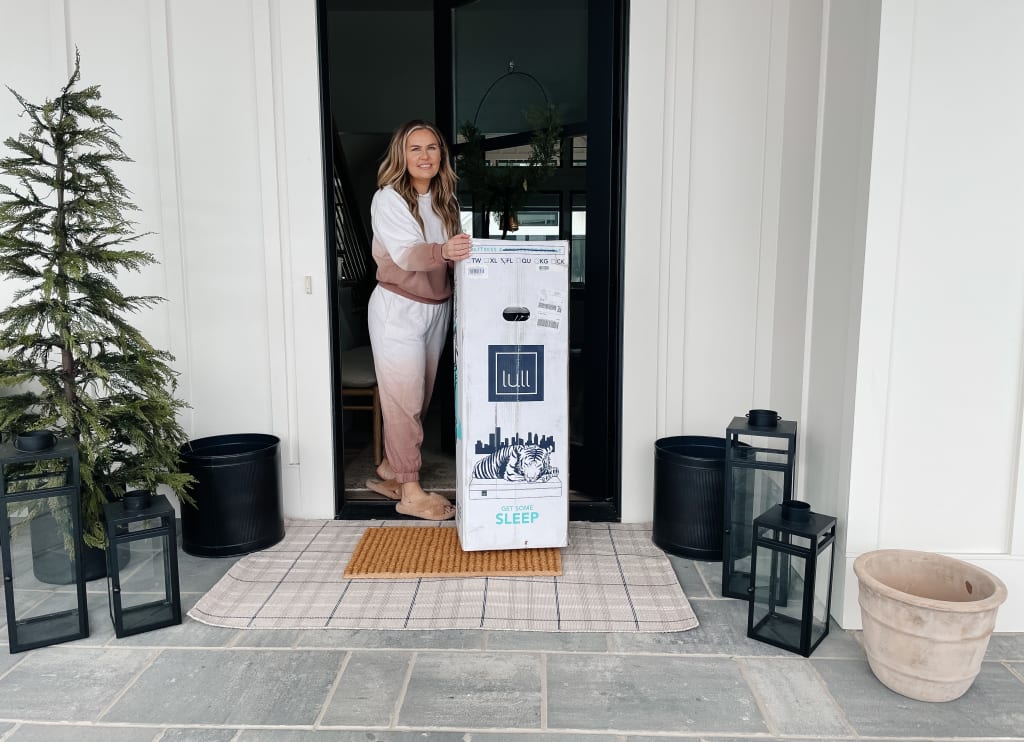 We have all heard how important sleep is to our life. It is a vital part of survival. Without adequate sleep, our brains cannot function properly and we are left feeling drained with little energy.
All of my family and friends know how much I value my sleep. I'm a much better mother, wife, and friend when I've had a well-rested night, and science proves this. As we all know, the number one key to a good night's sleep is a high quality, comfortable mattress.
From my past experiences, I have learned that finding a comfortable mattress can be a very difficult task.
The last time I was in the market for a new mattress, I was six months pregnant with my first daughter, desperately searching for a comfortable mattress. I walked into the brick and mortar store where I was met by a salesman who promised me he'd find me my dream mattress.
In hindsight, I should have known this was an impossible task. Who can actually judge a good mattress from a bad one after only laying on it for five minutes? Nevertheless, I needed a new mattress so I decided on what I thought would be the perfect one. When the mattress finally arrived weeks later, it was the most uncomfortable thing I've ever laid on. I remember telling my husband I would rather sleep on the ground. The return/exchange process to get a more suitable mattress was extremely difficult and stressful and I never wanted to have to experience that ever again.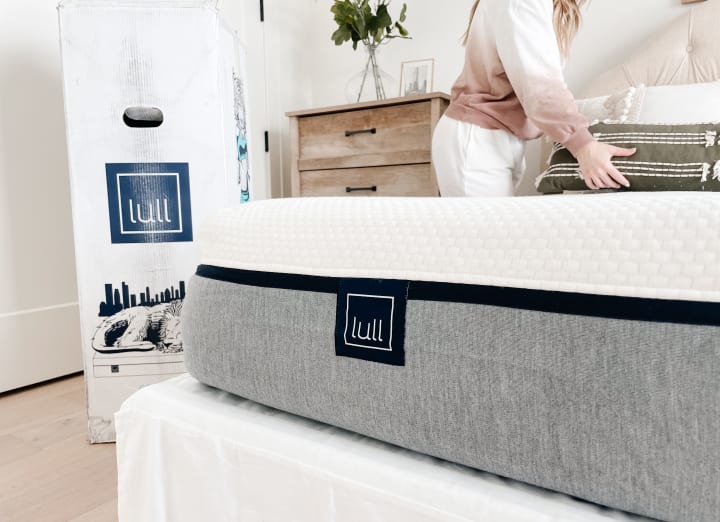 Times have changed since my last mattress shopping experience, and now that we are in the middle of a global pandemic, the thought of having to bring my girls out mattress shopping with me and laying on the same mattress as strangers didn't sit well with me. I began my search to find a mattress that would show up right at my door without leaving the comfort of my home. This is where Lull comes in.
I am the kind of person who always loves to read customer reviews on websites before purchasing an item. I was pleased to see that Lull has over 38,000 reviews and 95% customer satisfaction. The customer reviews are genuine and unfiltered, so I was able to see the good, the bad and why it may not have worked for some people. It was comforting for me to know that 95% of people are satisfied with their Lull Mattress. Another amazing feature is their 365-night risk-free trial that Lull gives with your mattress purchase. Sounds amazing, right?! Lull gives you up to 365 days to decide if you like your mattress or not. This was super important to me because of my past mattress experience, I knew I needed that time to sleep on the mattress to determine if it would be right for me.
If for whatever reason I didn't like the mattress within those 365 days, the company would give back a full refund. I had nothing to lose, which is why I decided to go ahead and try out Lull.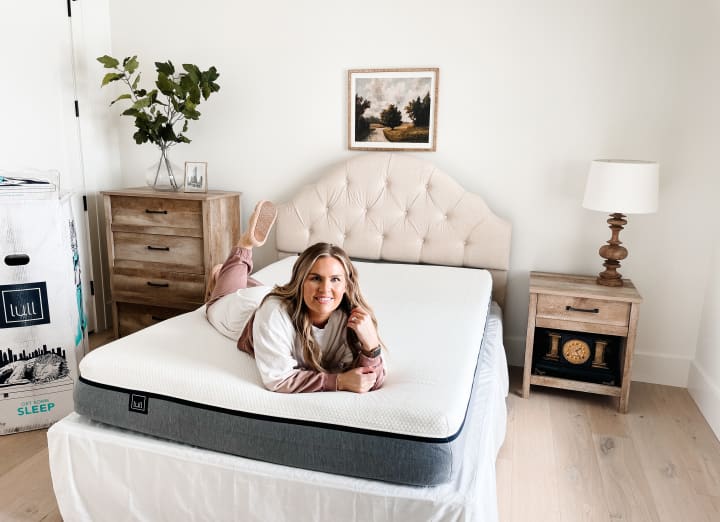 Lull makes the mattress buying process so quick and convenient. The Lull website is extremely easy to navigate. You simply head to their website, select your mattress size, checkout (with free shipping within 1-4 business days) and voila, your perfect mattress arrives at your doorstep.
The mattress arrives at your door with no-contact, free delivery in a box that can be easily carried by one person. I was able to carry this full-size mattress all by myself from our door, into the bedroom across the house. Once I got it in the room, I opened the box and removed the mattress. The mattress comes covered in a vacuum sealed, plastic wrap. Gently cut and remove the plastic, and that is when the mattress will start to expand. Most of the expansion happens within 2-4 hours, however it will be fully expanded after 24 hours. It is as easy as that, a new mattress from box to bed in only about 5 minutes.
My husband was shocked when he came home from work and we had a new mattress all set up and ready to go without him having to lift a finger. I have heard that other memory foam mattresses can have a strange odor when they are new, however, I didn't notice any smell when I opened my new Lull Mattress.
After taking a test drive on my Lull Mattress, my sleep has never been better! Something I noticed about this mattress that I love is how it evenly distributed my weight. It wasn't sinking down in my heavier areas but instead it was hugging me in all the right places. I also love that it has a premium gel top layer that helps you to stay cool by transferring heat away from your body. Have you ever woken up drenched in sweat having to throw the covers off? I've had way too many overheated nights, but not anymore. The mattress is made of premium memory foam that helps support proper spine alignment so that you don't wake up uncomfortable or in pain. It is the perfect amount of firmness and has allowed me a great night's sleep.
After having a chance to try out Lull myself, my mattress shopping experience has been changed forever. I am already planning on replacing our other mattresses in the house with Lull Mattresses!
If you are on the hunt for a mattress I couldn't recommend Lull more!
Happy Sleeping,
Kelsie
Reader insights
Be the first to share your insights about this piece.
Add your insights