Why Choose Half-Round Gutters for Your Home?
Half Round Gutter Guards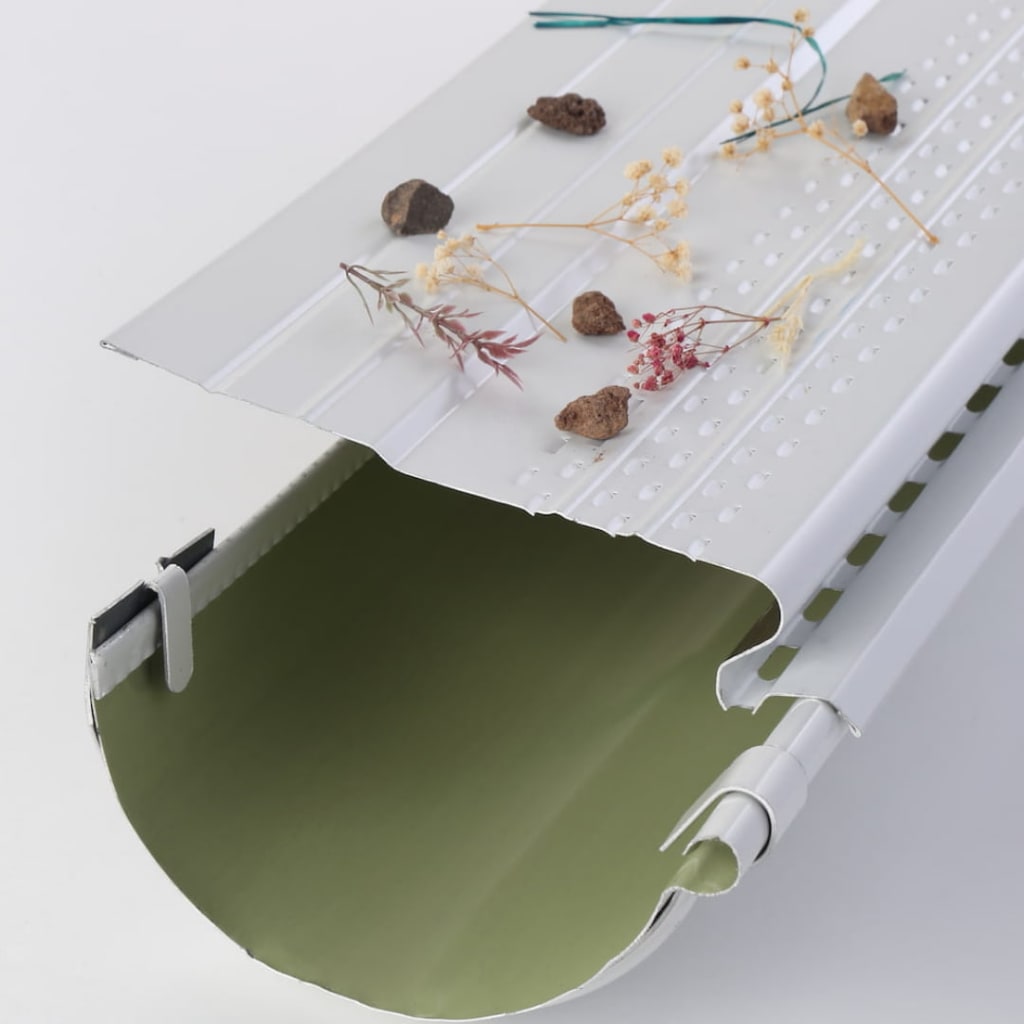 Half-round gutters have a distinct look that complements classic and historic homes very well: They provide a half-round, U-shaped surface and come in different materials, including aluminum. Their unique shape offers numerous benefits, but their main selling point is their authentic look. In the past, this particular gutter shape was chosen for older exterior design styles, but today many homeowners and contractors opt for half-round gutters for modern homes as well.
If you are interested in half-round gutters and their advantages, keep reading!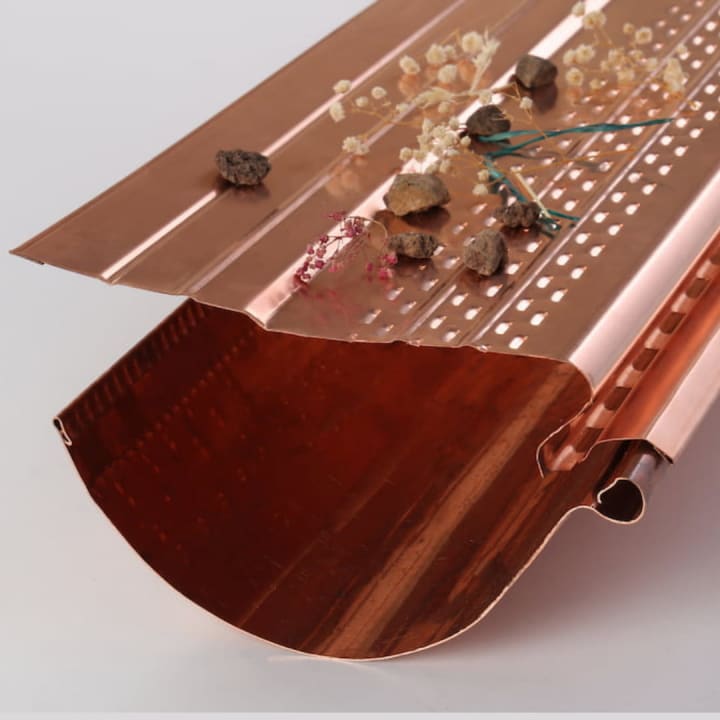 What Are Half-Round Gutters and Why Choose Half-Round Gutters?
Gutters come in two different gutter profiles. The more popular K-style has a square shape that results in an inclined edge when viewed from the ground. The outer side is typically fashioned to resemble crown molding, which complements almost any architectural style. The Sheet Metal and Air Conditioning Contractors National Association (SMACNA) has identified it as the 11th gutter profile (the letter K) in a series of gutter profiles.
On the other hand, half-round gutters are a more classic gutter type that is often associated with traditional residences. Because its profile is essentially a half-circle, there isn't much to explain about its name.
While K-style gutters are more efficient, half-round gutters are still recommended by window and gutter professionals for a variety of reasons:
· Traditional House Style – Half-round gutters are required for traditional architectural styles such as Colonial and Victorian. Copper half-round gutters have a realistic appearance that is improved when the material ages and develops a green patina.
· Simple and Cleaner Lines — Half-round gutters are a better alternative when a roof type requires a less angular appearance. It may appear that choosing half-rounds over K-style gutters means sacrificing capacity and performance, but a skilled gutter contractor will calculate the appropriate load and make sure to select the proportionate size.
· Easier to Clean – One of the disadvantages of K-style gutters is that dirt and debris on the inside corners can be challenging to remove, increasing the risk of corrosion. Because of their curved insides, half-round gutters do not have this difficulty. It will also let water flow more freely, lowering the likelihood of clogging.
K-style gutters are the most popular gutters on the market right now. They are really effective and present a uniform appearance. On the other hand, half-round gutters are becoming increasingly popular as time passes.
Half-round gutters resemble a conventional pipe that has been sliced in half and has a hole in the top. These unique features aid in water discharge and make them quite useful. Half-round gutters are made of a variety of materials, including aluminum and copper, and offer a wide range of color, design, and durability.
Half-round gutters have a symmetrical curved shape; they complement the rounded appearance of these architectural designs. Many older homes and even newer structures are designed to be less angular; because half-round gutters have a symmetrical curved shape, they complement the rounded appearance of these architectural designs. When correctly installed on contemporary residences, half-round gutters can provide a distinct visual appeal and superior function than their common counterpart K-style gutters. Gutter installation is generally hassle-free.
Benefits of Half-Round Gutters
A half-round gutter's inside is smoother than a K-style gutter's interior. This increases the endurance of the gutters and keeps the metal from corroding over time. The smooth surface has fewer wrinkles in which water can gather. Half-round gutters' smooth interiors are also more effective in washing debris out of the gutters. We feel that half-round gutters are easier to keep clean as the leading installer of seamless gutters and heated gutter systems.
Some of the advantages of adding half-round gutters are as follows:
· The gutter protection system is easy and can be done manually.
· Straight lines. Half-round gutters' simple and clean forms on modern or luxury homes can complement the heavier textures of slate and tile.
· The surface is smooth. A half-round gutter's inside is smoother than a K-style gutter's interior.
· Minimal upkeep is required. Because half-round gutters have smooth surfaces, debris that collects within can flow more readily through them rather than becoming stuck on rougher edges like K-style gutters, which can cause clogs.
Half-round or U-shaped gutters are constructed in this fashion to accommodate an arched structure. Rainwater and melting snow can then flow down the downspout and away from your house due to gravity. Half-round gutters are commonly made of copper or aluminum. The U-shaped gutter provides a home with a more traditional appearance, and it's frequently utilized in the restoration of older homes as well as in new construction that is planned in a historical style.
Half-Round Gutter Guards
Half-round gutters offer an elegant look and functionality, yet they require gutter guards for maintenance. Gutter guards keep debris, pollen, insects, dirt, pests, and so forth from your gorgeous gutters and prevent clogging.
Below you can find some of the half-round gutter guard types that will help you maintain and protect your half-round gutters.
1. Half-Round Copper Micro Mesh Gutter Guards:
· Mesh material is made out of copper
· Fits all types of 5" gutter systems including 5", 6" and 7" K styles, half-round and box type gutters
· Comes in 5-foot sections and fits right on top of the gutter
· Designed for existing, metal, flat roofs, or older roofs with shingles that can't be separated from the roof frame.
· Easy to install overlap notching connection system
· Slows down heavy rain flow & prevents water overflow
· Keeps out leaves, pine needles, shingle debris, pests, seeds, birds, and furry friends & prevents clogging
· No damage to your roof during installation and no future leakages
· Only 2 screws are needed for the back & 3 to 4 screws for the drip-edge front section
· Comes with all necessary copper screws
2. Half-Round Copper Pro Gutter Guards:
· Made out of copper
· Durable and luxurious, has a very long life
· Can withstand extreme weather conditions and retains its beauty over the years
· Easy to install: You can install half-round pro gutter guards by sliding them under the first row of roof shingles
Do not forget to check Art of Gutter's high-quality and durable products to find out which gutter guards are suitable for your half-round gutters.