When I Listen to the Quilters Before Me
Honoring the meaning of a crinkled quilt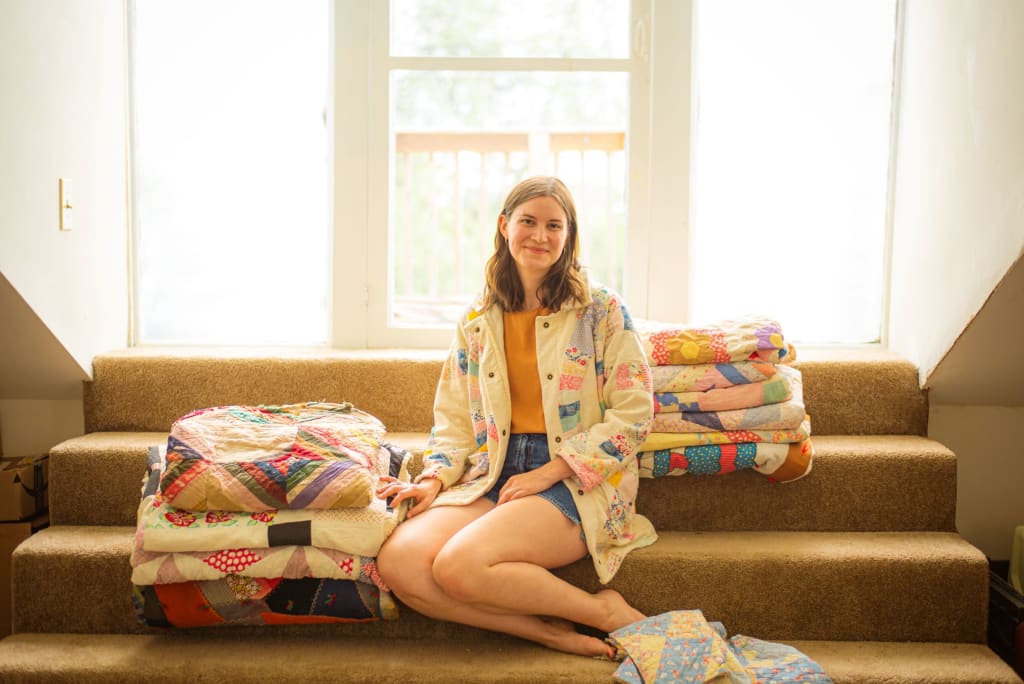 Photo by Scott Sanker
Old people are, like, my thing.
I grew up watching reruns of The Golden Girls on Lifetime. I spent my childhood summers baiting hooks with fat earthworms for fishing with my Nana and dealing endless rounds of Rook cards with her twin sisters. At 18, my first job was a nurse aide in an all women's care home, a job that I sincerely loved with my whole heart. I've just always wanted to be around older people. It wasn't until college that I realized there's a name for that. Gerontology. The study of the aging process and the experiences of older adults.
I kind of flung myself full force into the field of gerontology, enough to think I should pursue a doctorate degree in it. Reading studies and conducting research is so interesting to me. But as I've made my way through the last year of my degree, I've slowly realized, 'wait, where are the older people?' Researchers and academics spend most of our time on the computer, reading and writing. We don't actually spend all that much time with the population we are studying. Although the research is necessary and important, I've had a longing to spend time with these older adults that I claim to know so much about. And especially with the increased distancing from older people during COVID, I've really missed having them in my life.
That's when I began making coats from antique quilts.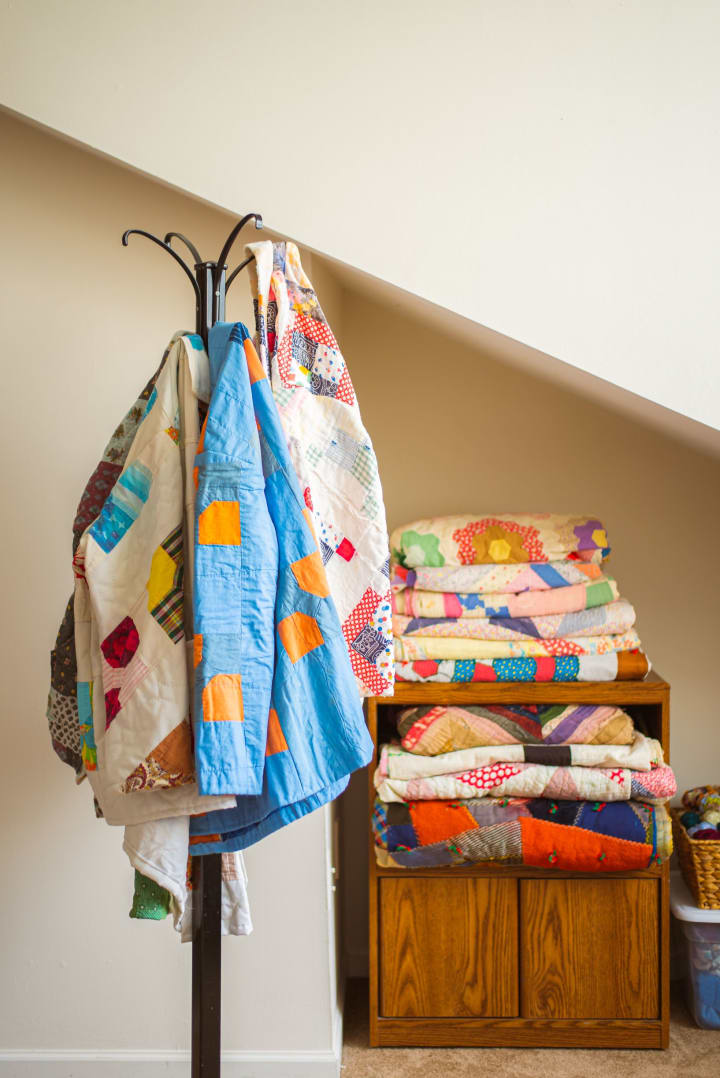 Repurposed quilts have been popping up on Instagram recently, and luxury brand stores have started selling expensive one-of-a-kind quilt jackets. You've probably seen them and had the same thought as me, I bet I could make that. So I started making quilt coats for friends and pretty much whoever will take one, because I cherish the creating process so much.
I begin by hunting for an old quilt that is falling apart or has enough wear that it is ready to be repurposed. These are known as "cutter quilts" in the world of quilt recycling. I check estate sales, look on auction websites, and constantly peruse Facebook marketplace. When I've found the perfect one to take home, I take it straight up to my craft room and we sit together for a while. I lay out the quilt on the floor and examine it thoroughly. Would it benefit from a gentle wash and soak in the tub? I picture how the pattern will center on the back of the coat and how I can line up the pattern with the pockets on the front panels. I spend time with the original quilter by examining the choices that she made as she worked her way through cutting and stitching. Where did she encounter hiccups? Were there others who came along later to patch up holes? How has time changed her handiwork? I am examining the quilt, but really, I am listening to her.
I'm looking for the best way to showcase her craftsmanship. When I cut and sew her quilt into a new piece of clothing, I am honoring her time and skill and artistry. When I have to snip out the seam and wrestle with the collar yet again, I am working alongside her. When I put on the coat, I am not just wearing the handmade item, it's like I am wielding it. The transformation is a method of reverence, a slow process of listening and making choices and adding my own voice to the quilter's story.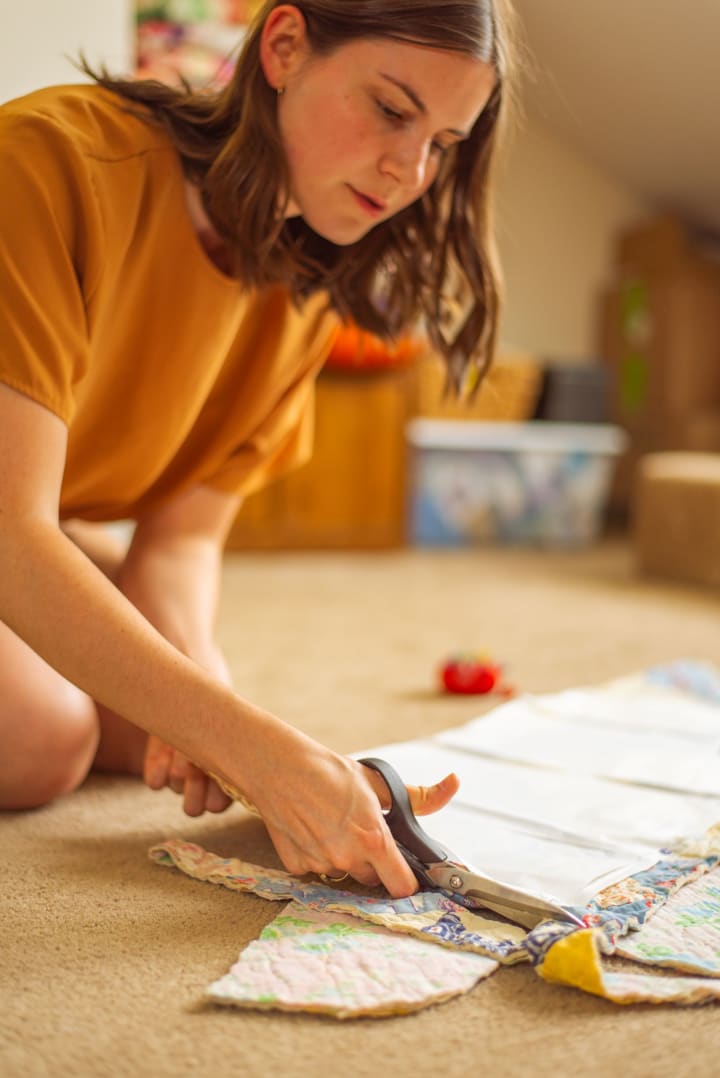 One focus of my research in gerontology is the stereotyping and discrimination towards older people, known as ageism. This happens because society tends to lump all older people together as the same homogenous group. Older adults are often stereotyped as cute, warm, slow, and incompetent (and sometimes grumpy). I feel sad when I think about the misconceptions of old age. I'm not even "old" yet, and I know that many older people around us are misunderstood and underappreciated. And I don't mean that in a sweet way, like we should instead "respect our elders" or pat them on their fluffy heads. I mean we should take the time to understand their personhood, to ask questions, to know them. What makes them an individual? What are the different parts of their life history and identity now? Knowing someone puts you on the pathway to correcting misbeliefs about them.
Antique quilts are beautiful because they are old. They hold value from surviving through time, they have meaning from their crinkles, and they have beauty in their colors. Alone in my craft room, I spend time with the women before me. Although I cannot ask them questions about themselves, I know a piece of their work, and in turn, I highlight the individuality of it. I feel joy seeing my friends wear their quilt coats and knowing that my message goes with their one-of-a-kind pieces.
By making and wearing quilt coats, we honor the distinctive older women before us, and we nurture relationships with them, too.