Wall Decor Ideas to Brighten Up Your Home
Discover wall decor ideas that are sure to add style to your home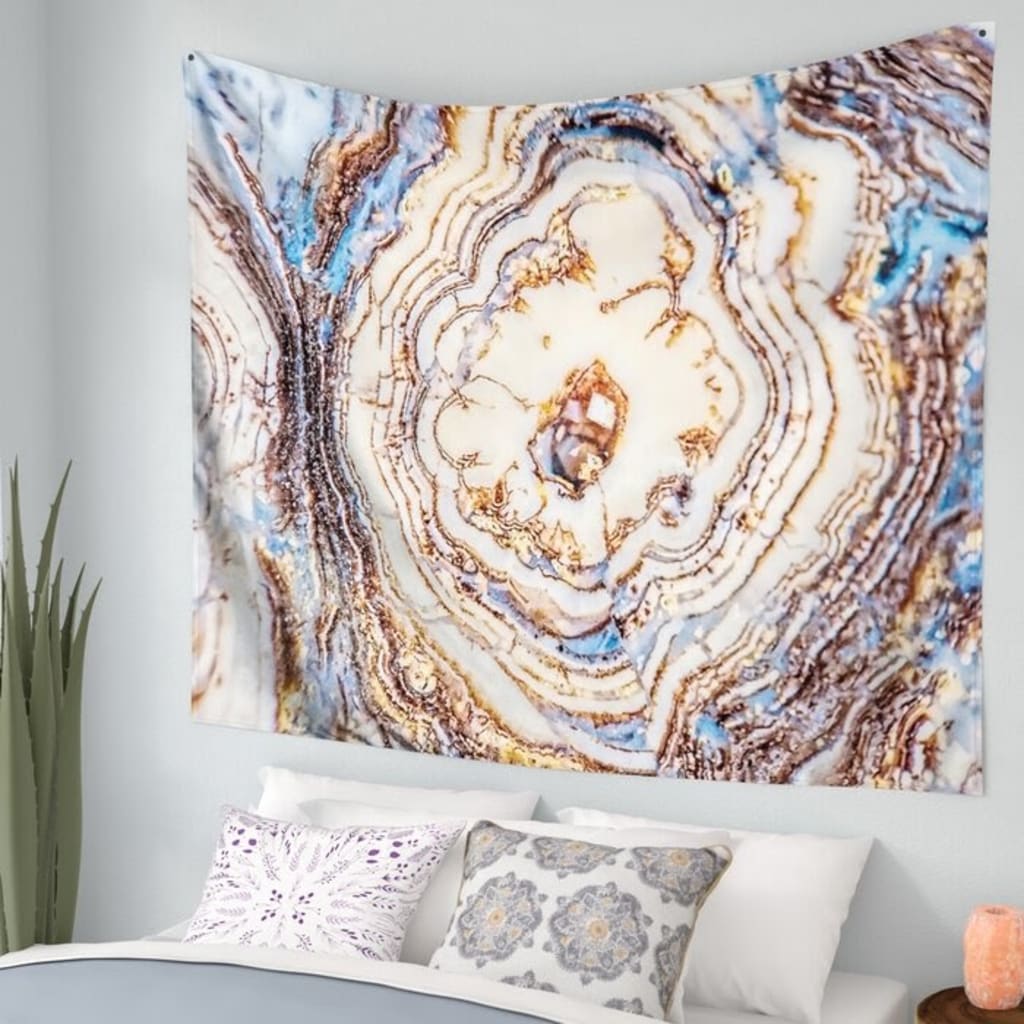 Your home is your sanctuary and place of rest after a tiring day at the office or on the road. Your home is also the space to express who you are and allows you the opportunity to be as creative as possible. Many people use their homes as a palette to creatively visually illustrate their personalities, interests, and behaviors.
A well-decorated and calming home can also have a vast impact on your mental health and psychology. Clutter, abrasive colors, a lack of flow and mismatched patterns can, in fact, play a huge role in the addition of stress and anxiety to a person's life. Research has proven that calming colors, harmonious patterns, soft lights and the additions of plants can have a positive effect on the psychological being of the person staying in the home and can help ease anxiety, depression, and stress.
Your walls, in particular, are a great start to making a huge difference to the flow and energy of the room. So, we thought we would take a look at the various ways that you can spruce up your home and decorate your walls to create a harmonious and peaceful space for yourself.
Tapestries
We thought that we would start with tapestries as they are one of the easiest and cheapest ways to totally revitalize the look of a room. If you are renting an apartment, painting the room, or even one wall could be tricky to impossible due to the lease agreement. It is also a waste of money spent if you are in the home on a temporary basis.
Tapestries can be chosen and hung on any of the walls to add depth, patterns, colors, and dynamics to a room. Tapestries are also interchangeable, so you can easily replace a design based on your mood, the season or when you find a new interest or hobby.
The great thing about tapestries is that you can find almost anything that your heart desires. Whether you are looking online or in the shops, there is a plethora of artwork that you can add to your room. You can find anything from the basic autumn colors for the season to a tapestried pattern of a Rasta lion if you want. The options are endless and your home can easily reflect who you are.
Photos and Paintings
Framed art is the second most popular way of decorating bare walls. Almost every household has images of loved ones, friends, family, pets and treasured memories mounted on the walls. With the world moving more digital, and more moments being captured and kept on a laptop or mobile screen, many artists and even psychologists state that the need for printed photos has increased.
Happy memories that can easily be seen within a room assists in the ease of anxiety and depression and releases endorphins into the brain. So, in order to make your room and home an even happier sanctuary, go through your pictures, pick out your favorites and get them either framed or printed onto beautiful canvas drops.
The second thing to look at to hang on your walls, if nostalgia is not your thing, are paintings and pieces of art. What is crucial is to keep the size and flow of your home in mind when picking out art. If minimalism is your style, add a piece that could make a wall pop, or add a simple structured painting that will add dimension to the room. Art is one of the key elements that express your creativity and artistic knowledge, so make sure you do a lot of research into what would work for your home.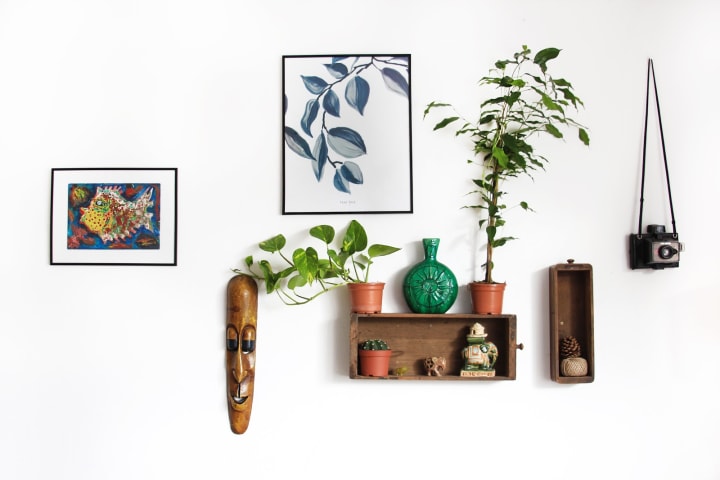 Mirrors
Mirrors can be a great addition to your space, if placed in the right spots. They can open up a room, reflect light and enhance a wall by mirroring what is on the opposite wall. They are also great to fill up what could be a potentially bare, dreary wall.
Statement mirrors can be placed strategically to add certain dimensions to the room, and should be paired with various other pieces. Plants and lamps can be matched up together and added to a particular area of the room to add a splash of style.
What is important about mirrors is to not overdo it. There are certain rules that should be followed with mirrors. If you have a small room, for example, you should avoid large mirrors. Also, avoid overdoing mirrors in the kitchen and bedroom. A mirror can and often should be used as a focal point of the room, and this should not be in the bedroom.
Plants
Plants are an absolute staple that should be added to any home. Not only can they be used as decorative additions, but plants have various advantages for a home that simply cannot be overlooked. Not only do plants absorb carbon dioxide and release oxygen into the home, they also release vital ions that attach themselves to negative toxins in the room and break them down. Our rule of thumb: the more plants, the better.
There are numerous ways of adding plants to a wall. The first is the increasingly popular living wall. A living wall is a carefully planned out vertical garden in which a structure is built to plant and maintain plants that exist on a wall. Many of the living walls are carefully designed for water and moisture retention to make it easy for you to water your plants. They have become hugely popular worldwide, with a number of large corporate offices choosing a massive wall to turn into a living wall.
If these are way out of your budget and maintenance capabilities, hanging plants are your second best option to have plants decorating your walls. There are a number of varieties that you can choose from, between hanging baskets from a bracket on the wall, or drilling a rail from one side of the wall to another and hanging macrame plant holders to create a rustic, homely feel.
Last Thoughts
The thing to keep in mind is that a bare wall can be totally redone to add color, personality, and dimension to a room. You don't need to spend a fortune to turn your space into a personal canvas.