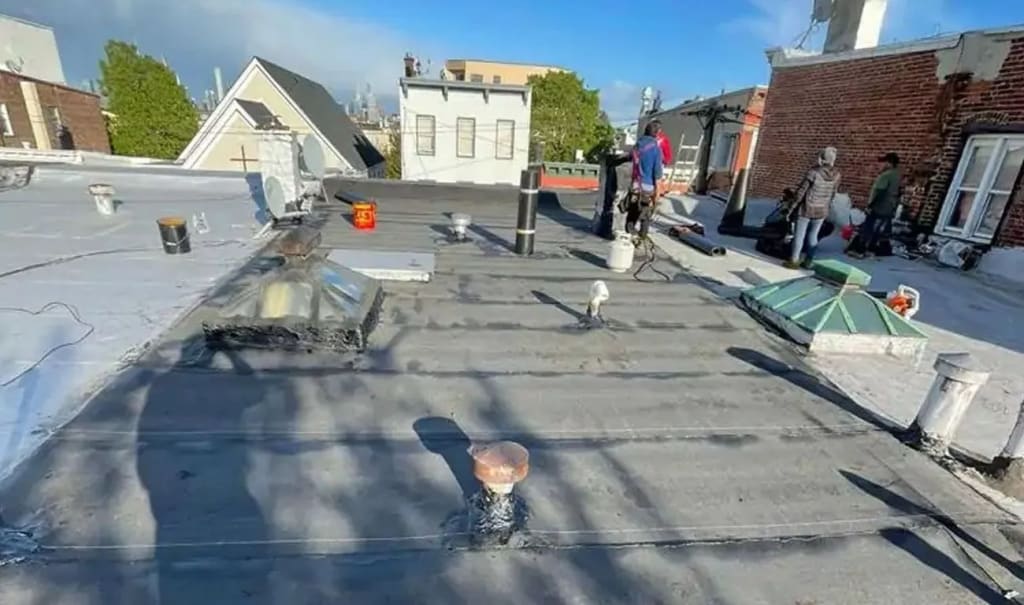 Thermoplastic polyolefin (TPO) is a widely used material in roofing. Due to the increasing popularity of this type of roofing material, many people are looking for TPO roofing services in NJ. Though it's common among property owners, most homeowners still don't know about it. This article describes TPO roofing, why you need it, how long it can last and how much it can cost.
TPO roofing-
It is a single-ply white membrane commonly used in residential and commercial roofing systems. People with a flat roof or low slope dormer over their bedroom usually prefer installing TPO roofing. This is because it can help keep the bedroom cooler by reflecting heat instead of absorbing it. This type of roofing system can also be used over a non-living space. For example- one can install it over a garage or covered patio.
It is important to consider the look of the white membrane of thermoplastic polyolefin from a window If the window looks over the membrane. But if someone doesn't care about the appearance of the membrane and is unable to see the roof at all, it's not a major concern. Still, some people keep this thing in mind while going through the decision-making process.
Why should you opt for TPO roofing?
A roof or a roof facet with less than 2:12 pitch is considered a low slope roof. Water will not move as fast on this type of roof when compared to other roof types with a higher pitch. So, it is important to waterproof this roof. People often choose to install asphalt shingles over these roofs. But these shingles can not hold the sitting water. Therefore, it is not possible to install asphalt shingles on a roof with a pitch of less than 2:12.
This is why people with low slopes or flat roofs on their property look for TPO roofing installation services in NJ. TPO roofing membrane is a kind of flat roof system. It can help waterproof brown, gray, or living roofs. If a roofing professional comes up with the idea of installing shingles on a low-slope roof, it is best to avoid hiring them.
The lifespan of TPO roofing-
A well-maintained TPO roofing membrane can last for approximately 25-30 years. Some people need the replacement of this roof type after 25 years, while others still look for roof replacement service within 15 years. How long a roof can last depends on various factors. For example- what is the weather like in your area, how much direct sunlight do you get on your roof, how many times have you looked for repair services, and what is the quality of roof installation? If you get professional TPO roofing service in NJ regularly and the membrane roof is installed in the right way, it is easy to enhance its lifespan.
Cost of TPO roofing-
The exact cost of the TPO roofing membrane depends on several factors. A major factor that plays a significant role in deciding the roofing cost is the type of insulation used under the roofing membrane. For example, if you want thick insulation over the roofing structure, it can cost you more than simply considering fabric insulation.
Also, the size of the roofing membrane plays a huge role in deciding the price of the roof. People often assume that the larger the size of the roof that needs the membrane, the more will be the cost of a TPO roofing membrane will be. But the cost of membrane per square foot is a little bit expensive on smaller projects. And for large commercial projects, the cost per square foot decreases.
TPO roofing- A great roofing material to consider
Here are a few advantages of installing this single-ply membrane roofing system.
High Flexibility
TPO roofing membrane has high flexibility, which makes it an excellent choice for roofing material. In addition, it makes the roof more resistant to tears, punctures, or any other kind of damage.
UV Protection
This roofing membrane is resistant to UV rays and chemical exposure. As a result, it can reduce your HVAC expenditure, especially during hot sunny days. Also, it can last longer if kept in well-maintained condition.
Fire resistant
It's a roofing-type material that is resistant to fire as well. So if you are looking for any Class A fire-resistant roofing material, you can think of installing a TPO roofing membrane.
TPO roofing can help save money!
Bright white-colored material is the most commonly used TPO material. As it's white in color, it has high reflective properties. As a result, it can reflect UV rays and heat away from the building. Thereby, it can reduce energy usage in the summer months to cool the interior of the building. Decreased energy usage can help you save some money while paying electricity bills.
If you live in New Jersey and wish to install this type of roofing membrane, you can contact a highly skilled and experienced roofing contractor. They will use their expertise to deliver top-rated TPO roofing services in NJ.
Reader insights
Be the first to share your insights about this piece.
Add your insights