Townhouses in Canada
Everything you need to know about Townhouses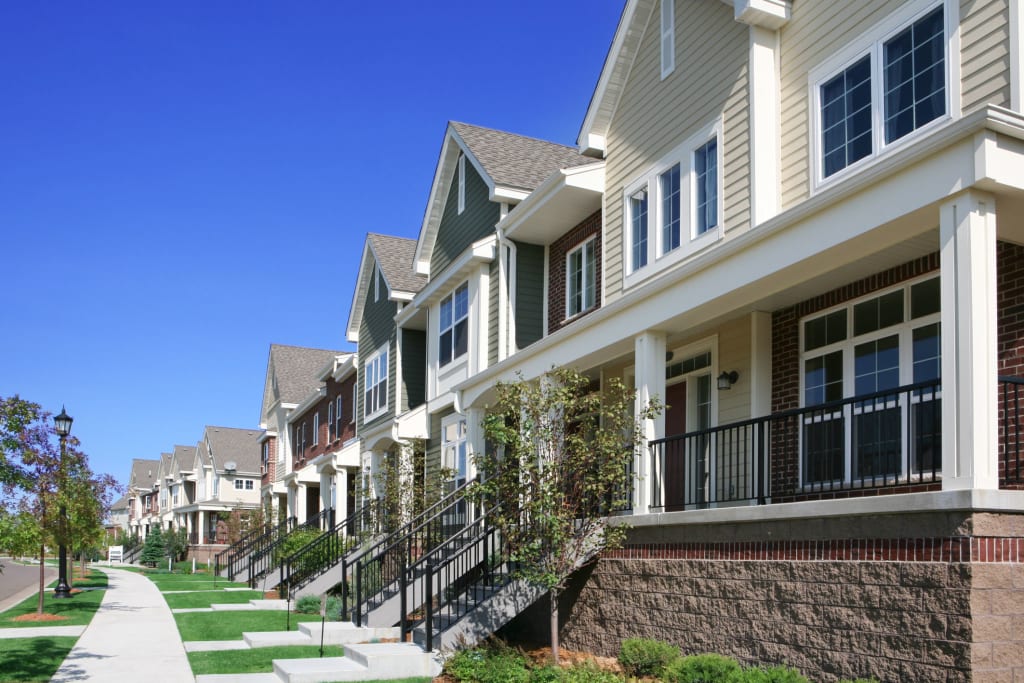 In the Greater Toronto/Hamilton region, are you trying to purchase a townhouse? You will learn everything you need to know from this manual!
Townhouse Foundations
Definition: A single-family home in a purpose-built complex that shares walls with other independently-owned homes is referred to as a townhouse or townhome in Canada. While semi-detached homes, attached homes, and row houses all share walls, semi-detached, attached homes, and row houses do not have a physical connection to their neighbors or a legal or financial relationship with them.
Types: Townhouses in the Greater Toronto Area can be divided into two categories: freehold and condominium townhouses (which are more common in Toronto)
Freehold townhouse: A freehold townhouse is identical to a regular single-family property from a legal and financial perspective. The owner is the legal and financial owner of both the house and the land on which it is built, and is responsible for all maintenance, including the roof, windows, electrical setup, and plumbing.
Townhouse condominiums: Owners own a piece in the condominium corporation rather than any actual real estate. Condominium townhouse owners contribute to the costs of communal services including water, sewerage, and garbage collection through monthly maintenance fees. A portion of those fees is used to establish a reserve fund, which is then used for the facility's more significant maintenance and renovations. Owners of condominium townhouses are only responsible for maintaining the interior of the property.
Stacked townhouses: On top of one another include two or more individually owned residences. In Toronto, the main level and basement often make up the first townhouse in the stack, with the second and third levels constituting a separate property. Each has a private, secured entry into the home and is independently owned.
What is the price of a townhouse?
Townhouses are frequently more expensive than condominium apartments and more inexpensive than single-family homes in the Greater Toronto Area.
In the Greater Toronto Area, the cost of townhouses varies.
Compared to detached or semi-detached residences, townhouses are less expensive. The typical condo condominium that was sold in Toronto in July 2020 was, in fact,
About $816,000 less expensive, or 53% less expensive than a semi-detached home.
A semi-detached house is $456,00 less expensive, or 39% less expensive.
Condominium Townhouse Prices (July 2022)
Community / Average Price
Greater Toronto Area (GTA) - $747,216
Toronto - $909,285
Ottawa - $438,977
Hamilton - $591,351
Mississauga - $819,176
Brampton - $746,776
London - $413,576
Freehold Townhouse Prices (July 2022)
Community / Average Price
Greater Toronto Area (GTA) - $1,028,977
Toronto - $1,276,167
Hamilton - $794,676
Mississauga - $1,092,741
Brampton - $898,656
London - $583,321
Closing Costs
If you're purchasing a townhouse, you'll need to pay for closing fees. This will include:
Ontario Land Transfer Tax
Toronto Land Transfer Tax (if you're buying in the 416)
Legal Fees
Ongoing Costs
Be prepared to pay:
Home insurance
Property taxes
Maintenance fees (for condo towns)
Utilities
Water/garbage/sewage (for freeholds)
Repairs/renovations (as required)
Pros and Cons of Living in a Condominium Townhouse
Benefits:
Townhouses are often more affordable than other types of homes.
Lower maintenance costs than condos - Townhouse condo maintenance costs are often lower than condo apartment costs since they frequently have less amenities, services, and full-time staff members like a concierge. It is rare for townhouse maintenance costs to be half as much as those for condo apartments.
Townhomes in Toronto are often found in upscale neighborhoods close to amenities and schools, and because they are less expensive than regular houses, you may be able to live in a better neighborhood than you otherwise might.
Size and space - Townhouses are frequently larger than condominium flats in the Greater Toronto Area.
Less Upkeep – The condo organization will typically take care of ongoing repair that is beneficial to all owners, like shoveling snow, performing annual furnace maintenance, washing windows, and planting in common areas.
Outdoor Space - Toronto localities frequently have private ground- or rooftop terraces (or both). Contrary to most condo apartment buildings, barbecues are frequently permitted here (propane tanks cannot be handled in elevators).
Security guards are on duty at night in many GTA townhouse developments.
Lower Heating Bills – You should be grateful to your neighbors for insulating your house and reducing heat loss!
Facilities - A lot of Toronto townhouses are a part of a bigger complex of condominium apartments that include shared gyms, gathering spaces, or swimming pools. While this raises your monthly maintenance expenses, it might also lead to a better quality of life.
Parking: The majority of condo townhouses in the GTA come with private parking, either in a garage that is shared with other vehicles or one that is affixed to the home.
Disadvantages:
Neighbors! People may be found above, below, to the left, and to the right of a stacked townhouse. When buying a townhouse, pay particular attention to noise transfer and soundproofing.
Rules and Pet Restrictions - Condo townhouses have regulations that must be observed; these regulations may specify what you can store on your balcony or patio, the color of your window coverings, and the number of pets you are allowed to have. You can't just decide to install solar panels or a metal roof in order to maintain property values; the complex's overall design must be harmonious.
Maintenance Charges - Although townhouse maintenance expenses are normally lower than those for condominium flats, you still need to pay them on a monthly basis.
So many steps - Since stairs in townhouses are typically vertical rather than horizontal, there may be numerous of them. Townhouses of three and four stories are prevalent in Toronto.
The Best Advice for Purchasing a Townhouse
Remember the following:
The location of the townhouse within the complex affects the price and could affect how much you like it there. Keep a tight eye on your surroundings.
When searching for a property, be aware of sounds coming from neighboring apartments and observe how busy the common spaces are.
Check it out, especially if the parking space is in a shared parking garage.
Consider getting a house inspection, especially if you're purchasing a freehold property or an older condominium unit (where you often own the furnace, air conditioning and other systems).
You must get your attorney to review the status certificate if you are buying a condominium-townhouse (it contains the financial and legal health of the corporation). Additionally, the certificate of status can help you comprehend how maintenance payments have changed over time (and whether any increases are planned).
To make sure you comprehend the restrictions and requirements, carefully read the regulations and bylaws.
If the building was constructed between 1995 and 2007, ask about Kitec plumbing. The gadget probably needs to be replaced if it has Kitec.
The value of a townhouse is determined by contrasting it with previously sold comparable properties nearby. Your REALTOR will adjust the price per square foot of these apartments to reflect the variations. End apartments, for instance, are more expensive since there is only one associated neighbor; prime locations inside the complex are worth more than apartments close to railroad tracks or major roads.
The quality and structure of townhouses vary tremendously; they are not all created equal. Make sure the REALTOR you're working with is educated about the complexes you're considering by conducting research on them.
View our inventory of townhomes for sale.