Top 5 Cabinet Styles That Will Modernize Your Kitchen
Your cabinets define your kitchen and contribute to the value of your home.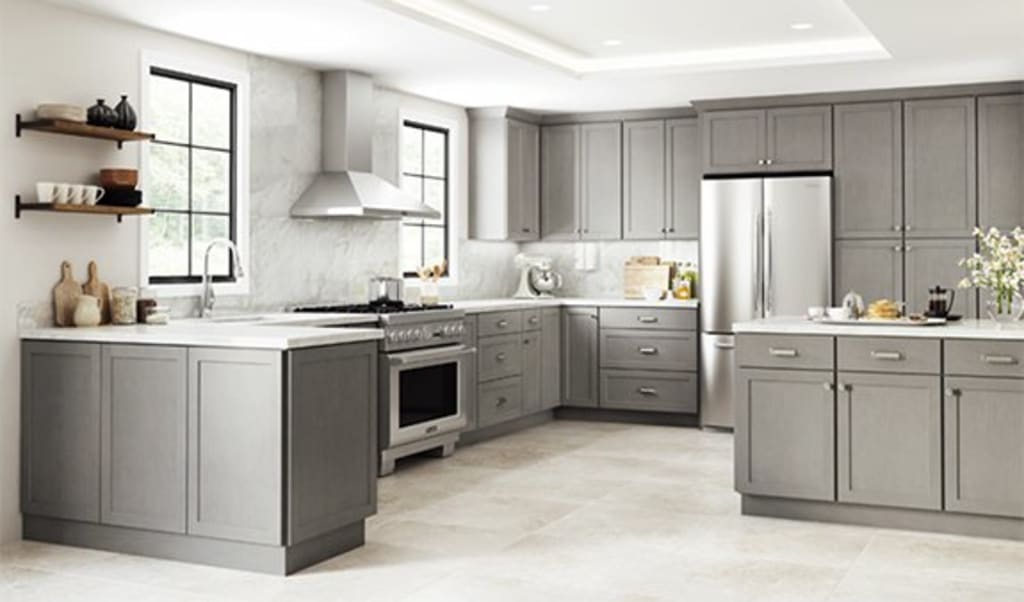 Your cabinets can control and define the elegance of your kitchen. Depending on the cabinetry, you can create a timeless look, a beach cottage feel, or countless other styles. By integrating different colors, materials, and shelving arrangements, your kitchen can quickly transform from dated and old-fashioned to modern. If your goal is a sleek and trendy space, these five cabinet styles can be what you need.
Two-Toned Cabinets
If you are contemplating a remodel that can subtly bring a modern feel to the kitchen, consider two-toned cabinets. The contrast that happens between two different shades can be utilized in many ways. Maybe you are thinking of sleek, black upper cabinetry combined with calming gray kitchen cabinets? Or the same pair, in reverse? Contemporary kitchens can incorporate these combinations or many others that you come up with, resulting in an elegant modern feel.
A Minimalist Approach
One ultra-modern style that many kitchen designers are utilizing is the hands-free cabinet. Without hardware to draw your eye, the long, clean lines of these modern cabinets come into focus. Many of these versions offer touch-release capability, concealed handles, and nearly invisible exterior components. Many modern kitchens eliminate distractions and enunciate subtle elegance, and hands-free cabinets can help you accomplish this.
Using Marble to Modernize
Marble has been used in homes extensively, but only recently has it been livening up the modern kitchen space. Contemporary cabinets, combined with marble accents and countertops, are bringing luxury and modernity to many homes. You can choose many different colors for your modern cabinet style, and marble can help complete the vision you are trying to achieve. This material is very versatile and can be used in islands and throughout the kitchen to contrast cabinetry. The stone comes in different shades, as well, and designers can play with different tones to match kitchen cabinet colors and styles.
Lacquered Kitchen Cabinets
Lacquered cabinets are the epitome of the modern style. They are sleek, shiny, and polished, emitting a feeling of sophistication and luxury. When paired with the right color choice, this cabinetry finish can provide a clean and glossy look to your kitchen. Lacquer can also supply a durable, scratch-resistant surface that will not yellow as quickly as other finishes on the market. You can reapply lacquer if it begins to get dingy or its shininess fades. Whether you decide on a slab, shaker-style, hardwood, or flat-panel cabinet, the lacquer finish will make your kitchen sparkle.
Walnut and Oak Cabinets
Hardwood cabinets are gaining traction as a versatile option for the contemporary kitchen. Many remodelers are incorporating a back-to-nature approach, using a wide variety of woods and natural materials. Two of the most popular hardwoods in the modern style are walnut and oak. Each has its subtle attractiveness, and they can match well with many different kitchen layouts and styles. Some kitchen styles today are accused of being cold and unwelcoming, and natural wood cabinetry can fix this issue. Walnut is known for its luxurious and deep tones. It is an extremely tough, durable wood that not only looks inviting but will last for years to come. Oak, meanwhile, has an impressive depth of color and intricate texture. Many modern kitchens will pair oak cabinets with rich hardwood flooring, light backsplashes, and dark countertops. With so many variations in wood and oak cabinets, you can include them in any modern kitchen that you can envision.
Conclusion
The modern kitchen is always evolving and morphing, meshing timeless ideas with new combinations. Whether you are looking to use unexpected materials in your layout, natural woods, or a minimalist look that shows off the clean lines of your space, the opportunities are endless.