Titan PowerBeast Airless Sprayer
Titan PowerBeast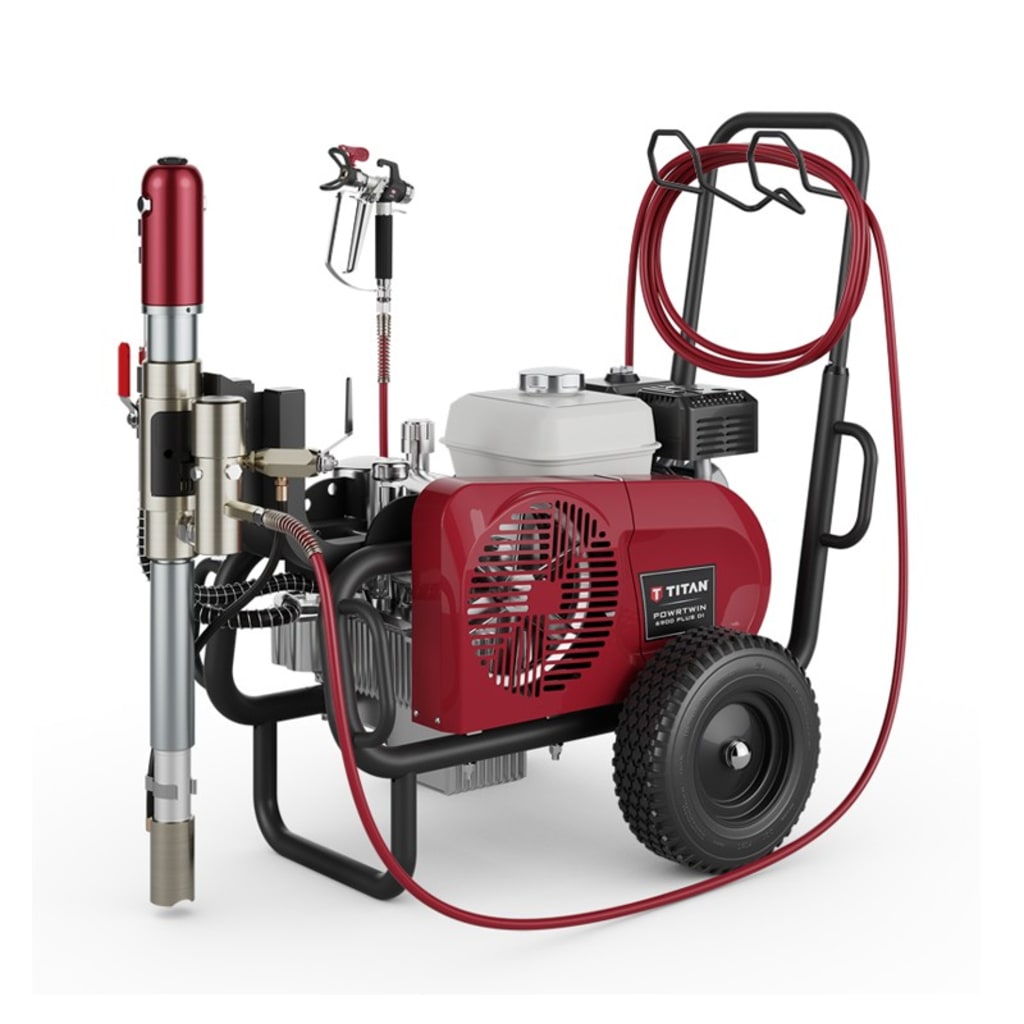 Airless paint sprayers are all the rage in the painting industry and among the contractors for various projects. Airless sprayers tend to be compatible with all kinds of projects, including interiors, exteriors, and large surfaces. They also work best with all kinds of paints. These sprayers are known to produce the best results in terms of giving the surface a smooth paint finish. Therefore they are quite in demand by all the painting professionals, as well as commercial painters.
Many paint company leaders in the industry, such a Titan and Wagner offer a huge variety of airless paint sprayers in the market. One of the best seller airless sprayers offered by titan is the Powrbeast paint sprayer. Others include powrtwin and hydra series as well.
In this article, we will further discuss the specifications of Powrbeast airless sprayer to better assess why this paint sprayer is considered the best among painting professionals.
ABOUT TITAN POWRBEAST AIRLESS SPRAYER
The titan powrbeast sprayer is considered as an immersion electric airless sprayer that provides durability that no other sprayer can even match. The following are the unique innovative features that distinguish the powerbeast paint sprayer from the rest:
1. HydraStroke Technology:
This is an innovative feature that sets the powrbeast apart from the rest of the paint sprayers. It offers an unmatched ability to perform by digitally-driven hydraulics. The durability offered by this sprayer is extensive.
It further offers ease and versatility in terms of painting, whether it refers to heavy coating or light coatings. Blotches and patches are rare with the use of this technology.
The system has only one moving part that reduces heat, therefore contributing to the durability of this product and extending its life by a considerable amount.
2. Severe Service Fluid Section:
The fluid section has a piston that through its long slow stroking capability maximizes durability. The fluid section is easily removable and replaceable if need be, therefore titan offers a lot of parts.
3. DESIGN FEATURES AND SYSTEM:
The sprayer features an extremely efficient cooling system with fans and shrouds maximizes cool airflow overheated areas of the spray machine. It further has a radiator style active hydraulic tank,
The sprayer has 12" inch pneumatic tires and handles that increase the sprayers' mobility and makes it easy to move around.
4. POWERED BY HONDA:
The Honda name in itself signifies a promising and efficient technology used in the sprayer. The technology used by Honda ensures a smooth running system with the most innovative features to keep the engine up to date in the best possible way.
5. OTHER FEATURES:
• The sprayer has sensors that send alerting signals due to low oil, therefore preventing engine seizures.
• The airless sprayer guarantees a quiet running engine system.
• It ensures a smooth performance with low vibrations.
• Titan technology has proven excellence of 35 years and still going.
• The assembly or pump is easier.
• The replacement and repacking kits are easily available in the market.
• The service centers are available to ensure the serviceability of new technology.
SPRAYER SPECIFICATIONS:
• Max Delivery: 1.1 GPM (Gallons per minute)
• Max Tip Size: .1 gun - 0.033"
2 guns - 0.023"
3 guns - 0.019
• Max Operating Pressure: 3300 psi
• Motor: 2.0 HP
WHY BUY TITAN POWRBEAST SPRAYER?
Apart from the features mentioned above, that makes titan powrbeast the sprayer of innovative and excellent technology, there is one more factor that gives it an edge over all the other airless paint sprayers.
The edge is the name 'TITAN'. Titan is a leader in the painting industry that offers a huge range of airless paint sprayers. Each spray is distinctive and unique in its way. Apart from Powrbeast, they offer countless electric airless sprayers also. They also offer a range of gas airless paint sprayers.
Titan has a name that is a guarantee of its products by just the name itself.
MAINTENANCE OF POWRBEAST AIRLESS PAINT SPRAYER
Just like any other paint sprayer, it is very important to maintain the powrbeast as well. This includes a thorough cleaning of the spray machine before and after each use. Make sure to disassemble the parts, use wipes, cleaning fluids and clean thoroughly. Cleaning should be such that there is no paint residue left otherwise it would result in clogging of paint tips, nozzles which might slow down the performance of your spray machine.
Before the use of paint, sprayer makes sure everything and every component of your spray gun are dry. Dry it with paper towels if you have to. Make sure there is no water, even tiny droplets might get sucked into the machine and cause malfunction.
Therefore to increase the durability of your paint sprayer, make sure it is cleaned and dried before and after every use.