Tips for Buying a Waterfront Home
Buying a waterfront property can be a significant investment so before you commit to buying Port Aransas, real estate experts recommend you to consider the following tips.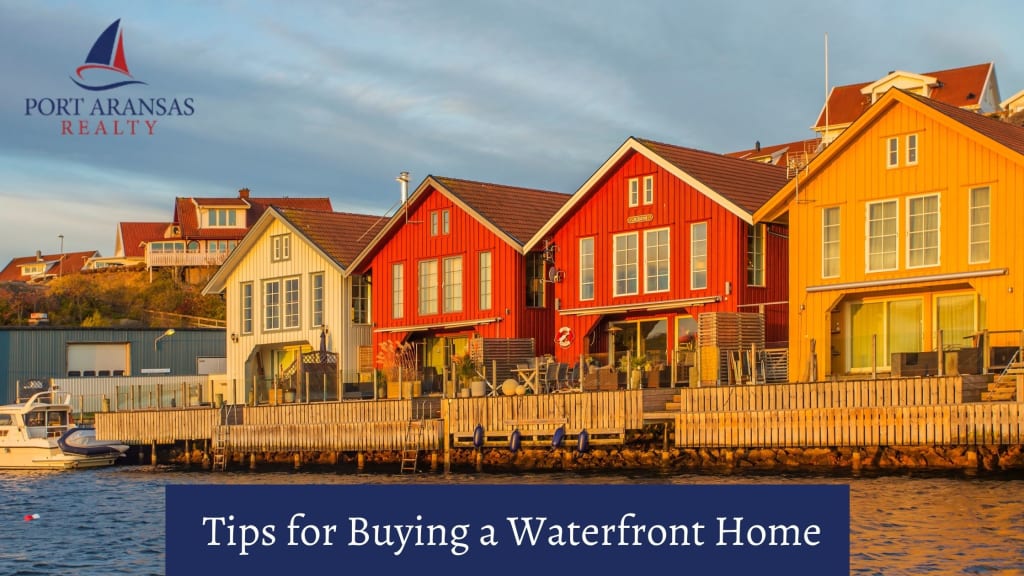 Are you looking for a house in Port Aransas with an ocean view? Do you have a keen desire for the luxury of being able to walk out from your door and onto a beach? Although buying a waterfront property can be a significant investment, it has its own set of challenges.
Port Aransas real estate experts, recommend that you consider the following tips before you commit to buying a waterfront property.
Purpose of your Purchase
Before looking for beach houses, know why you want such a home. For example, do you want to use the property as your primary residence or a vacation home? Or do you want to buy it as an investment?
The primary aim of your home will help you determine whether the potential waterfront homes for sale you are zeroing in on have the kind of amenities you want. Doing so will save you the stress and time of looking at properties that do not serve your purpose.
Check the Area and the Neighbors
The appeal of living in a waterfront home is that it gives you the luxury to walk straight onto the beach. However, this can also be an inconvenience if you are surrounded by houses with loud parties and constant traffic, especially during weekends.
Consider buying a house on the outskirts of town if you want privacy and peace near the water. Also, doing your research before you commit will save you a lot of stress in the long run.
Privacy
Before buying a waterfront property, look at the area surrounding it and ensure that there is no construction or anything else that might block your view of the water.
Check for noise-related issues because if you buy a home in an area where people come to vacation, loud music and traffic may be normal to you but can raise severe problems within your household. Try viewing the home during weekends to see if the area is quiet enough for you.
Also, check whether or not there are any restrictions regarding beach access. If there are, make sure that it is something you are okay with before you sign the final contract.
Property Inspection
Skipping this stage is a big no-no. An inspection is crucial to ensure that the home you are buying is worth the price you are paying for it. Also, coastal homes for sale in Port Aransas are vulnerable to flooding and hurricane damage. You must take a professional and experienced inspector to assess the house's structural damage and other technical aspects.
You may also check for termites, moisture, electrical system and see if there are cracks in the foundation or any other accident risks. Often inspections tend to turn up surprises such as significant environmental issues like flooding in the past, which can be a considerable cost to your budget.
Homeowners Insurance
If you are looking to buy a home in the coastal areas, you must consider buying insurance before completing the purchase. You can also take extraordinary precautions when choosing a policy for your home, such as altering the deductible amount and selecting coverage limits to fit your needs (beyond the advice of the agent you are working with).
Be Ready for Regular Upkeep
Unlike traditional houses, where you can call a plumber and stick to the basics, such as changing filters and cleaning drains, North Padre Island homes for sale will need constant upkeep. You will be spending money repairing your roof, repainting, and doing other expensive renovations every few months. Beach homes with water docks and boats also require regular upkeep, and they can be costly to maintain. So if you want a waterfront home, be ready to shell out some serious cash, and do not be surprised if the maintenance fees of such a property are higher than that of regular houses. Also, keep a number of a local contractor or a maintenance company who can quickly take care of your needs.
Read here for a fact about the waterfront you didn't know.
Grab it When you Find it
If your dream waterfront home is on the market, many others would want it just like you. However, if you wish to buy this house, you should be ready to act quickly because if you fail to complete the purchase within a specific period, someone else can swoop in and take it away from under your nose. Hire a realtor who will help you get in touch with the property owner and do whatever it takes to complete the purchase within a short time. You can also make an offer for this home before anyone else has a chance to see it, giving you an edge over other people looking to buy waterfront houses.
Conclusion
Coastal areas are some of the most sought-after homes in the Port Aransas real estate market. These areas are highly prized because of the proximity to water, availability of beach access, and various other lifestyle perks. If you have been dreaming of a waterfront home for a long time, now is the time to buy one.
Do your research and hire professional realtors in Port Aransas, TX, who can help you find a house and which fits your budget, needs, and lifestyle. Researching about the neighborhood ahead of time is also recommended to avoid facing any problems later on.