The Tupperware Party Diva
How I got with the "right" Party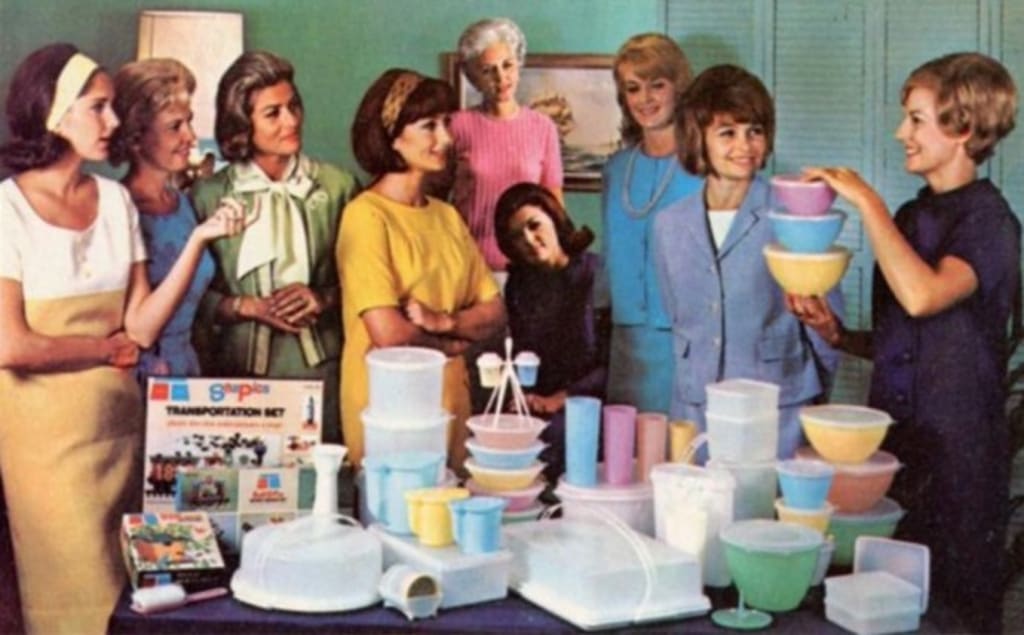 Parties. Rallies. Sales sessions. More than a way of storing leftovers in covered plastic bowls, for many it's a way of life. Earl Tupper took the plastics he developed for WWII into post-war American kitchens. The Tupperware Party is one of the ways women have come together to swap recipes and kitchen wisdom, get out of the house and support each other's entrepreneurial efforts.
"Did you know that somewhere in the world there's a Tupperware Party starting every 10 seconds."
How did I start selling Tupperware.
I needed to find a way to payoff some of the debts that was placed on my credit report erroneously and wouldn't be removed unless I paid it off. All the while, motivated by my desire to help others, I was searching for a way to rally them to a common purpose; caring and sharing. I had the bright idea to organize a Tupperware party like my mother did back in the day.
At the Tupperware party experience, I discovered the Fridge Smarts and I was quickly convinced of the value of this collection because it minimizes waste and it incites to eat more of fresh fruits and vegetables.
I chose to open my Tupperware business immediately following the party as I was convinced of the social and environmental aspects of this opportunity, but I was especially seduced by the originality of the experience. In the beginning, I was able to earn that extra income. Gradually, I could see the potential of a career at Tupperware. With a primarily feminine sales force, Tupperware has offered me a unique business opportunity that has led me to financial freedom and authentic recognition of myself as a person. This has motivated me to push myself and not only make it a full-time career, but to make Tupperware the sole income for my family.
How has Tupperware changed my quality of life....
I can easily balance work and family.
I can help people seize their full potential, to help them flourish, to help them grow. When you help a person to change their life, you have an impact on the life of a family, of a community. You know you have made a difference.
I can share ideas, recipes, tips and tricks on how to adopt healthier eating habits, to limit over consuming and to have a positive impact on the environment.
Tupperware offers me the possibility to travel and to discover new horizons.
A Little Bit of History about Tupperware...
Tupperware remains huge business. Its parent company, Orlando-based Tupperware Brands Corp., had $1.9 billion in sales last year. The company sells household and beauty products under a number of brands, including Avroy Shlain, BeautiControl, Fuller, NaturCare, Nutrimetics, Nuvo, and Swissgarde.
The most famous brand is still Tupperware, the plastic kitchenware, storage containers and other household goods. Today, the company has 2.1 million independent sales consultants in 100 countries, hosting parties around the globe and selling salad bowls and cake transporters.
They were founded on innovation and we've transformed thousands of households across the globe with the unique and durable products that help prepare, serve, store and carry food. The high-precision molds and world-class manufacturing processes give our products superior quality as they are made out of 100% virgin plastic. We offer consumers personal and convenient in-home options to experience and purchase our products.
Through our products we strive to be a helping hand in the daily lives of people across the globe and allow people to choose the life they want to lead through our entrepreneurial opportunity.
We care about our communities and the planet and are committed to providing a sustainable solution to single-use plastic pollution. Our products are re-usable, durable and come with a lifetime warranty.
It's a business model on which many companies have made billions: Mary Kay Cosmetics, Avon, Pampered Chef kitchen products, et cetera. But Tupperware came first and the brand name is still synonymous with home-based parties and independent salespeople.
At Tupperware, their products have always been made to last a lifetime and when they're no longer useful, we take them back and recycle them.
They have been innovating in food storage for the last 70 years. Storing fresh food and leftovers in Tupperware products is a simple way to extend the shelf life of food from the pantry to the fridge to the freezer.
Ways to Contact me....
Email: [email protected]
Facebook: www.fb.me/twpartydiva
Twitter: www.twitter.com/twpartydiva
Website: www.twpartydiva.com