The simple thing that gets me many social media views
Maybe getting social media views is easier then you think.
I'm a big fan of social media. I post more than most people do. I know it is not important but it always feels good when I get a lot of views or likes on a post. However, it can be hard to figure out what kind of content you need to post to get those views. Well, it seems like I've stumbled across something that Instagram's algorithm seems to like and that thing is… bath bombs! Before I get into all the details of my bath bomb videos, I'm going give you a little background. I started posting reels on Instagram in January of this year. For those of you who don't know what Instagram reels are let me explain it. Reels are very similar to Tik Tok videos. Basically they are short vertical videos that you are meant to scroll through just like you would on many other social media platforms. There is a huge range of content when it comes to reels. There is comedy, art, pets, fashion, sports, nature, photography and much more! I have made reels on a variety of topics including some of the ones I mentioned above. However, I have two reels with a significant amount of views. One has over 21,000 views the other has over 14,000 views. They are both videos of me tossing bath bombs into my bathtub. The way I make these videos is very simple. I add some kind of bubble bath or body wash to my bath water to make bubbles. Once I choose the bath bombs I want to use I place them on the edge of the bath tub. When everything is ready to go I hold my phone in one hand and I use my other hand to toss the bath bombs in the tub. Sometimes I quickly hold the bath bombs under the water and then I hold the bath bomb up to the camera to show them fizzing. After I put the bath bombs in the tub I will record the water and the bubbles for a few more seconds. When I am done recording the videos I put songs over them before posting. The video with 21,000 views is paired with a song by the band Patent Pending titled the Whiskey, the Liar, the Thief. The video with over 14,000 views is paired with a song from my favorite singer ever! The song is Teenage Frankenstein by Alice Cooper. These songs don't have anything to do with bath bombs or baths they are just songs I like. I have posted many bath bomb videos just like the ones with many views. On some of the videos I have used songs about taking baths or bubbles. I have learned that I prefer to use songs that I just enjoy listing to that do not having anything to do with what is happing in the video. Sometimes including on the video that has 21,000 views I will write a caption that has something to do with the song I'm using. I think it is a good way to share songs I enjoy with others. My bath bomb videos have view counts that range from under a 100 views to over 21,000 views. I can't tell you exactly why that is but from what I know it all depends on the algorithm. When it comes to getting views I believe the secret to getting views is simple. Don't try too hard. Keep it simple, take a quick video of something you enjoy and put one of your favorite songs with it. However, I do encourage you to try bath bombs because it is something that seems to get the attention of the algorithm. Also another piece of advice I have for you is to have fun! Social media is something that should be enjoyable and fun not stressful. I enjoy taking baths and using bath bombs. I do not make the bath bomb videos just because I get views. I make them because I enjoy making them. I also have fun choosing the song to go with the video I'm posting. I hope you find something fun and simple that works for you when it comes to making videos for social media. Happy posting!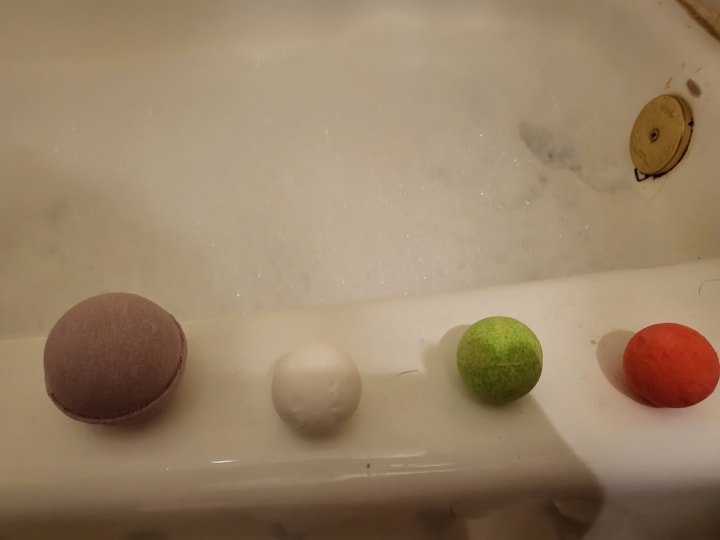 About the Creator
Hello, there! I am a creative and fun loving blogger with a bucket list, big dreams and a love of writing. Some of my favorite things to write about include self care, blogging, and pets.
John 3:16
Reader insights
Be the first to share your insights about this piece.
Add your insights