The Secret to Sleeping In
What would you do to wake up and instantly feel refreshed every morning?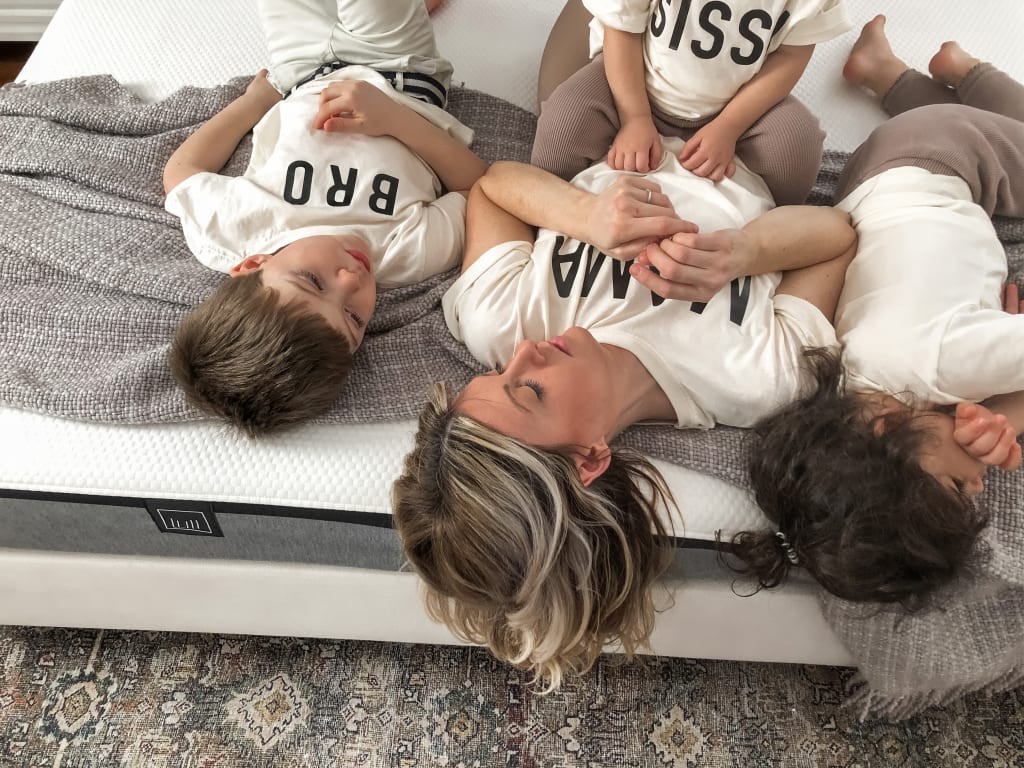 If you're like me, you would do pretty much anything to wake up and not feel tired.
Well, I have good news! My secret weapon to sleeping in: upgrading my mattress! When I ditched my old mattress for a new Lull, my sleep was changed forever. Lull is a company that makes the best premium memory foam beds in a box. Their Original 10 inch, three-layered foam mattress has taken the mattress and bedding industry by storm through its comfort, support, and durability - at a fraction of the price of traditional mattresses.
Being a work-from-home mother of three and an interior designer who treasures her bedroom, aka my safe haven, it's absolutely essential to get a good night's sleep. In order to keep up with my energetic kids, I decided it was time to ditch my old mattress and bring in something better. I dove into my research knowing I was looking for a luxurious mattress that didn't break the bank and that's when I found Lull. Since I have started sleeping on my LullMattress, I am getting a high quality night's rest every night, which allows me to have plenty of energy for both my kids and my work. I no longer feel exhausted and in need of a midday nap. Getting a quality mattress was very important to me because a productive day always starts with waking up feeling refreshed and energized. My Lull has been a great addition to my family's Sunday routine, which is my favorite. At the end of every week, I look forward to a relaxing day, laying in my big, comfortable bed with my kids, cuddling and enjoying our quality time together.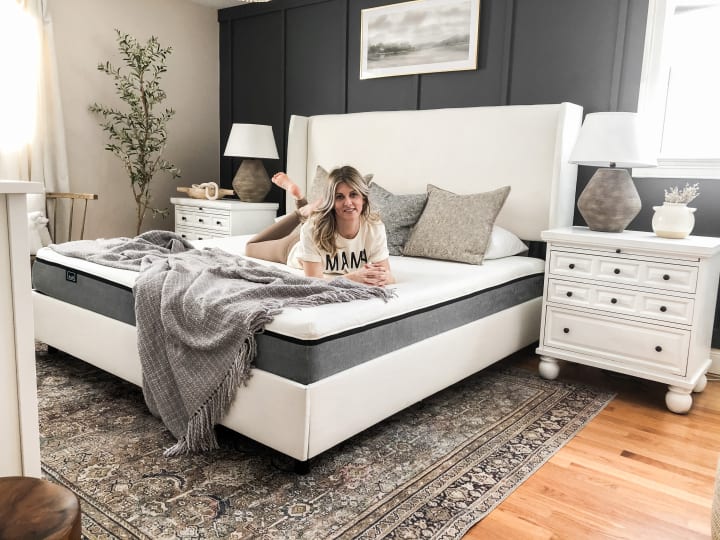 Prior to making the switch to Lull, I asked some of my friends who are also Lull customers, about their experience with the company. They all had nothing but amazing things to say about the product itself and the customer service team, or "sleep experts". After hearing the opinions of people I trust, I was eager to begin my own research. The entire shopping experience on Lull.com was stress-free and convenient, which I loved. I began to read the reviews and was overly impressed with their 98% customer satisfaction rate. The more I researched, the more I was confident that this was the mattress for me!
Once I placed my order off Lull's website, my mattress was shipped and delivered within only 4 business days of ordering. I was also provided with the tracking information so I knew the exact day to expect it. It was even delivered on a Sunday! The entire mattress was rolled up and tightly packed inside a compact cardboard box, which made it super easy to carry into my bedroom from my front door. The unboxing process was super quick and easy and my new favorite mattress was ready to sleep on in a matter of minutes!
One of the many things that immediately stuck out to me was that Lull offers a 365 night risk-free trial and a lifetime warranty. Lull is so confident in their products that they let you try out your new mattress in the comfort of your own home, unlike in a typical mattress store, for an ENTIRE YEAR!. With this, you have the ability to return your mattress (free of charge!) if not 100% satisfied. I felt at ease knowing I have a no-hassle return policy on a big purchase like my Lull Mattress. I was thankful that Lull offered such a generous trial, but as soon as I began sleeping on my new bed, I knew I wouldn't need it! Along with this, Lull offers free shipping nationwide with no-contact delivery. Now that I have my Lull, iI love my bedroom even more than I did before (who knew that was possible!?).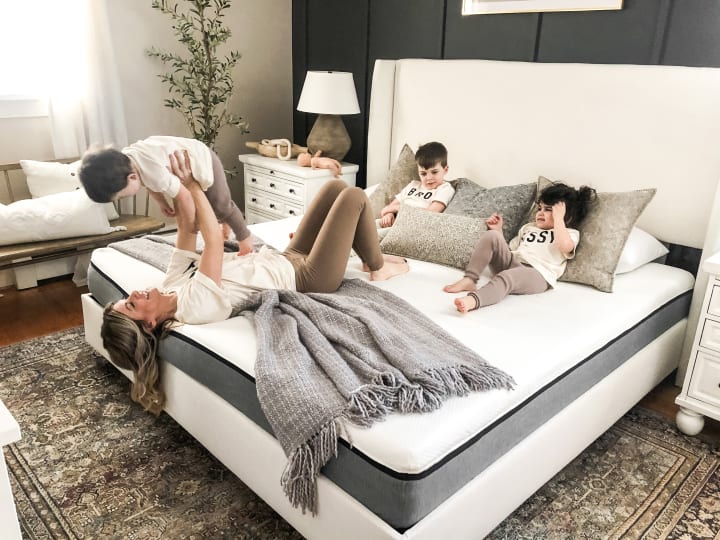 The Original Lull Mattress contains three layers of memory foam, so a topper is not needed. The three-layer technology provides optimal support and promotes healthy spine alignment. My husband has a really bad back and has had years of back pain. He constantly moves in his sleep and with our old mattress, I felt every toss and turn. With our Lull, I can sleep undisturbed even when he moves around throughout the night, and his back pain has noticeably improved. Here's a run-down of how each of the 3 layers serve your body:
Top: Cooling Comfort - Lull Mattresses have a 1.5" gel-infused, memory foam top layer that contours to your body, providing pressure relief for your joints, neck and lower back. The cooling gel technology provides enhanced airflow which draws heat away from your body to keep you cool all night long.
After having kids, I also used to wake up with night sweats no matter the season. I came to the conclusion that my old mattress was not helping regulate my body temperature as much as I needed it to. My Lull stays cool because of the breathable, premium gel-infused top layer that absorbs heat and transfers it away from my body. Lull Mattress also has a breathable top cover which is hand-crafted, durable, soft, and allows cool air to easily pass through. Between these two layers, my body contours comfortably to the mattress while staying cool. I have finally found a mattress that I love and I can sleep comfortably knowing I no longer wake up due to night sweats.
Middle: Therapeutic Support -- The 1.5" transition layer utilizes a blend of premium foam which supports your body, providing healthy spine alignment and even weight distribution. It has the perfect level of support so your body can truly rest throughout the night without feeling like you are sinking deep into the mattress.
Base: Lasting Durability- The 7' core support layer is made of high-quality polyurethane foam. This layer adds strength, durability and structure to the mattress. Lull only uses the highest quality foams to ensure that your mattress provides an exceptional sleep experience for years to come.
Over time, the mattress will also hold its shape because of the quality materials Lull uses. You will bounce right back in the mattress and will not sink in. One of the main features I was looking for in my mattress was its ability to hold its shape and not sag. Some of our previous mattresses felt amazing when we purchased them but within a year, quickly lost its shape. I was thrilled when I read that Lull's durable materials hold strong over the years for continuous great sleep. With over 40,000 positive reviews, it is clear to me that people truly do love their Lull Mattress.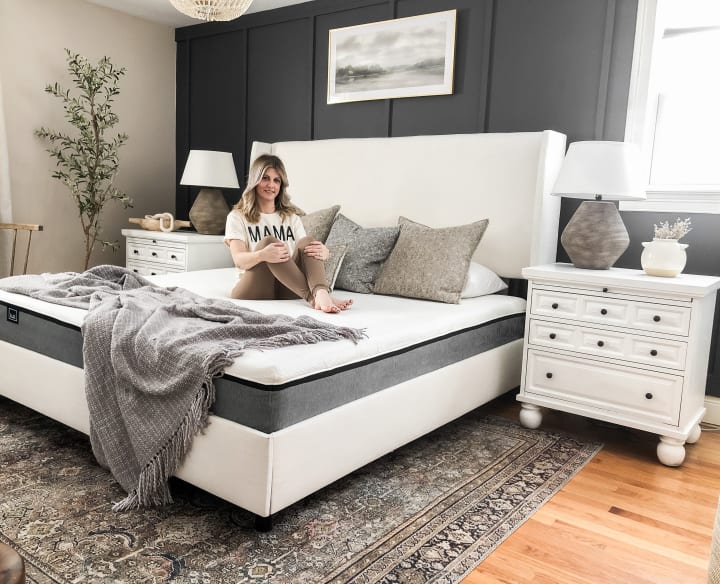 After upgrading to Lull, I definitely think it's the best bed in a box that's also so reasonably priced. The company and customer service team really takes care of their customers and was prepared to answer all of my questions, which made me feel so confident about my purchase. Lull is an excellent fit for any type of sleeper looking to get a luxury, memory foam mattress for an affordable price.
After a long day of running around after the kids, there is nothing better than laying on a comfortable mattress and getting a good night's sleep.
As parents, we need all the quality sleep we can get to keep up with the littles. Sleeping in on Sundays never felt so good now that we have a Lull Mattress. I highly recommend Lull to all of my friends, family, and anyone who is looking to get the best sleep of their life!