The Perfect Mattress for Our Family of Four
One busy mom's secret to being able to sleep in on the weekends

Supported ByLull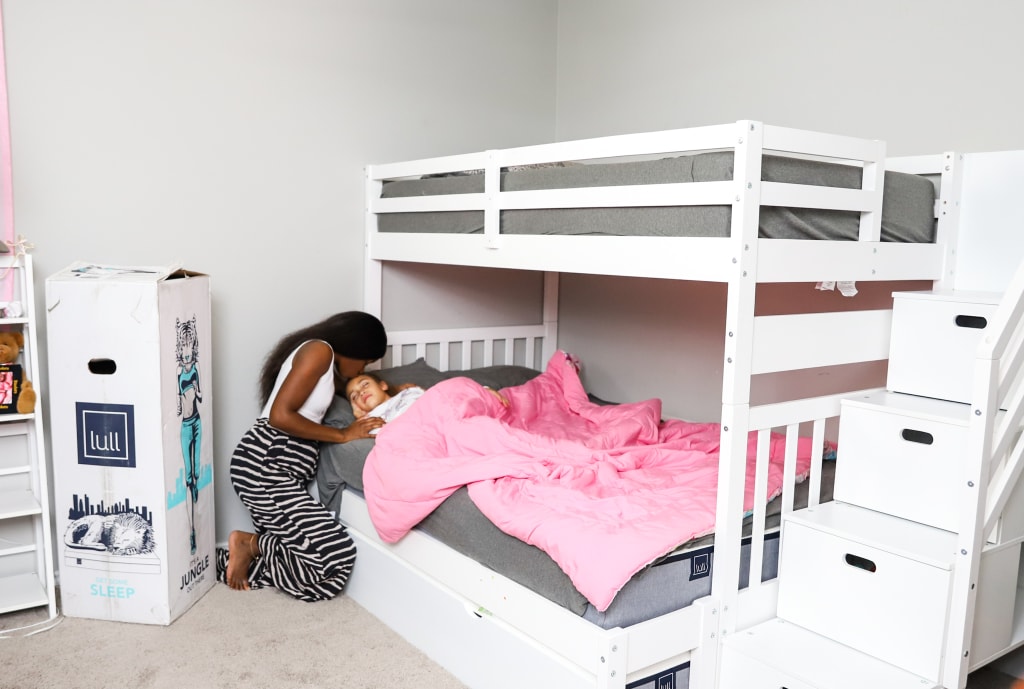 When you're a parent of young kids, sleep is usually non-existent, or can be uncomfortable at times when they sneak into your bed in the midnight hours. Although we love when our kids sleep with us and we will cherish these moments forever, sometimes we just want a good night's rest so we can wake up refreshed and rejuvenated the next day—ideally, a little later than 5am! So, my husband and I decided that we wanted to give our kids a room makeover: get them a bed set that they would love (and sleep in through the night!) with an excellent, comfortable mattress that would provide comfort for their little bodies and help them to get a good night's rest on a daily basis.
After thinking, planning and budgeting, we got to work immediately. After we ordered their bed set, we went on to order their mattresses from Lull. I've wanted to get a Lull Mattress for years now, and I knew that it would be the perfect mattress for our kids. The ordering process went so smoothly. Everything was clear and easy to understand on their website and their customer service is phenomenal, might I add! I can see why Lull has a 95% customer satisfaction rate. Once we put in our order, we received our Lull Mattresses in a timely manner. Do you know how cool is it to get mattresses delivered straight to your doorstep (with free shipping!) in a compact box? If you want to find out, by the time you're done reading this, you're going to want to put in your order so you can see for yourself.
Once we received the Lull Mattresses, we took them out of the boxes and unrolled them in preparation to put them on the bed frame. What's super cool about the unboxing of the Lull Mattresses is watching it expand once you cut the plastic off. Their mattresses are tightly sealed in the plastic and once you take it off, the mattress instantly expands. I've never seen anything like it before! That's because Lull uses state of the art vertical compression technology, so delivery and set up is so convenient and the quality and structure of the mattress is not compromised. Once our mattresses were expanded, we touched and felt them to see how comfortable they were. You guys, the Lull Mattresses are so comfortable and super soft. They have a gel-infused top layer that provides airflow, forms to your body overall, and durable layers that not only will provide you with the best sleep ever, but is built to last for years! Lull even has a lifetime warranty on their products, so you can trust the durability in your investment. After laying on it and testing it out for myself, I was immediately tempted to order one for our bed downstairs!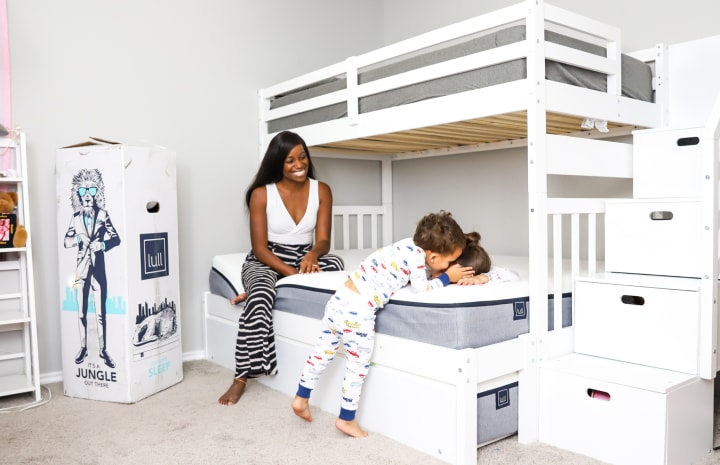 After the makeover
After the Lull Mattresses had time to fully expand, they were ready to be put on the bed frame and put to the test! A great thing to know about Lull Mattresses is that they work for most bed frames and you can use them with or without a box spring, so you can get great sleep on any surface. So, once the mattresses were placed, the kids were ready to sleep in their new beds and get the best and most comfortable sleep ever. After the first night, the kids slept like babies—until after 7am, which is unheard of in my house! For the first time in months, my husband and I slept through the night, weren't woken up by restless kids, and couldn't believe our eyes when we woke up on our own and looked at the clock. Mission accomplished! So that, my friend, is a parenting secret to restful sleep: Make sure the kids get restful sleep first.
I wanted to share our experience because I know at times as parents, it's hard to not only get enough sleep, but to get comfortable sleep as well. Kids love sleeping and cuddling with their parents, but some, like ours, are wild sleepers, and that can be very uncomfortable. So, to find a solution that helps give them the best and most comfortable sleep, we had to put on our thinking caps, and I can say that this was a parenting win in our book. So, if you're interested in Lull Mattresses, you are in for a treat. Lull Mattresses are made with the highest quality materials and designed to comfort you and last for years. Furthermore, not only is the quality amazing, but the brand itself is amazing. You will get no-contact, free delivery to your door—yes, free shipping y'all—and a 365 night risk-free trial for your purchases. So, if for any reason it's not quite what you were looking for, you can return it for a full refund. Totally risk-free, there's nothing to lose and only great sleep to gain.
Other tips for sleepy kids
Outside of getting a top-quality mattress for a good night's rest for your kids, here are a few other tips that will help out as well. I highly recommend getting a humidifier in their room. We live in a hot and dry climate area so sometimes at night, it is stuffy in our house. Having a humidifier to help moisturize the air that they are inhaling helps them to breathe better throughout the night, keeping them comfier and more likely to stay asleep through the night. They also have allergies, so a humidifier also helps a lot with that as well. There are so many out there, so I suggest doing your research and finding which one will work best!
Another tip that I suggest is getting comfortable sheets for them! When looking for sheets for my kids, I noticed that some sheets felt rough, some felt too thin, etc. I have my personal favorites that I love to use on our bed and the kids seem to sleep peacefully when they lay on our bed. Not only does Lull have mattresses but they also have sheets, pillows and so much more to give you the best sleep on earth! They are all top-rated items and I know that you all will enjoy them. And not only will you enjoy your Lull bedding, but your kids will as well!
So, if you are looking for the perfect mattress for you or your kids delivered to your home in a convenient box, head over to Lull's website and order today! I am telling you, you're going to love the whole experience—and you'll sleep better knowing your kids are sleeping better, too. If you have any tips that you would like to share, feel free to share with me! I love hearing and learning different ideas! ☺
About the Creator
I am Chris C. Wise, an astonishing Life, Style and Mom Blogger, and Content Creator in Texas that enjoys sharing my life, my style, and my journey through motherhood to my highly engaged audience across all of my platforms!
Reader insights
Be the first to share your insights about this piece.
Add your insights