The Perfect Addition to Any Mother's Day Gift
VoiceGift® Will Be My Go-To This Mother's Day!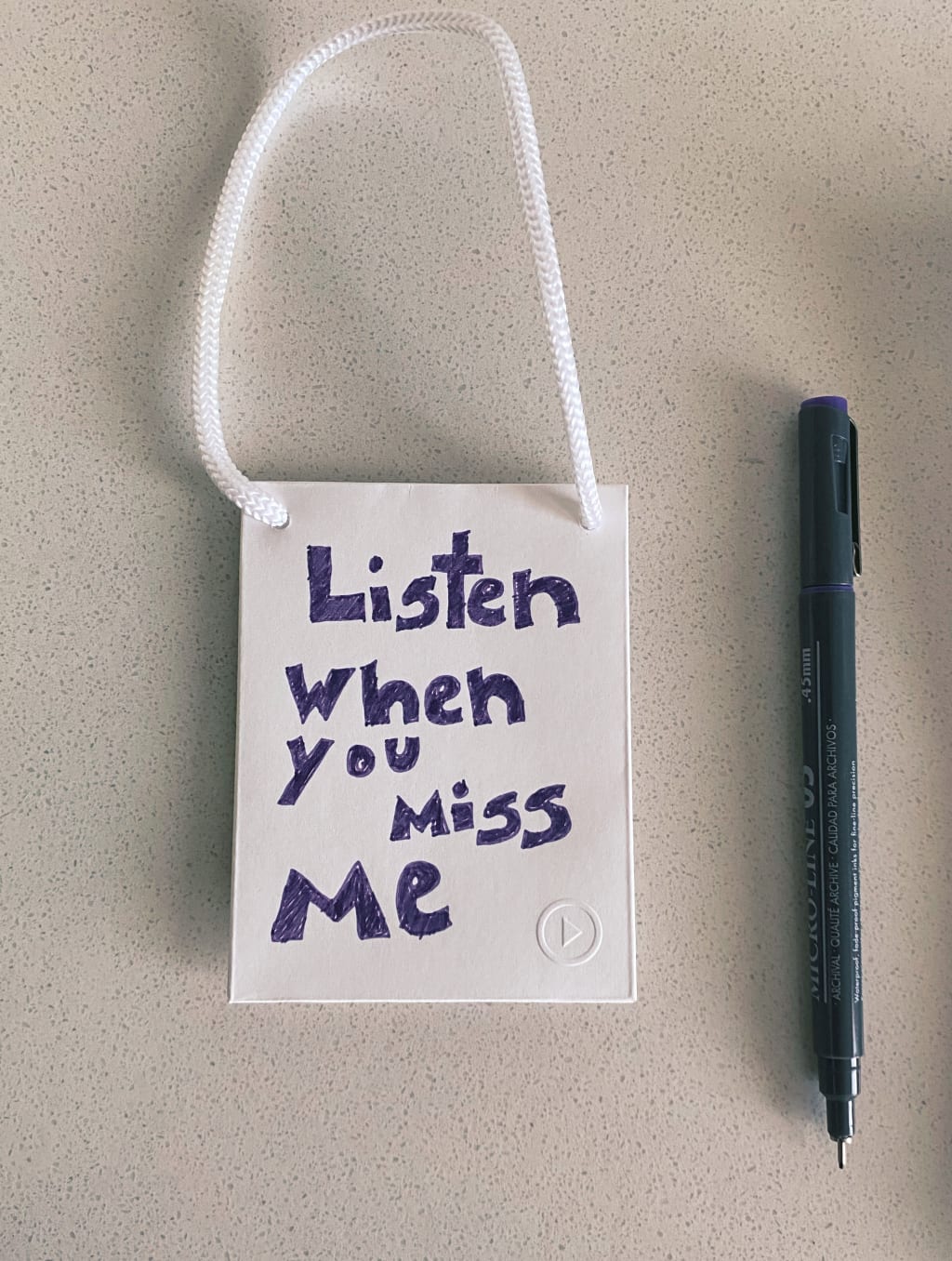 2020 showed me the value of small gestures.
After moving thousands of miles from my hometown, I found myself craving the sense of community I once had. So I started reaching out more, and through writing letters, making phone calls, and sending cards, I started to understand the value of not only crafting relationships but nurturing them.
"I've learned that people will forget what you said, people will forget what you did, but people will never forget how you made them feel."

-Maya Angelou
Nothing transports my physical presence, though. Something I know my mom is missing. This is the first year we've gone longer than a week without seeing one another.
It will also be the first Mother's Day I can't deliver flowers in person.
Even if I had them delivered through a third-party service, they'd wilt and remind her of their temporariness. A phone call doesn't quite do it either. It's not playable or replicable; the conversation fades from memory, and neither makes my mom feel closer to me.
For a past Mother's Day, I gifted her a scrapbook of letters and pictures detailing our life together. I know she can visit them when she needs some encouragement. But I've learned that my writing voice doesn't connect with family the same way as my normal speaking voice.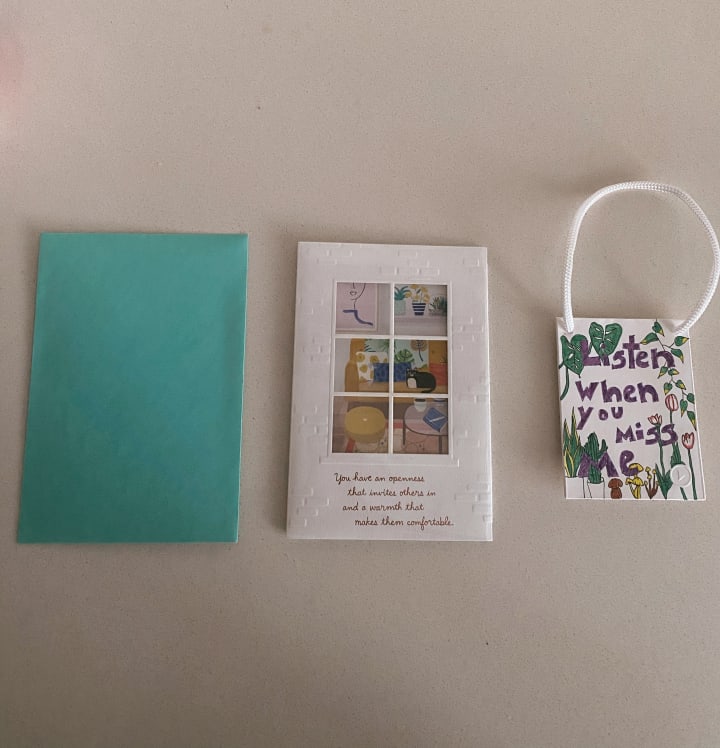 When I was beginning to feel hopeless about the situation, I discovered Voice-Express. This family-owned and operated company would bridge the 2,000-mile gap between my mom and me and make this Mother's Day special.
Voice-Express
Voice-Express was founded in 1997 by the CEO Geoffrey Stern. He created Voice-Express to deliver interactive, high-impact, replayable audio to consumers, brands, and businesses. Voice-Express is the market leader in self-playing media and interactive voice response products; companies like Sony Music, Verizon Wireless, Johnson and Johnson, Build-a-Bear, and Intel use the company to market or enhance their product's function.
Voice-Express provides an experience and creates a memory. Which is precisely what I was searching for to make this Mother's Day different.
I found a perfect solution in a Voice-Express product called the VoiceGift. It's small enough to be a fantastic addition to any gift but large enough to stand on its own. The VoiceGift allows consumers to create a personal 60-second message to anyone. The technology isn't limited to just your loved ones; you could also create a memo, a reminder for someone house sitting, or even an affirmation to listen to as you start your day. With this product retailing for only 8 dollars, they've taken the hassle (and price) out of gifting something meaningful.
For Mother's Day, I'm creating a poem for my mom with a decorated outer covering. But I'm also going to develop a gift tag for each page of my mother's scrapbook. My mom can hear me read and feel me with her whenever she wants. With the VoiceGift, I'll never be too far away.
Creating the Message
We were awash in tiny attentions. Small gestures, words, empathies thought to be extinct came to life... We discovered the color of each other's eyes.

Jerry Spinelli
I quickly noticed that the beauty of the VoiceGift is in its creation. The process of recording the gift tag and designing the outer cover is fun and exciting, with the vision of your loved one hearing it in the future. I started making my gift by composing a poem for my mom. I wanted the work to represent her tenacity and pure spirit. But to also communicate that I credit her with everything.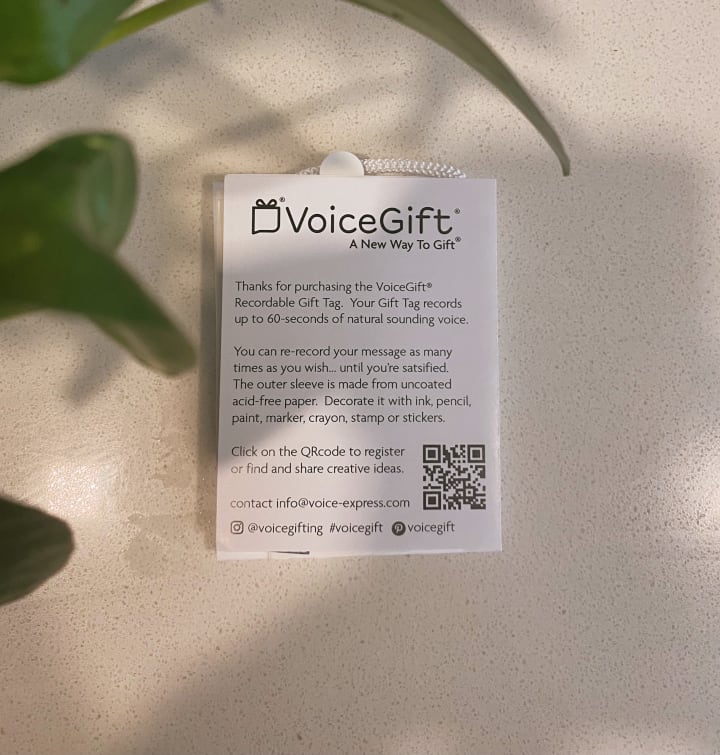 She was a single mom who gave her all for me and my siblings to have a good life. For that, there are no words to describe my gratitude, but I can try.
Everything that I am I owe to you.
Thank you for being my mom and my dad too.
Every day is a celebration of your spirit.
Your soul beams through your laugh, and I can almost hear it.
Your work ethic is unmatched.
With grace and humility, always attached.
You are the vitality of every test.
Constantly pushing me to do my best.
You taught me to be strong against what might be looming.
Because trying is better than not.
I listened when you taught.
Mom, for all the times I didn't let the words go.
For all the times, I was quick to say no.
Know that I love you; I do.
Everything I am I owe to you.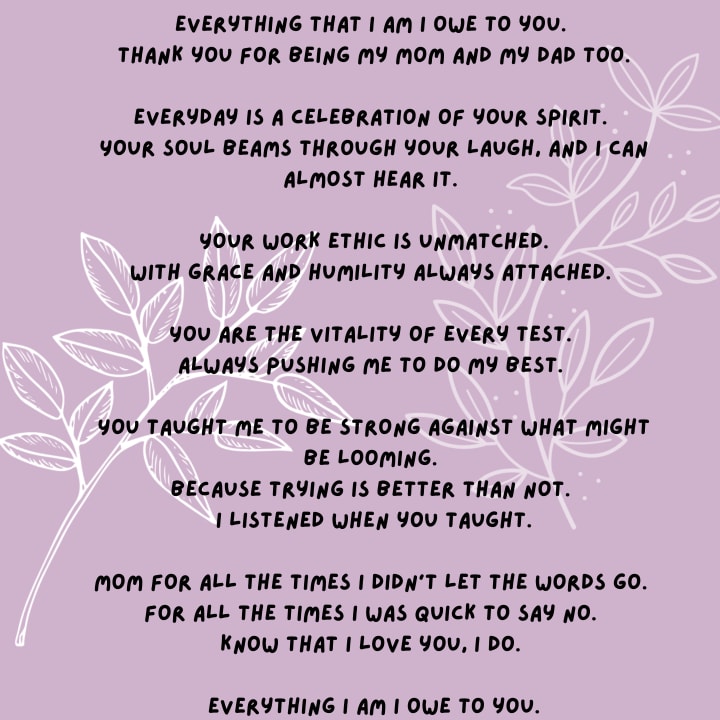 I believe that the poem does get my message across; however, I know she'll get a deeper understanding and meaning with my voice and cadence reading it. The voice tag's addition adds deeper elements that I could never bring about through only the written word.
The Recording Process
I'm notoriously bad with tech. But recording and saving my message with the VoiceGift was easy. The whole process took three steps, pull the battery saver tab, move the selector switch to REC, press the button until you hear the tone, then record your message. To listen to the finished product, simply release the button, and move the selector switch to PLAY and press the button again.
Decorating the Sleeve
The VoiceGift comes with an array of stickers to decorate the outer sleeve, but the paper itself is acid-free and bleed-proof with the capability to handle crayon, marker, pen-you name it. Thus, I decided to draw on the outer cover directly (with the help of my partner Etta). We agreed on purple for the lettering (my mom's favorite color) and plants for spring representing Mother's Day.
I decorated the front with the words, "Listen when you miss me." I've always liked the idea of creating resources for loved ones to visit no matter what happens. I want my mom to have a piece of myself that she can listen to at any moment and as many times as she wants.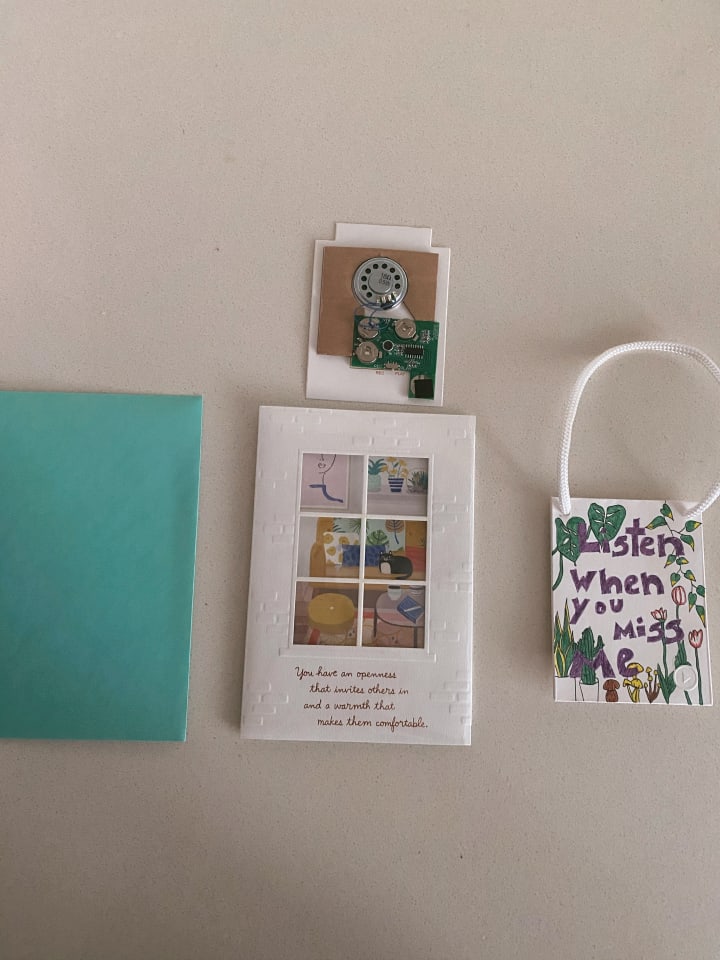 I attached my decorated VoiceGift to a Mother's Day card that pictured a cozy living room with a cat lounging on the couch. Within the card, I wrote another short letter, reminding my mom of all the reasons I value her in my life. I know this gift will mean more to her than if I had sent her something more expensive but less personal. Every element down to each plant drawn on the cover was hand-selected for my mom. The Voicegift is entirely customizable to fit any need. No two voice tags will look or sound the same, and there is something special about that level of individuality.
Parting Words
If you're looking to gift something that your mom will never forget, I highly recommend the VoiceGift. The creators at Voice-Express truly value their customer's experience and work hard to create high-quality audio that can be enjoyed for years.
In a period where we're forced apart, and our time is not guaranteed, it's more important than ever to reach out and remind those we love that we love them. The VoiceGift allows a timeless way to freeze a message and the emotions tied to it. Gift your mother a memory, create an experience with the VoiceGift.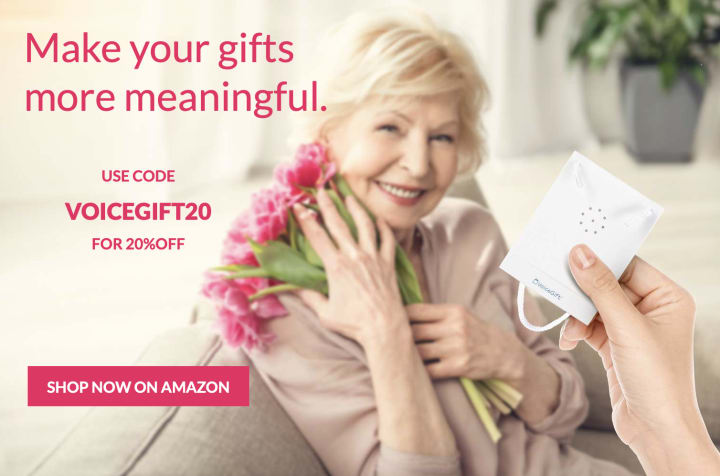 Reader insights
Be the first to share your insights about this piece.
Add your insights