The Best Gift for A Mom? Great Sleep.
After having children, I can certainly attest to how precious good sleep is.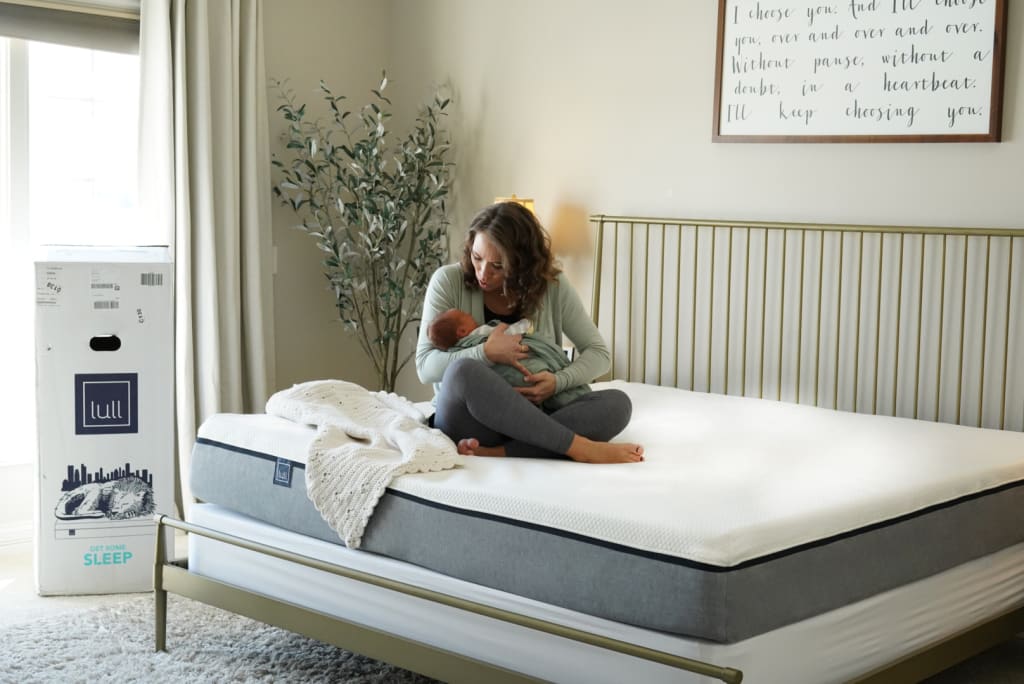 Last month, I welcomed my fourth daughter into the world so, one could say I'm starting to get the hang of this crazy ride called motherhood.
Pregnancy and newborn life can be quite isolating, but throw in a global pandemic and you wonder if you're ever going to see your friends again. Thankfully this time around I had not only one, but three of my best friends pregnant at the same time as me - our poor husbands! Of course, we all had our fair share of complaints during these nine months, but my friend Abby, who was the last one due, just could not stop talking about how horribly she was sleeping due to her old and uncomfortable mattress. I knew I wanted to do something to help Abby, which is when I had the idea to surprise her with a Lull Mattress!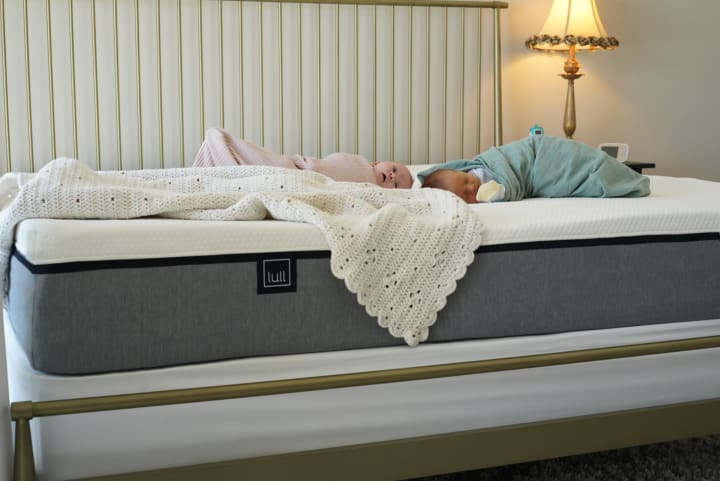 One of the biggest factors that went into my grand plan was making sure that if, for any reason, Abby and her husband did not like their Lull, they would be able to return it with no hassle. I was thrilled to find out that if Lull wasn't the right fit, returns would be free and we'd receive a full refund. With Lull's 365- night trial, I felt confident that they would have more than enough time to make sure they loved their new mattress. Obviously, everyone has different preferences for the feel of their mattress, but with everything I had heard about Lull, I felt pretty certain they were going to be beyond satisfied. I read so many reviews online, as I tend to obsess over every purchase I make. I was overly impressed with Lull's 98% customer satisfaction rate and I knew this was the perfect mattress choice. The process of ordering online was incredibly simple and the mattress arrived only two days later with free shipping and no-contact delivery right to my doorstep. I was shocked to see it show up so quickly, but also so excited to get to work on this surprise!
Timing everything out was the trickiest part since I just had a baby and Abby was due any day. I decided the best plan would be to coordinate with her husband once their baby was born and sneak in during one of her follow up doctor appointments to set up her new Lull Mattress. Abby went into labor about one week later, but unfortunately her son had to spend time in the neonatal intensive care unit due to a few complications, so Abby's ability to rest was severely diminishing. My heart was breaking for my friend when I heard the exhaustion in her voice. At one point, she told me she had only slept ten hours in the last four days! After one week, they were finally able to go home and I knew that the big Lull surprise was going to be so much more meaningful as she had even more sleep to catch up on.
When the time came for the big surprise,
I loaded up the brand new Lull Mattress and headed to their home as soon as Abby left her house. Because Lull's Mattresses are delivered in a compact box, transporting everything was simple. I quickly got to work unboxing the new mattress. It only took me around five minutes to set up their new mattress, with my newborn in tow! I was so impressed with how easy it was! As soon as I was done, I immediately realized why Lull has over 40,000 raving reviews - holy moly this thing was amazing! The top layer is premium cooling gel, which is so nice to have during postpartum life (bye bye night sweats!). The middle layer provides support and motion distribution, so all of the getting in and out of bed during night feedings won't be felt by her or her husband. The final layer is a non-toxic, durable base layer so the mattress won't have any issues with sagging over time.
Buying a big item like a mattress for someone other than yourself can be a little nerve-wracking,
But, after seeing Lull's advanced sleep technology in person, I was confident she would love it. As soon as Abby walked into her room and saw the new king sized Lull Mattress she started crying; could have been postpartum hormones, or could have been her excitement to finally get good sleep.
After one week with their new mattress, Abby told me her and her husband had not slept that well in a very long time (and that is saying a lot considering they were home with a newborn). Besides comfort, she said that the biggest difference between her new Lull Mattress and her old spring mattress was the even motion distribution.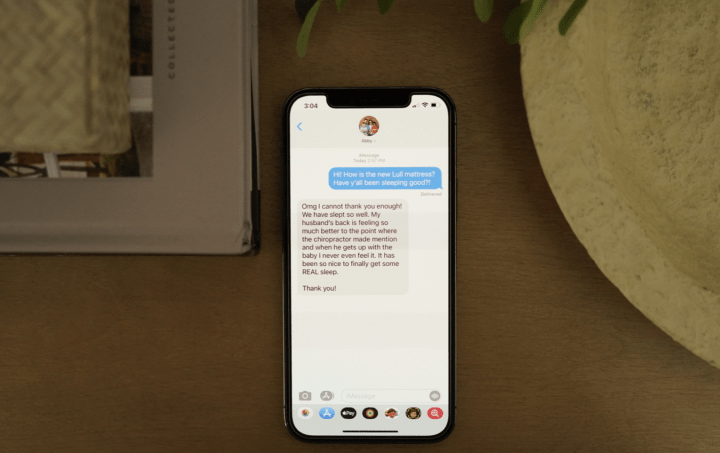 She was overly excited that when her husband wakes up with their baby, she is able to stay soundly asleep and it has made all the difference in her ability to feel rested in the morning. Prior to her Lull Mattress, Abby would wake up three to four times per night from discomfort. Now she told me she feels like the mattress is forming to her body so she isn't tossing and turning, which has given her deeper sleep. She also mentioned that her husband used to make frequent trips to the chiropractor but since sleeping on their Lull,his back pain is minimizing and the chiropractor noted a positive change in his spine alignment. I was so happy to hear how their Lull Mattress has taken them from restless, uncomfortable sleep to full nights of sound, deep sleep.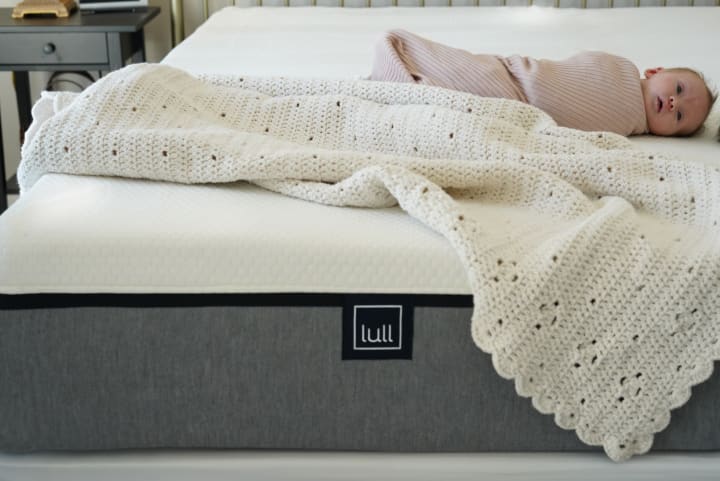 Being a mom is hard. You are constantly questioning if you made the right decisions for your child's well-being that day and there is just no life experience that can prepare you. When I sleep well and wake refreshed not only do I benefit, but my kids do as well. I can feel myself being more patient and attentive to their needs. I feel so grateful to be able to have had the opportunity to give my good friend the gift of great sleep with a Lull Mattress, especially after everything that she had been through. So, whether you are about to be a mom, have been a mom for a few months or your kids have their own kids you are amazing and deserve to feel rested too! Here's $250 off so you can save on your new favorite Lull Mattress.

Margaret McAfee
Renovating my 1980s home became a passion project and so McAfeeHomeLiving was born. By providing followers with a positive, sometimes witty and always quality content I have been able to consistently grow and engage my following.
See all posts by Margaret McAfee →