THE BENEFITS AND DISADVANTAGES OF CANOPY BEDS
Canopy beds are beautiful additions to any boudoir. Canopy beds go back to the days when kings and queens slept in ornate chambers.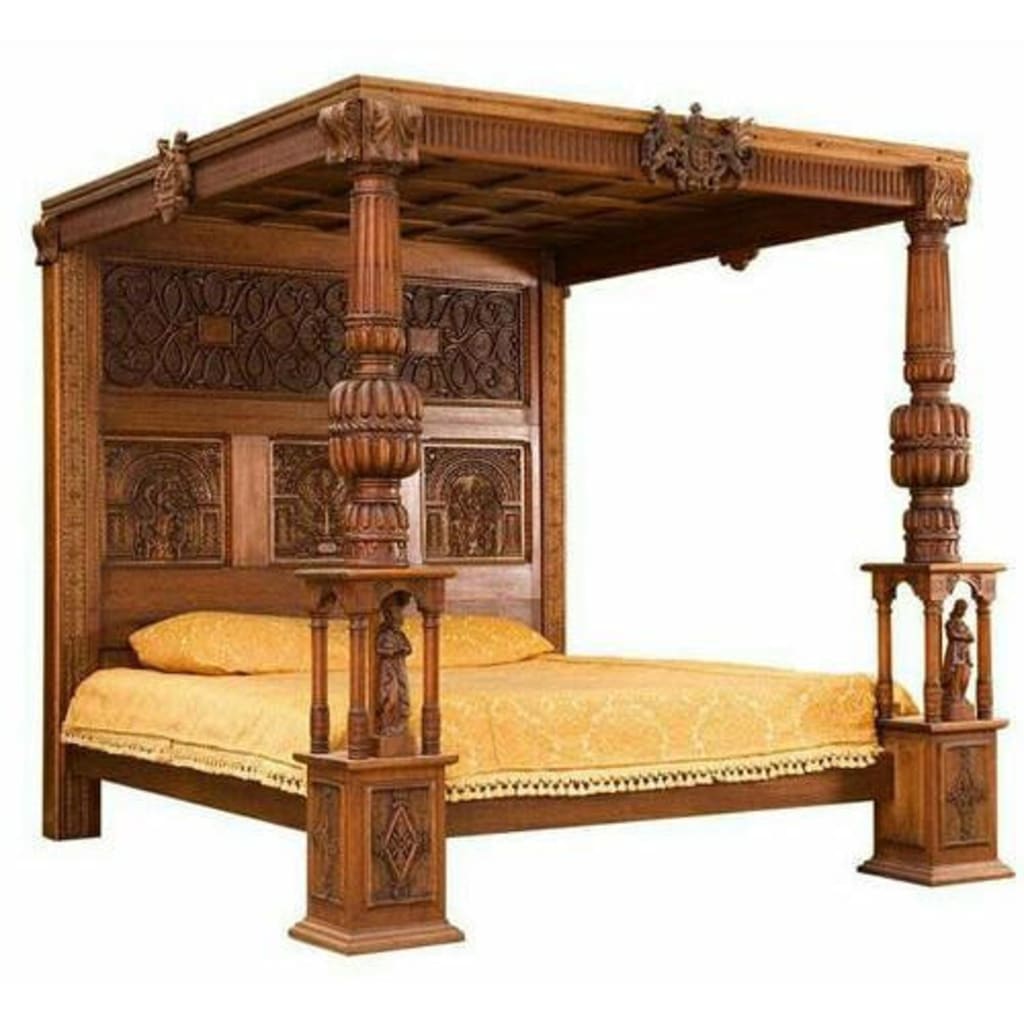 Vintage Canopy Bed
Canopy beds are beautiful additions to any boudoir. Canopy beds go back to the days when kings and queens slept in ornate chambers. When layers of fabric fell from the ceiling, whether thin or thick, they produced an outstanding mood. Canopies are becoming less frequent in current times. A bedroom with a well-designed canopy, on the other hand, is the epitome of indulgence. Why not create your own canopy if your bedroom is your haven?
If you're looking for an antique canopy bed or a vintage canopy bed, Bidsquare is a well-known firm for antique and vintage furniture. You can look through the antique and vintage furniture and bid on it to obtain the best value.
There are a few things to think about if you're on the fence about including one of these beds in your custom home. Here are some of the benefits and drawbacks of owning a canopy bed:
Advantages of Canopy Beds
Canopy beds are recognised for their flowing draperies and material, but they have a lot more to offer. The following are some of the advantages of canopy beds:
The Room's Aesthetics
Canopy beds are quite gorgeous. They are available in a variety of styles, making it simple to find one that matches your room and the rest of the decor in your custom house. A canopy bed also takes your master bedroom to new heights. The ability to change the covering linens adds another layer of customization to your bed, allowing you to update and change themes as your tastes evolve. Other furniture is more difficult to produce because it usually requires reupholstering and refinishing.
Controlling the temperature
In addition to their visual appeal, canopy beds have a useful purpose. In the winter, being able to encircle your bed in extra linens may help you stay warm. With some careful planning, you might be able to use your bed to keep cool in the summer. This temperature control can make your bed and bedroom more comfortable throughout the year, but be careful: your bed may become too comfortable to leave!
Heavy fabric can also be used to help block out the light. Layers of fabric can block out sunlight on weekends so you can sleep in, and your bed drapes can muffle noises so you enjoy a better night's sleep. Ties run along the bed posts, allowing you to pull the canopy back while still having access to your bed.
There are a plethora of design possibilities to choose from
You're also not bound by a particular canopy design. Of course, your custom home could have a four-poster bed or a canopy frame that allows you to easily add one. Drape a little fabric from head to foot or cover the four sides of your best for complete privacy. If the canopy drapes ruffles over the side of your frame rather than down, it will not get in your way. Some individuals wrap fabric over their bed frames for a unique aesthetic. Simply drape four pieces of light, airy cloth from the centre of your bed frame, one over each post.
Canopy Beds' Drawbacks
Although functional and elegant, canopy beds are not suitable for every lifestyle or room design. Here are some of the drawbacks of this type of bed to consider:
There's a lot more cleaning to be done
Cleaning your bed linens is probably second nature to you, but with a canopy bed, there's a lot more linen to clean. Despite the fact that most hangings do not require as much washing as your bedding, it is still extra labour. Furthermore, the dusty top cover of canopy beds must be cleaned on a regular basis to minimise allergy difficulties.
If you or your loved ones suffer from dust allergies, canopy beds may not be ideal for you or them, especially if you have dogs. Why give more places for dust and dander to collect if you don't have to? However, you can have a canopy bed without the linens for structural reasons, so there are still options if you don't want to deal with the extra material.
Temptation of a Pet and a Child
Canopy beds are attractive, and your pets and children will agree. The hanging linens have been known to be grabbed by children, causing damage to the material, the bed frame, and even themselves. The high surface of the canopy is a difficulty to cats and dogs on occasion. As a result, many pet owners may find their felines or other animals imprisoned on top of their beds. A canopy bed might not be the right decor decision for you if this is a pain you don't need.
Choosing the right bed is one way to design your bedroom for better sleep. Depending on the aesthetic and function you desire in your master bedroom, a canopy bed may be the best option for you.
Reader insights
Be the first to share your insights about this piece.
Add your insights