The Basics Fundamentals of Boat Insurance
Learn the basic fundamentals of boat insurance before you get boat Insurance.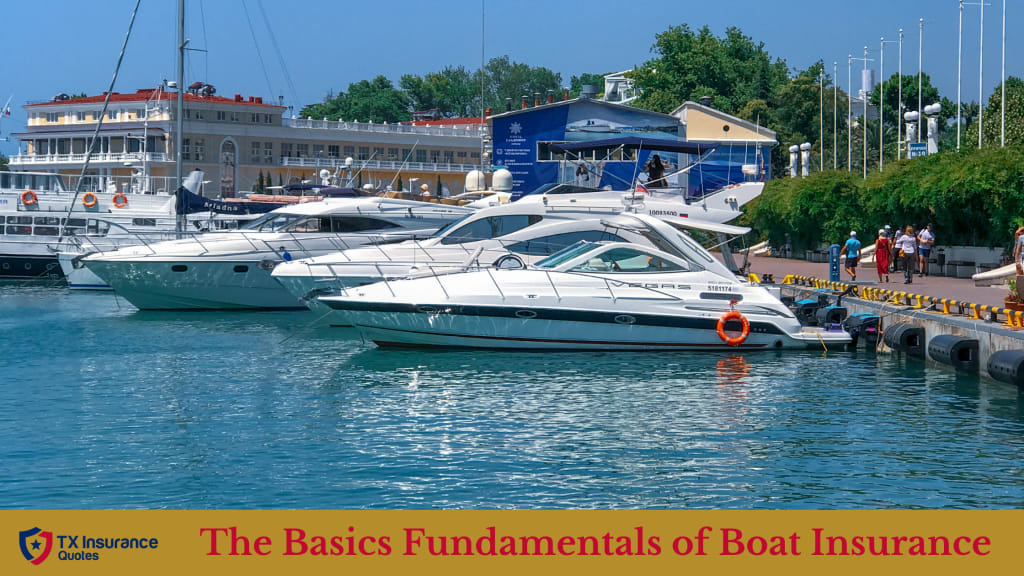 Did you know that there are certain things you need to do when you insure your boat? Boat insurance is not like insuring your car; it is more complex. When you insure your boat, you need to know the basics of how it works and what to do when there is a mishap. Boat insurance can be a little difficult to figure out if you have not done it before.
So, in this article, we will run through the basic's fundamentals of boat insurance in Texas. And how it gives you and your co-passengers a peace of mind when you are enjoying a day floating by.
In this articulation we will cover in detail the points below.
Types of Boat Insurance Policy
Boat Insurance Premium Factors
Types of Boat Insurance Coverage.
What is not covered under Boat Insurance Coverage.
Insurance Discounts for boats
Types of Boat Insurance Policy
Boat insurance is designed to protect you and the value of your boat should anything happen while operating your vessel. Boat owners have a variety of choices, depending on their needs and budgets. While different companies may offer similar policies, one insurer's policy will never be the same as another's so it's important to get quotes from more than one insurance provider.
Further, the price you'll pay for a policy will depend upon the type of policy you have opted for such as:
What is "Actual Cash Value Policy"?
Actual cash value policies are always less expensive than agreed upon value policies. The problem is, once you've bought the policy, it costs more than it would have to buy an agreed value policy at the same price.
Since actual cash value boat insurance bases your premium on what you'd get if you sold the boat today, the replacement cost of your new boat will drop every year. For example: If you buy a boat for $25,000 today, and it's actual cash value is $20,000 when you go to insure it after one year of use.
What is "Agreed Value Policy"?
An "agreed value" insurance policy means that a boat's owner and insurance company have settled on a certain dollar figure as the agreed-upon value of the vessel.
In reality, it is unlikely that an exact replacement cost can be determined because there are often no standard pricing methodologies from one manufacturer to another. In addition, it can be difficult to find replacement parts for older models.
While the agreed-upon value is typically set at current market value minus depreciation, there may also be a deductible involved in order to avoid overpaying the insurer. This means that the boat's owner would pay any damage above and beyond the agreed upon amount plus a deductible specified in the boat insurance policy.
For example, if the agreed upon liability insurance amount is $40,000 and the deductible is 10 percent or $4,000, then if a storm drops a tree on your boat and damages it beyond repair you would be reimbursed only up to the agreed upon value of $40,000 - minus whatever amount your deductible is.
Boat Insurance Premium Factors
Boat insurance premiums are determined by a number of factors, which include:
Type of Vessel
Small or large size boats will play an important role in determining the premium amount. Generally, smaller boats require high annual premiums.
Location of Vessel
The general location of your vessel is also crucial when you are calculating the boat insurance premiums. For example, the risks of insuring a vessel that is operated in high-risk areas are more than those that operate in low risk areas. Thus the premium amount will be different for both these types of boats.
Age of Vessel
One of the most important factors that affect your insurance premiums is its age. Generally, older boats have more risks involved and thus get high boat insurance premiums.
Number of Years Insured
It is also a matter of concern that if you have been insuring your vessel for a long period of time, you will have to pay higher premiums.
Claims History
The claims history is another important factor that affects your boat insurance premiums. If you have filed any claims for damage or accidents in the past, it would increase the risk of insuring your vessel and thus the premium amount would be high.
Deductible Amount
A deductible amount is the portion of the insurance claim that has to be settled by you. This amount will play an important role in calculating your premiums, as higher deductible means lower premiums.
With these tips and information, you can compare different types of boat insurance available with multiple companies and choose the best plan that meets your requirements and fits within your budget.
Types of Boat Insurance Coverage.
Boat insurance costs are said to be one of the most important things, especially for boat owners who go out on water frequently. It is a type of insurance that covers your boat or the boat that you own. This means that it is a form of protection provided to you by an insurance company, in case anything happens to the boat.
There are different types of coverage plans through which you can get your boat insured. One can get the following types of insurance cover for his/her vessel:
Third Party Property Damage Insurance
This type of homeowners insurance Texas plan covers you for the damages caused to the third party. It also protects you from any legal proceedings that might arise due to a mishap on the water.
Personal Accident Insurance
It is a protection plan against bodily injury liability. This would pay you an amount in case anyone dies or is injured when you are on board.
Hull Insurance
This plan covers the physical damage and repair expenses, arising out of any accident involving your watercraft.
Liability Insurance
It protects you from legal responsibilities that might arise from accidents on water. This includes expenses that would be needed to compensate the injured party or or else's property that is damaged as a result of an accident.
Wreck Removal
It is a boat insurance plan which covers the removal and/or salvage operations, if your vessel gets stuck in the underwater object.
Comprehensive Insurance
This one protects you from the damages caused to your vessel by natural occurrences, such as storms and lightning strikes. However, not all companies offer this kind of plan for their clients.
These are some of the different types of boat liability coverage plans through which you can get your watercraft insured. Depending upon your needs and requirements, you need to choose the plan that is best suited for your boat.
What is not covered under Boat Insurance Coverage.
It's everyone's dream to have a boat at some point in time. However, the waters and rivers that we dream of boating on might be dangerous and can end up causing damage or injury if we're not careful or prepared for any eventuality. Boat Insurance can give you that peace of mind when it comes to boating no matter where in the world that might be.
However, what many people don't know is that there are certain things your insurance policy will not cover. This is something you should consider before buying a boat and taking out boat insurance for it.
The following are some of the things that are not covered under boat insurance coverage.
Natural Disaster
Damage Caused by Earthquakes, Avalanches or other Acts of Nature. The sinking of your boat is not covered if the cause was due to an act of war or terrorism. However, sinking caused by an act of war or terrorism might be covered if the claimant has first made a claim against their own government.
Collisions with ships
Unless you have marine cargo insurance, your boat is not covered for damage that it causes to other boats/ships or other property. However, should there be loss of life or personal injury, you are covered for that.
Loss of Life or Personal Injury
Your boat insurance will not cover the loss of life or property on your boat (including fishing tackle) nor any damage to other people's property (except theirs to yours). It may be possible to get cover through another policy but this is at the discretion of the insurer.
Theft
Boat insurance coverage does not cover theft of your boat, trailer or equipment. So if your boat is stolen you are out of luck. It might be worth getting trailer insurance so that you can claim for any damage to this property should somebody drive off with it attached to their car.
Water or River Pollution
This is not covered by boat insurance coverage so if you are polluting the waters your boat is in, it's of no concern to your insurer.
Wearing Personal Lifejackets
It might be a requirement on particular waterways that you always wear lifejackets while boating but this can also depend on local regulations. However, if a policyholder who has taken this precaution is involved in an accident where they could have been wearing life jackets but didn't, their insurance will not cover them.
Age of the Boat and its Equipment
If you are borrowing somebody else's boat or equipment for your boating pleasure make sure you check what limitations there are as far as age goes. Many boat insurance policies won't cover equipment that is too old to be safe and reliable.
Wear and Tear
This is one thing that many people do not understand; it covers you for any deterioration in the boat due to age. However, it does NOT cover loss or damage by fair wear and tear or willful damage or negligence on your part. So if you neglect your boat, you risk losing all the money you spent on it if your insurer decides that your neglect is willful.
Personal Property Items
While your boat might be covered, make sure you check what is not insured or whether it can be insured through another policy. Usually items such as electronic equipment, fishing equipment and medication are not covered under boat insurance.
These are but a few of the things that you should be aware of. However, if these types of events do happen to you while boating, by law you will have to tell your insurer. Failure to do so may result in having your insurance cancelled or not being insured at all when the next claim arises.
What are the factors considered to determine the Boat Insurance Cost?
The boat insurance quote is determined on the basis of factors such as the
Other considerations include whether it has a safety or navigation device such as a satellite phone or GPS tracking system. You may be asked to prove that your boat has been fitted with safety equipment like life vests, fire extinguishers and flares.
Conclusion
Hope with this articulation we have successfully established how vital it is to get your boat insured. Now the second most important step you can take to insure your boat or yacht is to consult with reliable homeowner's insurance companies. There are many different types of boat insurance, and there may be a policy available that will suit your needs better than others. However, you should always consult with your insurance provider to determine the best policy for your boat.
how to
About the author
Get an insurance quote from the most trusted homeowners insurance company - TX Insurance Quotes.
Reader insights
Be the first to share your insights about this piece.
Add your insights