Succulent Studios July Box | Realistic Review
Who needs friends when you can have plants?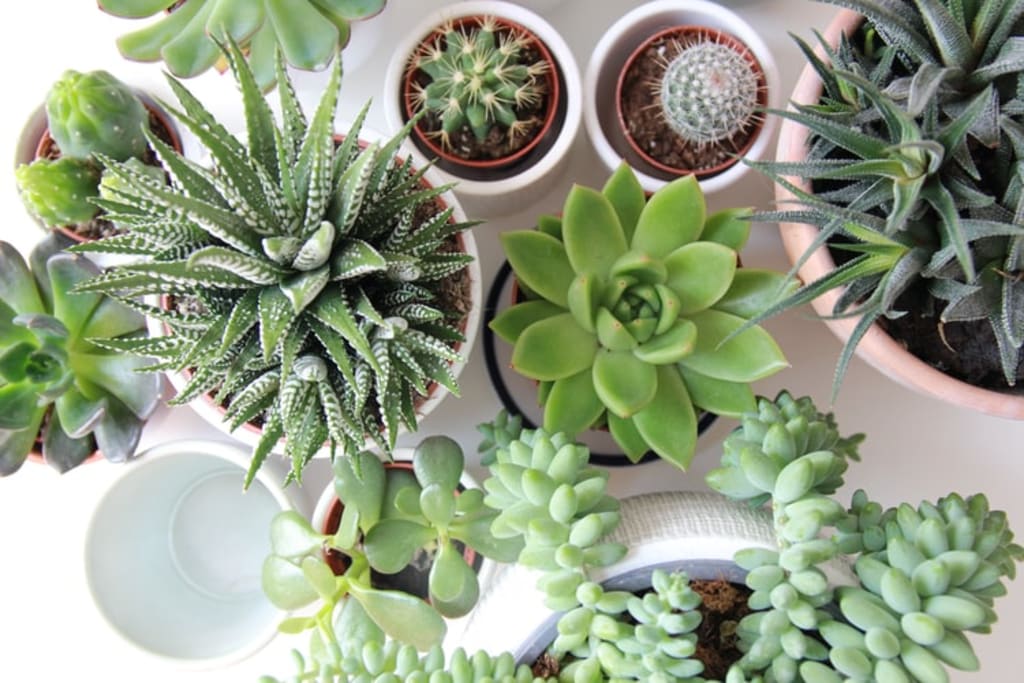 Photo by Angèle Kamp on Unsplash
Everyone loves plants! But we all know keeping them alive can be difficult.
I hate saying that because it feels so cliche. Even I struggle with my green, leafy babies. However; I decided that I am making 2020 my year by finding my green thumb! And you totally can too with today's product review of Succulent Studios!
I will preface that I am not endorsed by this company in any way. They are not paying me to write a review. Nor does the Friend Referral Code I have to share (linked at the bottom of this article) give me any sort of paycheck. I will always let you know if I am sponsored, but I will also do my best to be unbiased and give you a real review of the product.
With all that out of the way: Let's get into this subscription box review!
What's in the Box?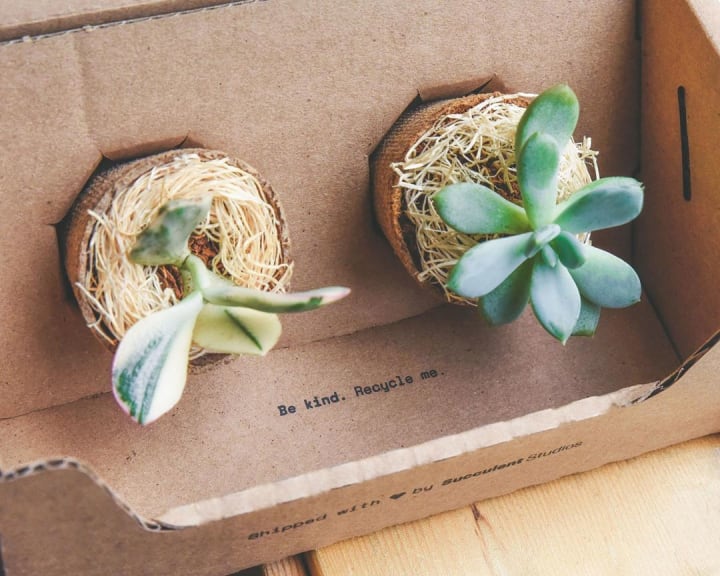 Succulent Studios is a subscription box that sends you two, 8-week-old succulents a month for a total of $16.50 a month. At first glance, that price seems a little much. It's $10 for the box plus a flat shipping rate of $6.50.
You could order baby succulents for a little cheaper; making your total closer to $10. But there's something unique Succulent Studios has to offer.
This box specifically is eco-friendly! AND: They offer so much information on caring for and even repairing your succulents (should the postman toss your box or you end up dropping your own plant like I totally did).
So, how is it eco-friendly? Well, my dear friends, let me explain:
This little gift to yourself comes inside a non-coated cardboard box, without any tape! The plants themselves are living inside biodegradable pots. Which is the coolest thing because:
1. No plastic pot to temporarily use and then throw away (adding to plastic waste build-up).
2. The succulent baby can be easily moved to a new, permanent home without trying to remove it from it's previous one! (no more ripping roots and hurting the plant!)
Simply place the degradable pot in soil, inside a new pot, and after a while, the old pot will become one with its surrounding soil! If my brief explanation didn't make sense; Succulent Studios has a Blog Post of their own that details this transfer process.
The rest of the packaging is pretty unique because the plants are cushioned by a small piece of cardboard to keep the soil in, some wooly-like straw to keep the plants intact, and it's all wrapped in a single rubber-band (which they encourage you to reuse).
Succulent Studios has definitely taken a lot of time to think about their packaging and how they can lessen plastic waste. That's really important these days because the Earth is literally choking on all plastic we throw away. So treating yourself to some plants shouldn't mean more plastic waste as well!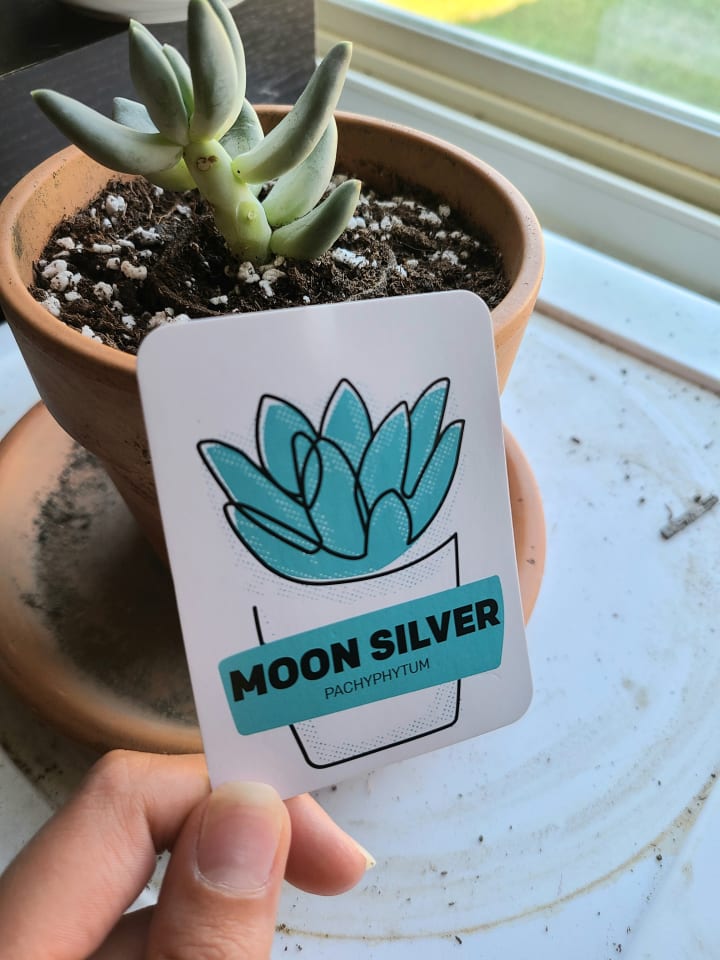 On top of providing a product with little waste, they also supply plenty of information to keep these babies alive! Each succulent has a name card with their care requirements. It almost feels like collecting trading cards for plants. It helps to identify which succulents need similar care so they can be potted together. Super easy to create a succulent garden!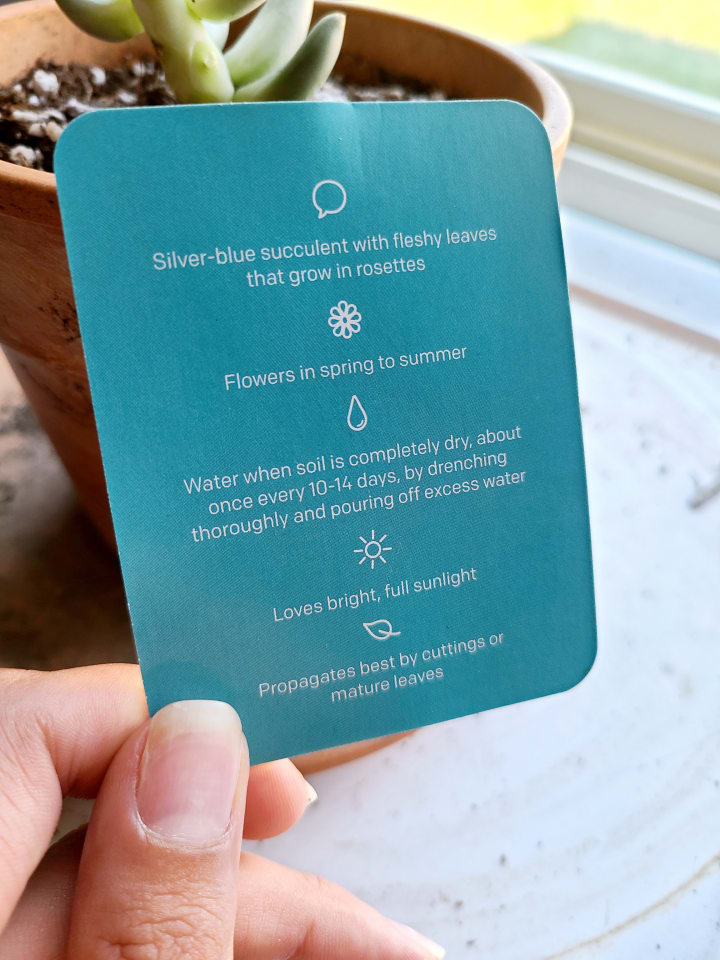 If you still need more information or tips; their Website and Instagram are chock full of any answers you'd be looking for! They're also very quick to reply through DMs; so don't be afraid to message them!
Obviously, I've been very pleased with this succulent subscription box. They truly keep their word on the product and information they provide. Which is why I personally feel the price is so worth it.
But on that note: Let's go into detail about my experience of ordering, receiving, unboxing, and caring for these little succulents! And how this company has made me feel confident that I can keep succulents alive!
The Process
Firstly, I came across this subscription box from an Instagram ad my sister shared with me. We both have a love for succulents and she's always sending me memes or cute items she stumbles upon. This advert really caught my attention. So I read through their site and Instagram.
The company itself is a farm in California. They pride themselves in strictly using organic media and fertilizers to start their succulents. Succulent Studios believes in salvaging the planet for future generations. This truly touches my heart!
Their site is simple and easy to navigate. You create an account while placing an order so you can go back to cancel, skip a month, or even gift your next box to someone else!
I did use an advertised code through them to get $5 off my order (which covers most of the shipping cost).
If you'd like $5 off as well to try this box out, I do have Friend Referral Code for ya! The only bonus I get is if three people use this coupon: I get a free box! Which of course would be pretty dope. You could even dish out your own code to three of your friends and snag another set of succulents for free! (Honestly, I have no friends so my followers are welcome to any Friend Referral Codes I have laying around. Which is simply saving me money, not earning me any.)
Once my order was placed, they let me know that shipping may be delayed because of the current pandemic. The notice stated it would take up to 5-7 days for the order to ship, and then an email would be sent with a tracking number. And boy were they on point with their shipping!
It was about five days before an email hit my inbox. With the tracking number in hand, I excitedly checked to see when my babies would arrive! They gave a date that was about a week away. Not super fast, but I'm pretty understanding about shipping these days. The wait was not an issue at all, especially since these cuties showed up on my doorstep exactly when the site said they would!
Unboxing
So I totally forgot to take pictures of the unboxing process. It was so exciting to open them, I decided to go live on Instagram to showcase a bit of the box and talk about my new babies! (you can view that video Here)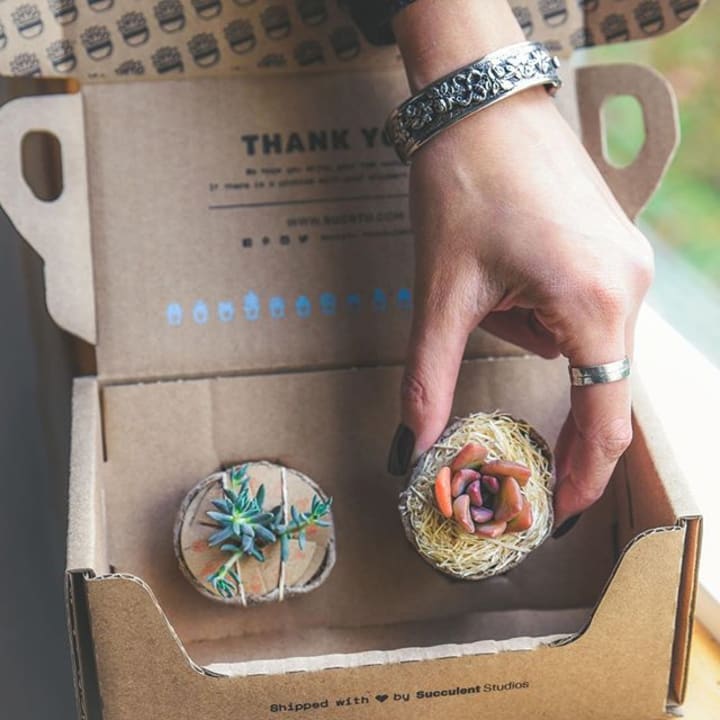 The packaging was exactly as described which made me feel so good about my investment. Unfortunately, the succulents were a little tossed around. Which I knew could happen from general shipment of the package. These mailmen are not gentle with packages.
In this July box, you receive a Moon Silver and a Mexican Snowball baby. I totally should have ordered earlier in June because they had Aloe Vera! That would have been dope to have on hand! Even with that disappointment, I was still excited to be starting my succulent collection.
The sad part of this story is that my Mexican Snowball did not survive the journey.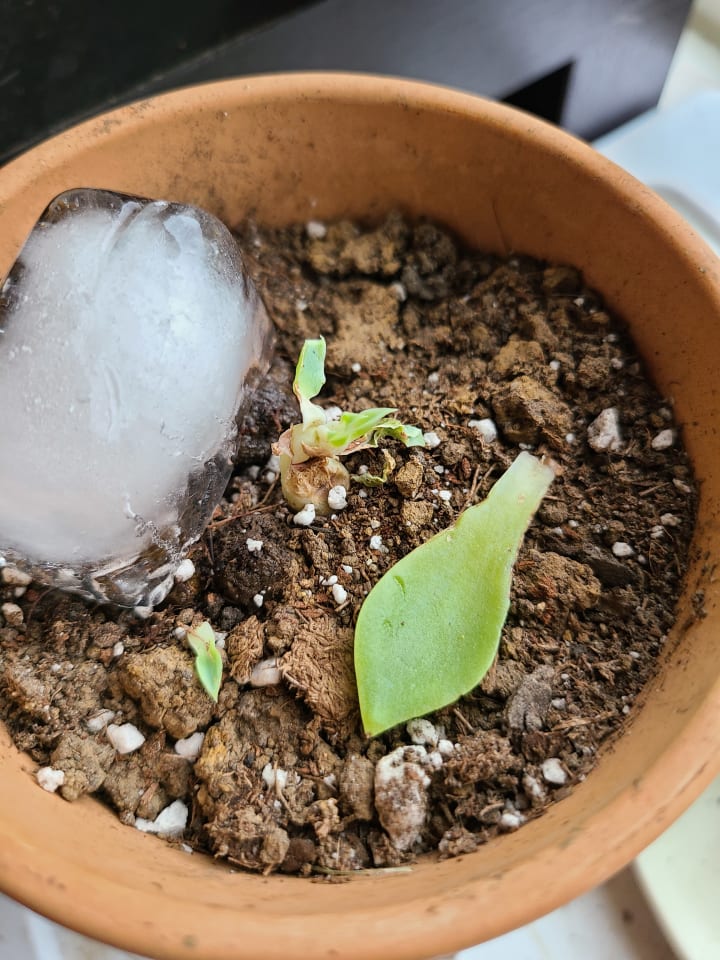 I do not hold Succulent Studios responsible for this loss! It was either my fault for doing too much or too little to revive the poor guy. Or his trip through the postal system was so intense that he was bound for death anyways. (I personally think it was my own fault)
The Mexican Snowball was in pretty bad shape when I opened the box. There were multiple dead leaves scattered underneath him. His wool-like cushion had fallen off from around him. In general; he had a rough trip and wasn't looking super hot.
Succulent Studios themselves told me to send a picture so they could help me identify the issue. But I was so embarrassed and the baby plant was so far gone; I decided to take my loss. I dried him out and repotted him because I thought he was overwatered. But he kept getting worse, so I gave him an ice cube in an attempt to water without shocking him. I lessened his sunlight for a few days and then moved him more in the sun to see if that was the issue. This boy just gave up on me.
I did try to save a few leaves that fell off in an attempt to propagate a new plant. But none of those stayed alive either! I've concluded that the Mexican Snowball is a picky ass plant and too advanced for my current laid-back care skills.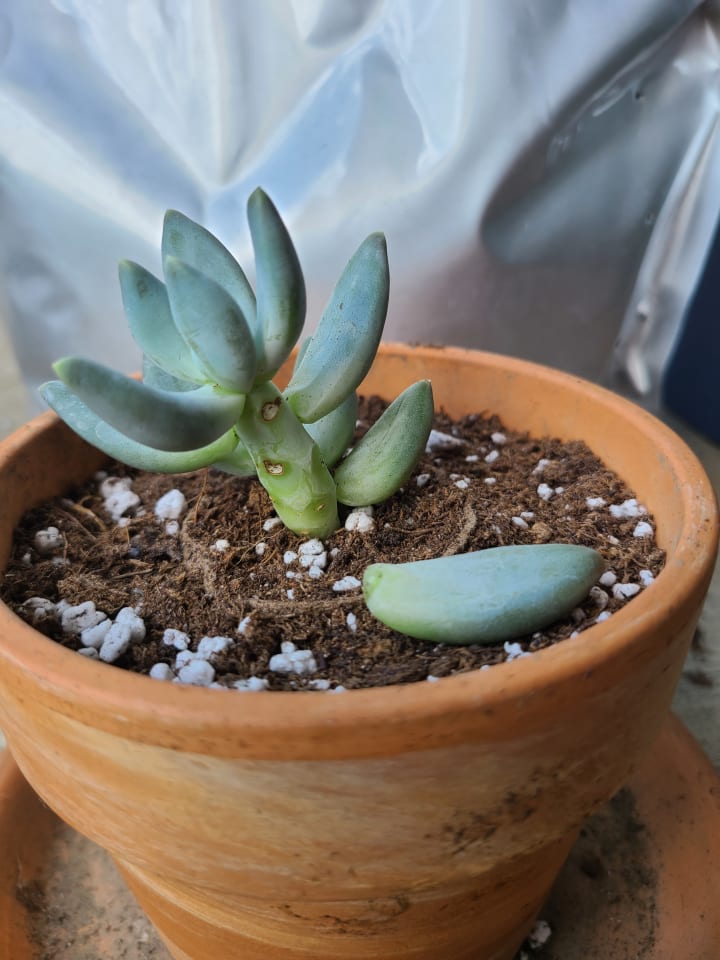 The Moon Silver on the other hand is thriving so well! He's increased in height and I totally saw a fresh sprout at his base recently. He sat in his degradable pot for about a week before my order of cactus soil arrived. Now he sits near my window in his own pot with one of his leaves chillin' next to him! (I totally dropped this guy while taking him outside to re-pot. So one of the leaves popped off and now I'm trying to propagate it so it's not a waste.)
Conclusion
10/10. Would recommend to novice or experienced plant owners.
Even with the death of one of my succulents, I'm very pleased with the service, packaging, and the plants themselves. I could probably bug them for a replacement, but I just don't care to. I guess I'm too empathetic about the fact that shipping plants is risky in general. Especially since they're doing their best to reduce waste; so there's no bubble wrap or extra packaging. And that's okay!
I've really enjoyed reading their blog for pot ideas, care instructions, and propagating. They really do have a lot of valuable resources available. Even if you don't order a succulent from them; you could easily find all the information you need if you snag a succulent elsewhere!
As of right now, they haven't announced their August plants. But I'm very excited to see what they are and do another in-depth review of it! I'll even take pictures this time and write down my notes in real-time.
Again: If you want $5 Off to try them out, use my Friend Referral Link! It's absolutely worth the $11.60 just to experience ordering a couple succulents. Plus, you're totally set with all the info needed to keep them alive! I believe in you.
If you aren't following me on Instagram; I have no idea how you found this article but you should totally follow me. I post a lot of selfies, try to make a meme out of myself, and showcase my lifestyle to inspire others. BONUS: you'll be notified of future blogs!
Thanks for the Read! Stay Safe; Wear a Mask; and give your plant babies some extra love today.