Space is Luxury – Advantages of Properties with Bigger Space
Space is integral to luxury living in contemporary homes.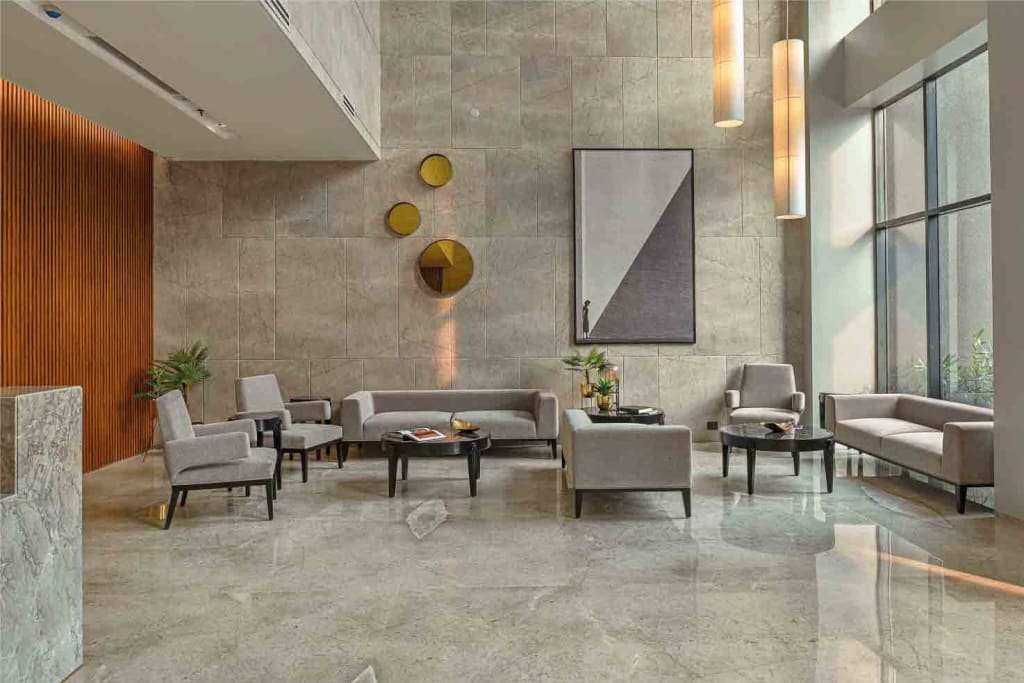 Aurus- Spacious Waiting Lounge
Space is integral to luxury living in contemporary homes. What defines luxury is the availability of more space to live for the families who can utilise it for various purposes. The clutch of benefits to residents is worth focusing on as the pleasure of living close to nature will not be fully derived if the space is limited. Luxury apartments on EM Bypass provide ample space to home buyers who can live more freely and access all the world-class amenities provided inside the residential project.
Space for home business
The lockdown introduced the Work-From-Home option and accentuated the need to have spacious homes. The extra space available in bigger homes makes it easier to create a home office, to have storage space and dedicated space to operate from home without getting distracted by household chores. The availability of extra space also gives the scope to operate a business of your own. When you get an extra room or study room, space gets utilised exclusively for official purposes. After the lockdown was relaxed, companies have offered the work from home option to employees permanently and this has created sustained demand for bigger homes. Duplex apartments on EM Bypass have emerged as the preferred option for those who can afford to spend on the luxury of space.
Bigger Families
Bigger homes provide the opportunity to live together. Multiple generations can live under the same roof when more space is available. It allows family members to maintain their individual spaces while sharing a single house. It reduces maintenance expenses as aged relatives live longer, making it difficult to take care of them if they live in separate homes in the same city or elsewhere. Nuclear families should have parents and grandparents in the same house and reduce the cost of living. This is another good way to strengthen family bonding, to be available for help during their emergency needs. In case aged parents live separately on their own elsewhere in the city, it is difficult to take care of the elderly as the professional commitments get adversely affected.
More Family Time
Parents spend time with their children during the weekends and holidays. Space constraints often have a direct impact on relationships. When more space is available, there is less fighting and tension. More peace to allow better bonding prevails. Members of the family can pursue their hobbies and feel enthused. Kids interact more often and share their feelings and experiences when parents are around. Besides, community living fosters healthy friendships between apartment dwellers. Members can continue with their pursuits without curtailing their activities to accommodate the needs of others. With more space available, they can all sit together and carry on with their chores.
Study Room for Kids
Kids develop a sense of freedom and responsibility when they get a room of their own. They can pursue studies and relax in their own space without getting distracted by the presence of other members of the family. If there are visitors or neighbours at home, they do not get disturbed as they can retreat to their own space and carry on with their tasks. The importance of extra space is realised during such situations.
Space for Guests
Extra space is a key component of luxury living. When guests visit from other cities, more space is required so that you can comfortably accommodate them in a separate room instead of trying to make arrangements by adjusting here and there. It creates a bad impression and relatives think twice before visiting you again. The availability of extra rooms and bathrooms always proves useful when visitors come. The sudden arrival of guests affects the schedule of family members. When extra space is available, there is minimum disruption inside the home.
Higher Resale Value
Duplex apartments on EM Bypass fetch a higher price if you wish to sell in the future. The demand for spacious luxury homes on EM Bypass has been growing in recent years. This explains the launch of such properties designed to cater to large families ready to invest more to enjoy the luxury of space. From the point of living as well as investment, bigger homes are preferable.
Luxury Apartments on EM Bypass
The standard definition of luxury living includes world-class amenities and facilities, living in the lap of nature, and having a spacious dwelling unit. While most of the home buyers seek an ideal balance of these factors, there are few locations with the potential to meet the requirement. Luxury apartments on EM Bypass easily come under this category. With luxurious interiors and greenery around, the wide-open spaces, both inside the apartment and inside the project, act as the trigger to make the big investment. Opulent interiors and wide balconies, bigger rooms, and extra rooms for diversified purposes are essential to the definition of luxury living. Duplex apartments on EM Bypass are preferred by big families since these provide plenty of space for people of various generations.
Life Transitions
A bigger home is suitable for changes in the course of life. As the kids grow up and move in with their partner and start a family, the need for space is deeply felt. One has to upgrade for more privacy or the young ones move out to have their own home. It is wise to invest in bigger homes to prevent a split in the family. This keeps the stress away from creeping into the lives and ensures happiness for all members.
Buying a bigger home should be the smart choice for those seeking luxury in space to enjoy the benefits of living together for life. Luxury apartments on EM Bypass meet the needs of the big families who wish to nurture their bond with care and stay together under the same roof. When privacy needs are met, the family stays together. Duplex apartments on EM Bypass offer them the ideal opportunity to stay together and remain separate. Now is the right time to invest in such properties, so make a plan and go ahead the decision to make the investment for a lifetime.
Reader insights
Be the first to share your insights about this piece.
Add your insights