Solar Panel Maintenance Cost Reduction
Why reduce the maintenance cost?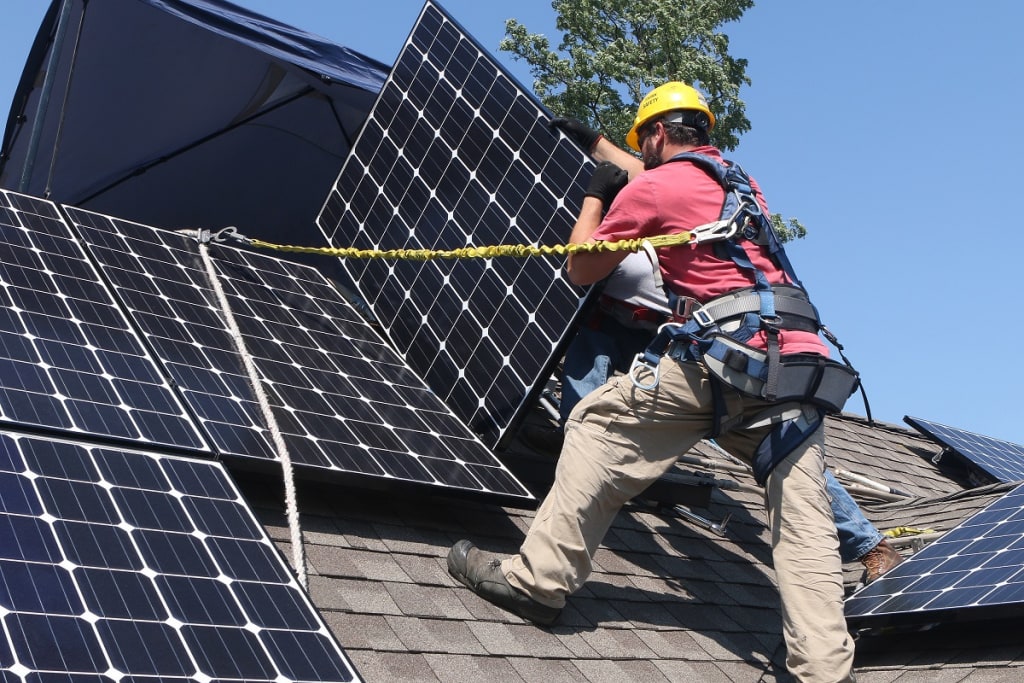 Solar Panel Maintenance under process
If you have installed your solar panel last year, you may consider solar panel maintenance. The solar panel needs low maintenance, but it is a good idea to check it every year and to counter any upcoming or existing faults.
The maintenance process contains detection, cleaning, inspection, and repairing. The combination of all these processes consumes enough revenue. The maintenance cost can be reduced by introducing appropriate measures. As the solar panel initial cost is high and the rate of return is low, so it takes time to start saving. Where the maintenance cost could be overhead and maintenance cost is a reduced rate of return can be improved. Let talk about these measures today.
When to start Maintenance?
The first task of maintenance is the detection of a fault. For that purpose, you may check how much power is your solar system producing and compare that to the expected power production. For analyzing the solar panel output, you may check the electricity bill or use solar power monitoring software.
Cleaning of Solar Panels
Solar panel cleaning is a complex task that is why a professional is required for it. Usually, the manufacturer of solar panels provides cleaning handouts to every solar panel consumer. Professional contractors follow these manufacturer guides and warnings while cleaning as compare to DIY. The power should be turned off for safety reasons.
Cleaning Solar panels at specific intervals like every year is good to avoid any damage to the solar power system. Solar panels are very sensitive parts and should be cleaned to achieve the calculated performance of the solar system. The cleaning process may inform you about the condition of the solar panels.
Inspection of Solar Panels
A qualified solar maintenance technician inspects your solar panels annually to ensure that your investment is working and functions properly.
Always look for a cleaning professional who knows the inspection too, this may reduce the overall cost. During the cleaning, the professional will inspect the solar panels for visual damage, overall efficiency while running, inspect mounting loose wiring and connections. They may also check the inverter output, battery storage capacity, and water level.
Repairing Cost of Solar power System
After the inspection process, the professional may identify the parts that require repair. A damaged solar panel system can lead to decreased performance, electricity shorts, and even house fires, so you'll want to have any problems addressed by professionals as soon as possible. These are some of the more common problems found during solar panel inspection.
1. Loose Wiring or Connection may lead to spark or even fire, try to address such issues first as they could be riskier, and the cost is low.
2. Cracked panels or broken glass can be fixed with a small repair or may require solar panel replacement.
3. Solar Mounting corrosion may lead to the future damage of solar panels. It is recommended to replace the corrosive part of the mounting by welding new steel bars.
4. A broken inverter may work properly but can cause high damage in the future therefore its broken part is replaced or repaired.
5. A very costing thing the rooftop tile damage. If the tiles are damaged and need replacement, the cost may be very high therefore it is recommended to check the rooftop before installation of solar panels. Otherwise, the solar panels are removed and reinstalled after the replacement of titles.
6. Battery damage may require a change of electrode, acid or high damage may require battery replacement.