Ron Navarreta on the Best Security Practices for Social Media
Roan Navarreta, a experienced security operations manager based out Anaheim, California, shares his best tips for staying secure while using social media.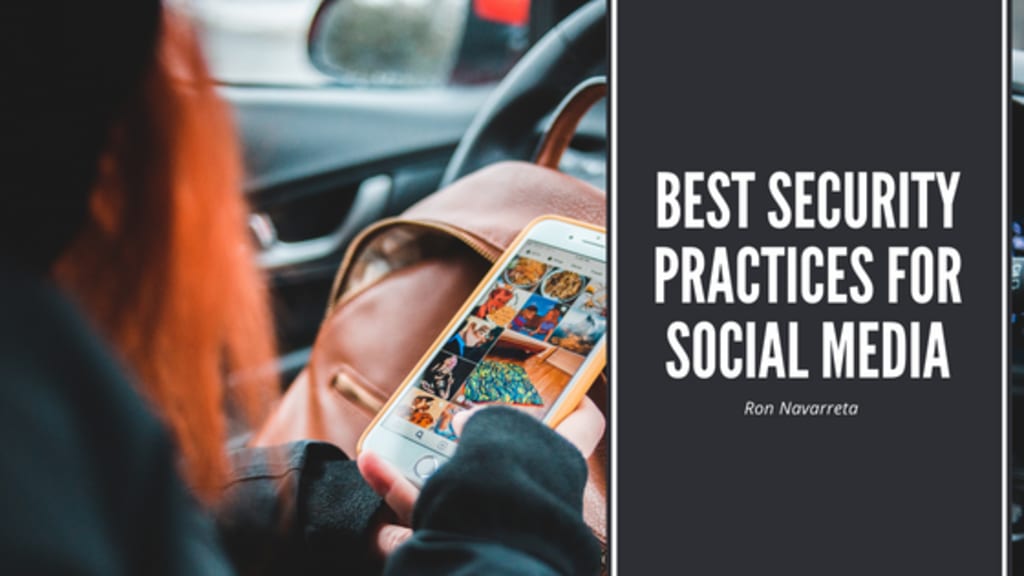 https://ronnavarreta.co/best-security-practices-for-social-media/
An organization or individual can expand its brand's reach and promote it globally through social media. Social media reaches a large audience of potential customers and partners. Because of the number of people who use these platforms, many organizations consider social media a vital part of their marketing efforts.
These interactions can involve sharing information and engaging in feedback. Social media can also help increase an organization's brand awareness and engage with its target audience. It can be a relatively low-cost way to promote an ad campaign. There are a variety of social media platforms that companies commonly use.
Despite the advantages of social media, it can also come with its challenges. One of these is that it can expose users to potentially harmful and insecure pathways. Platforms can be used to access and tunnel beneath traditional security measures.
Think Before Posting
The content posted on social media can be seen by everyone, not just the people with whom you are connected. This is because anyone and everyone can see the posts and photos you share on the platform. In addition to what you post, your account also allows you to tag other people and groups you are part of.
Criminals can also use social media to target specific individuals or groups for their attacks. Hackers can easily target their operations using the publicly available information on the platform. Employees are a target for attackers, and their profiles can be used to send phishing emails or spoof text messages, leading to a corporate network compromise.
Have Unique Passwords for Each Platform
Creating a unique set of passwords is one of the most critical steps users should take to improve their social media security and prevent them from being used by anyone for any account. Even though you can guarantee the first requirement, you can't be sure about the second one.
If you're having a hard time remembering all of your passwords, then a password manager is a good option. This free tool will help you create strong and unique passwords that keep you safe from unauthorized access.
Use Two-Factor Authentication When Logging In
One of the most effective ways to improve the security of your social media account is by implementing multi-factor authentication. This feature requires a person to enter a specific number and a particular type of code to access the site. Social networks have various methods that can be used to verify a user's identity, such as text messages with a code to their cell phone.
One of the most effective ways to improve the security of your social media account is by implementing multi-factor authentication. This feature can be enabled by default in the app settings.
Secure Your Corporate Accounts
Today, many companies have multiple social media accounts, which is a direct connection to their consumers. A particular administrative model can increase security and reduce the number of employees with direct access to these accounts.
A social media management platform can be used by organizations to limit the privileges of their users so that they can complete their responsibilities. This access model can help ensure that the posts are high quality and avoid potential sabotage.
Always Report Imposters and Scammers
Unfortunately, it's easy for people to create duplicate profiles of others on social media. They can then trick their victims into providing their personal information. Knowing these individuals and reporting them to the appropriate authorities can help prevent potential fraud. It will also help protect other people from becoming victims of cybercrime.
Protect Your Computer With Antivirus Software
One of the most important steps that users should take to improve the security of their social media accounts is to install antivirus software. This type of software will automatically detect and protect their devices. It can also help users identify vulnerabilities in their computers.
Another vital step users should take to improve the security of their social media accounts is installing a firewall.
About the Creator
Ron Navarreta is a security operations specialist in the critical infrastructure space and an ASIS International board-certified security expert (CPP®) with experience law enforcement and private sector safety and security experience.
Reader insights
Be the first to share your insights about this piece.
Add your insights