Retro Holiday Gifts For a Few Friends
Nostalgia for some, anemoia for others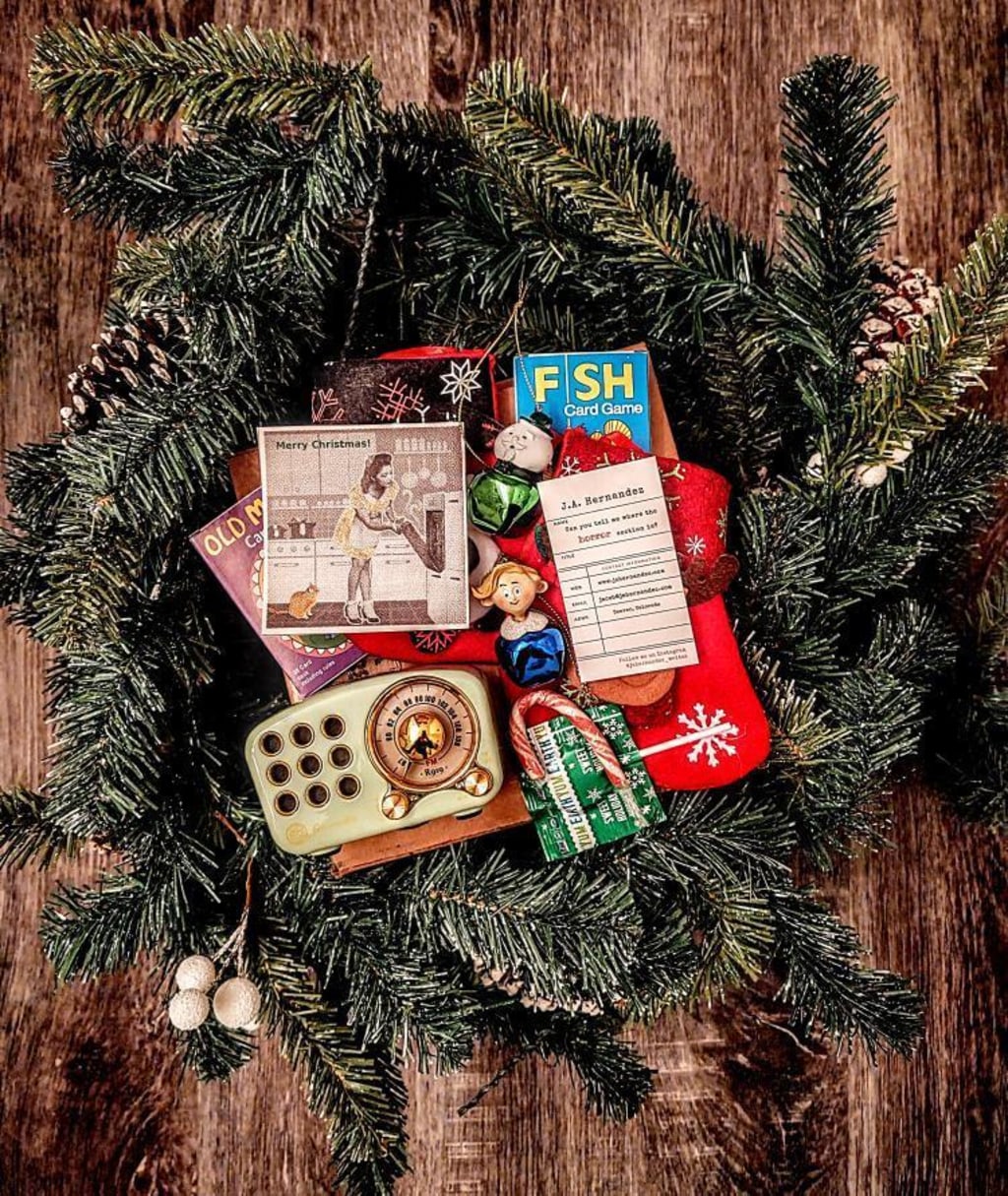 Photo by my friend @brutalbookshelf on Instagram
I was born after the heyday of Vincent Price, Bela Lugosi, and Boris Karloff. But, I've always felt a sort of nostalgia for old horror, even though I wasn't around for it. It wasn't just me. Enough people had this same feeling that a word needed to be created for it.
A man named John Koenig wrote a book called The Dictionary of Obscure Sorrows, where he invented a word for the feeling many of us have.
Anemoia. Pronounced: anna-moy-ya (moy as in "boy")
Nostalgia for a time you've never known.
I wanted to share this feeling with others.
I write horror. So, I wrote a Christmas-themed short story, a retro creature feature called Night of the Living Cake Monsters during the summer, and intended to throw it up on my website and leave it at that. But, I have a friend who loved it so much and supported me that I wanted to do something special for her.
I've done audio editing on and off over the years for various reasons. I recently refreshed my skills with short-form horror videos on Instagram and YouTube and made a short audio story for my newsletter Into Horror History. So, I thought I'd see what I could do with audio for my friend who loved the story so much. I felt that a few other friends might like this story in audiobook form as well.
The Night of the Living Cake Monsters story features Lily, a strong female protagonist. One of the episodes features her big orange British tabby cat named Mr. Kennedy Cuddlesworth. I looked at those and thought, "Yep. I can't do those voices." So I did a lot of digging into just hiring relatively inexpensive audiobook narrators. I found two amazing ones that recorded the story for me (it's only about an hour-long in total.) I did all of the audiobook masterings on it myself. It was a strange, uh—demanding amount of work to do this all myself.
Then...because I couldn't stop there (it's somewhat of a character trait built into me), I decided to go for the full-on anemoia Christmas experience.
I've always wanted to do something with retro radios, but I didn't know what. I love audiobooks in addition to e-books and print. I connected the two things and came up with the idea to try and give people some serious anemoia by putting my story on a retro radio.
I experimented with several retro radios to find one that felt right, worked the way I wanted, and had good audio. I finally found one, loaded my story onto it, and listened. Worked great! The audio is on a little mini-sd card—which was vital because I needed a radio to let me play mp3 files in order.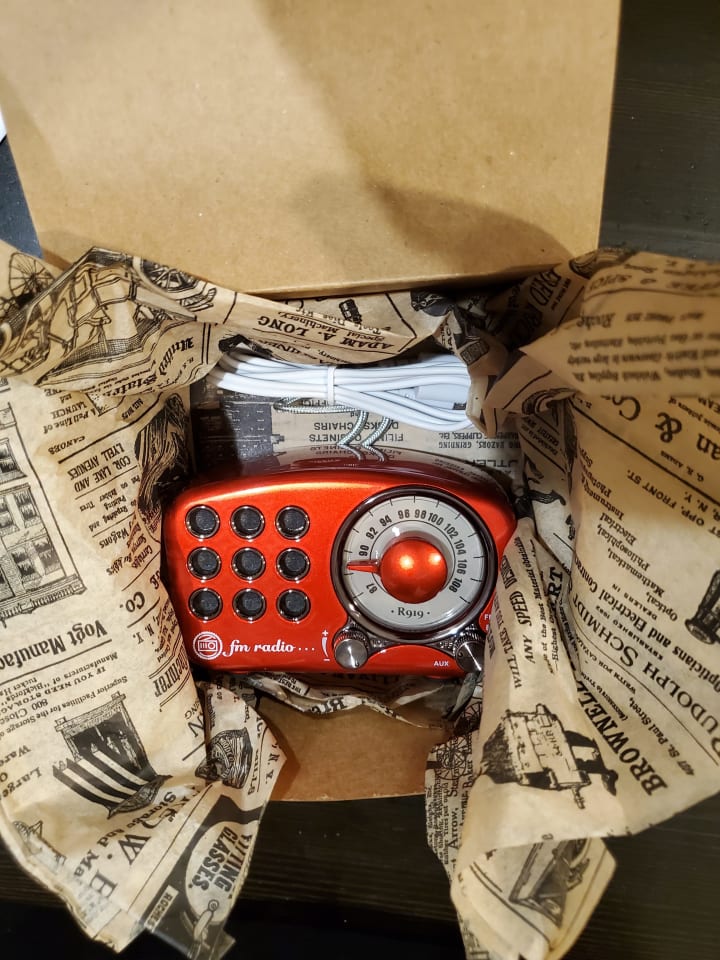 But...I couldn't stop there...
So, I went on a big download spree on YouTube of 50s Christmas time radio and commercials, ripped the audio off from the video, and audio mastered all of those. Then I chopped it all up, mixed retro ads in amongst old radio and old Christmas songs, and loaded all that up on the radio. Then, just for fun, I added a full audiobook version of A Christmas Carol at the end. Then I customized the intro audio for each person.
I was all ready and tossed the 7 radios I made into boxes and shipped them off when I...uh...couldn't stop there...
See a pattern? 🤣
I then researched a bunch of retro Christmas wrapping paper, tissue paper, toys, etc.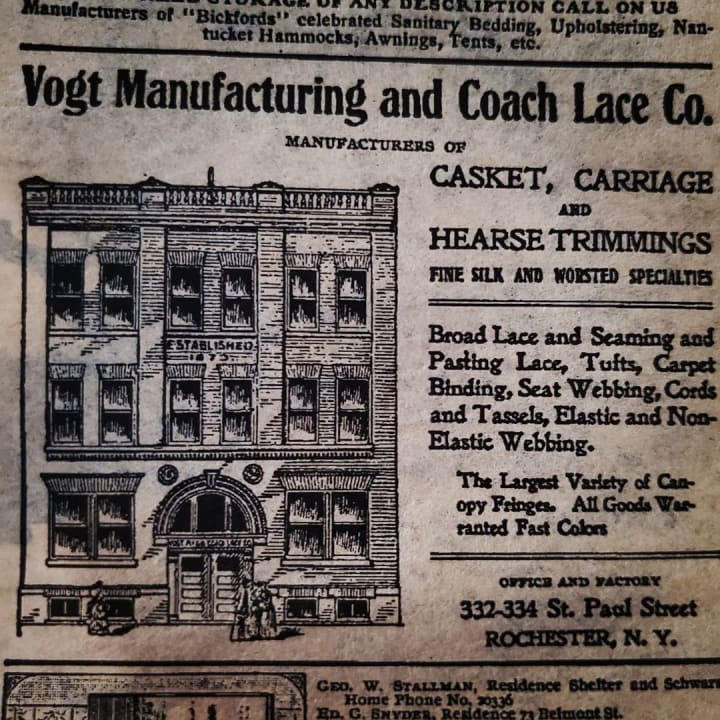 I found all kinds of good stuff from the 50s and made little packages for each person that was slightly different. I didn't tell anyone what I was sending them, but I asked each person to choose their favorite color from a palette (the retro radio colors they ended up with.) I also included a stocking or two in each package, stuffed with awesome candy, a different hanging ornament from the old Rudolph movie, vintage print card games like Old Maid, Hearts, Fish, etc...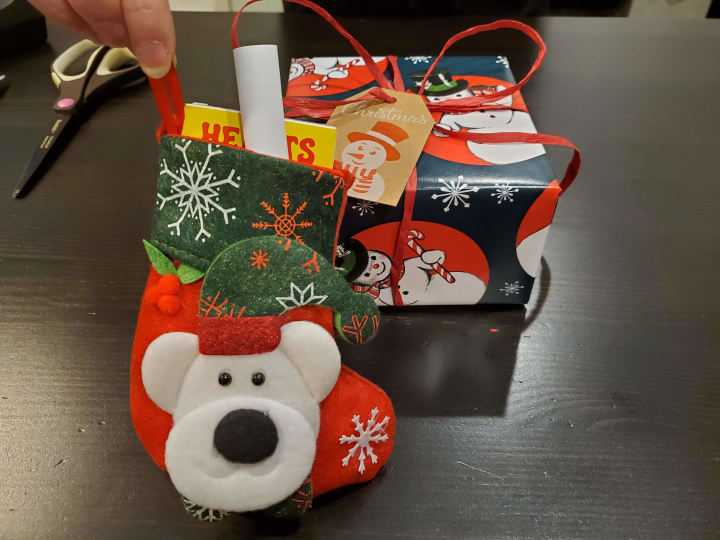 After all that, I finally felt like I had the right anemoia feel to the whole thing. So I shipped them out. 😂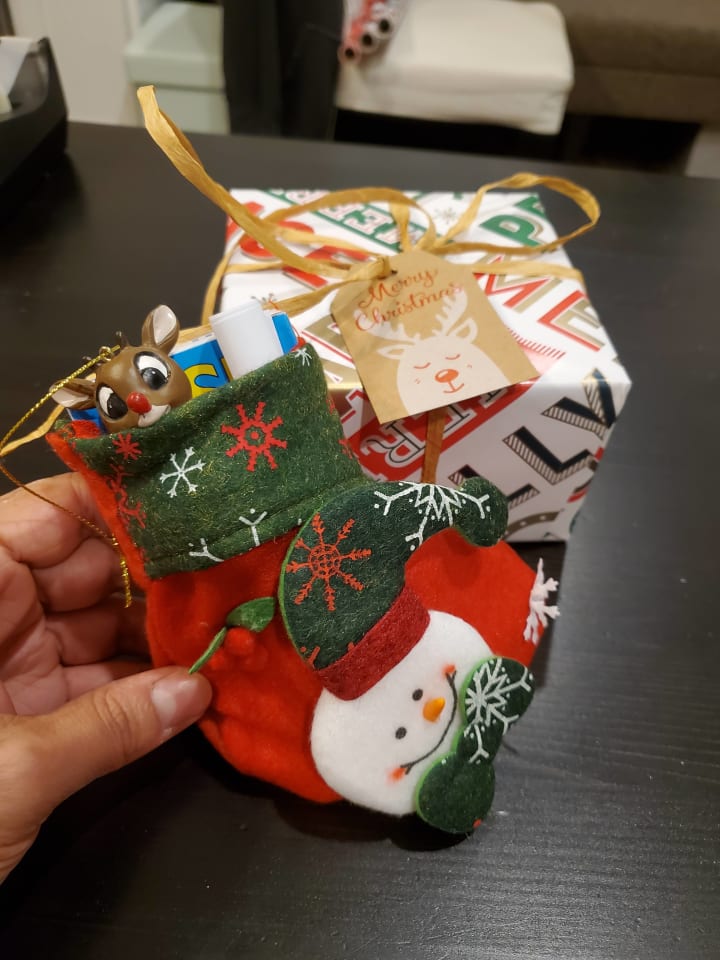 I like experimenting with storytelling, and I can't go small with really anything. This was a fun adventure in anemoia, and I'm happy the people who received one of these enjoyed them so much. I only made a few because, well—I don't sell these things, and they're kind of a pain in the ass to make. But, it was all worth it to see how happy they made my friends. Each and everyone one of them had a massive shot of anemoia. That right there is precisely what I was after.
~
Night of the Living Cake Monsters
A Retro Creature Feature
When did baking become so deadly?‍
It's Christmas time in the town of Endswell. Lillian Richardson and her big orange tabby cat, Mr. Kennedy Cuddlesworth, get more than a sweet slice of bliss after baking a cake from a recipe in a magazine. Never to back down or give ground to oozing nightmares, Lily and Mr. Kennedy Cuddlesworth take up the whisk and claw to defend their home and neighbors from a chocolatey demise.
A short 50s style Retro Creature Feature horror spilling over with cooking puns and horrific holiday cheer. Grab some popcorn, throw on your 3D glasses, and travel back to a time with drive-in theaters, chunky rollerskates, and a monstrous creature on every block.
~
Now available as an eBook on Amazon and other stores.
-
Originally published in my weekly newsletter Into Horror History. Subscribe at my website https://www.jahernandez.com to get these straight to your inbox.
list
About the author
J.A. Hernandez enjoys horror, playing with cats, and hiding indoors away from the sun. Also, books. So many books—you wouldn't believe.
He runs a weekly newsletter called Into Horror History and writes fiction.
https://www.jahernandez.com
Reader insights
Be the first to share your insights about this piece.
Add your insights