Reasons Why Jewelry Is Essential For Your Outfit
How Jewelry Is Essential For Your Outfit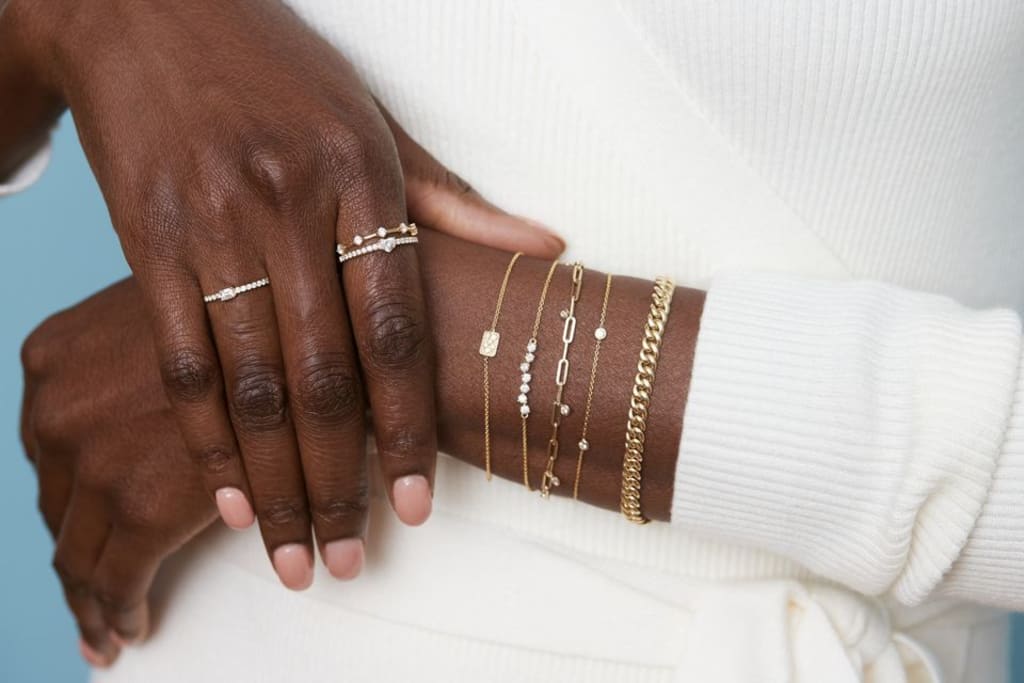 Beauty Defines Who You are…. Jewelry Is The Finishing Touch That Accentuates It!
Adding Jewelry gives you a fascinating look and provides the finishing touch for clothing. Women wear different jewelry as per the occasion. Basically, jewelry reflects your personality, and this practice is not new—early women regularly adorned themselves with ornaments. Various accessories represented different ideas, including safety, sophistication, elegance, and prosperity.
Obviously, there is a huge difference between the early and older jewelry. If we look at old jewelry made with different metals, their style, designs, and how they style themselves, everything differs from modern jewelry. But the one thing in common is the importance of jewelry in your daily life.
Apart from that, jewelry helps you elevate your style and has scientific reasons for wearing it. You love to explore the different types of jewelry that check online stores. They offer you discount fine jewelry online.
For instance, a "classic" look demands pearls and diamonds for completion. Many women enjoy accessorizing jewelry as a sign of femininity or to demonstrate social status. A woman might feel confident and gorgeous by wearing jewelry.
Your simple look becomes more attractive if you wear the right jewelry with your attire.
Why do modern women need to wear Jewelry?
1: Reflection On Your Personality
Jewelry allows you to convey your emotions and personality. There is jewelry out there that will suit your needs, whether you want something edgy or sophisticated. Every lady should have at least one stunning piece of jewelry in her collection, ranging from necklaces to earrings, rings, and bracelets.
2: Upgrade Your Attire
Do you notice that when you are ready without wearing accessories, what is your opinion about yourself? You look incomplete and feel like there needs to be something added, right? "Jewelry is the icing on the cake" completes your look. When looking for jewelry, consider the color and style to ensure it complements your appearance.
3: Accentuating Your Features
Jewelry may make you seem and feel more confident, whether it's earrings highlighting your lovely ears, rings highlighting your fingers, necklaces that showcase the curve of your neck, or a bracelet emphasizing the form of your wrist. Basically, jewelry showcases your personality and makes you more attractive.
4: Jewelry shows status
Jewelry is a status symbol that conveys a person's social standing, status, and position. You can tell someone's wealth and fashion by looking at their jewelry. For instance, it's assumed that someone is rich if they wear a lot of diamond jewelry.
Women love to show their jewelry at special gatherings. On those occasions, women must wear what they want, which will look cool on the outfit.
5: Timeless Style
Jewelry always has a special place in the woman's heart, especially that of their grandmother or mother. Many jewelry trends come and go, but some jewelry retains its charm. Jewelry is about more than just what goes on the outside; it also reflects who you are. It can be symbolic or hold sentimental value to the wearer. Because sometimes all that matters is what you're wearing from your neck down!
Shop For New Collection -
Diamond - Because women are unique, like diamonds, it is their ideal present. It makes them feel special and special. Diamond jewelry is believed to provide power, courage, and fortune. Therefore, ladies, what could be better than a charm that enhances your look while adding jaw-dropping, head-turning enigmatic vibes?
Emerald - If you are tired of wearing the same jewelry everyone wears, emerald is a good option. A different piece of jewelry that you can wear with any special occasion. Moreover, It is considered the stone of prosperity, vitality, and growth. You can see this type of jewelry online, where you check the best designer brands for jewelry.
Sapphire - The wedding ring is a great choice as it looks elegant on your partner's hand. This stone is hard, durable, and also a symbol of wealth. Moreover, this gemstone is associated with royalty.
Note - If you want to buy this jewelry, buy from the custom design jewelers shop so that your hard-earned money doesn't waste.
Wrapped Up
You can buy inexpensive jewelry from anywhere, but if you are considering buying a diamond necklace, ring, or bracelet, it needs a verified seller. Similarly, you can discover jewelers in New York with colorful designs and elegant styles specially made for women.
You must invest a lot to rely on them and make your partner happy. Also, jewelry shows one's personality and status and helps to look attractive in the crowd.
Frequently Asked Question
Q1: What Is The Importance Of Wearing Jewelry?
Ans: All clothing and fashion must include jewelry. It may be utilized to start a discussion, accessorize any outfit, make you feel more confident, make a fashion statement, and even serve as the ideal present.
Q2: Is Jewelry An Outfit?
Ans: The finishing touch of jewelry is a finished outfit. When chosen carefully, jewelry may complete the look of an entire ensemble by enhancing the color and style. Yet, the wrong jewelry might destroy a stunning appearance. A simple ensemble can seem awkward with poor jewelry.
Q3: Why Do People Love jewelry?
Ans: It is a crucial piece of jewelry for those who want to stand out from the crowd or feel beautiful.
About the Creator
Greenwich St. Jewelers is an exquisite jewelry boutique located in Greenwich, Connecticut. We specialize in exquisite custom-made jewelry, diamond engagement rings, wedding bands, and fine jewelry for all occasions.
Reader insights
Be the first to share your insights about this piece.
Add your insights