Pet Clothes on the Cheap
A lifehack for cute pet outfits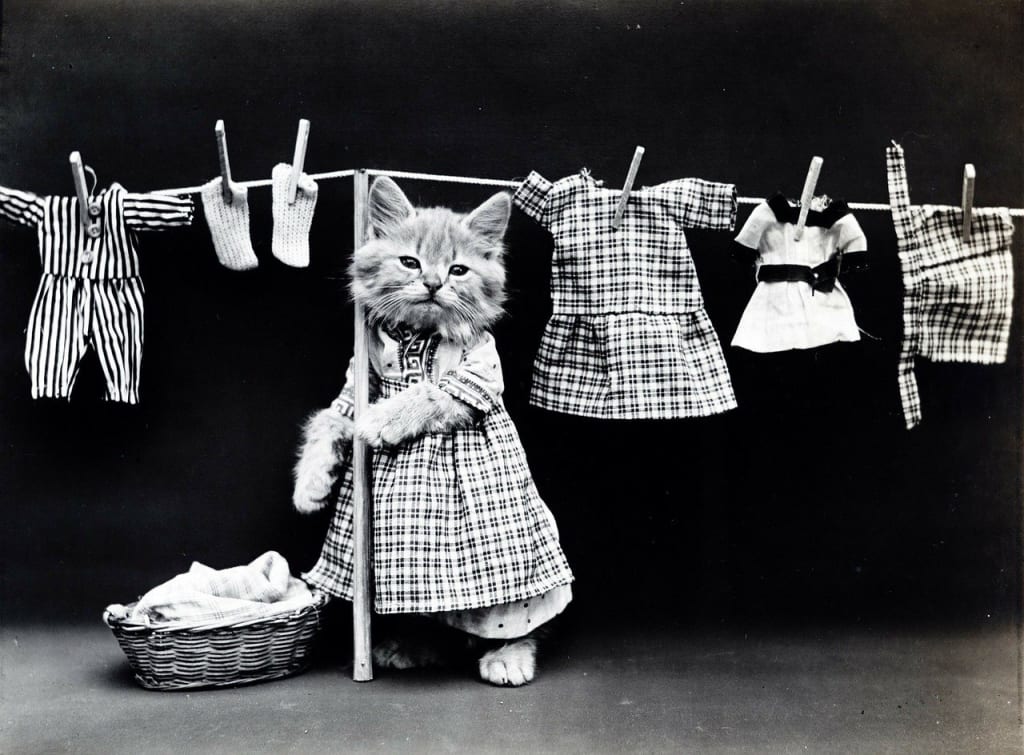 The stress of trying to find a new outfit not only plagues us daily but it can taint our worries for our furry or not so furry friends. I am talking about our loving cats, dogs, birds, reptiles, and even aquatic buddies like fish and turtles. I'm sure you love showing off a new jogging outfit on your morning run or going out on the town in your newest dress, but what about your companion? Well, do I have an inexpensive life hack for you!
When it comes to pets and clothes it can get pretty expensive pretty quickly; that is if you can even find clothes to fit them or even built for them. Luckily I have found some great and cheap alternatives for the thrifty/crafty pet owner.
For cats, dogs, and even tortoises (not turtles) you can just buy kids or adults clothes. Yes, you heard me. Unlike some stores only having pet sweaters in season, people's clothes are always in season. Many toddler outfits will fit smaller cats and dogs. It will also be made of breathable fabric that can be easily cut to accommodate tails or bathroom needs. As well as helping to cover pets that have no hair or skin conditions. I would recommend buying mainly boy clothes as it helps avoid the "pink" tax on similar items.
For those that don't know, the "pink" tax isn't a real tax, but it refers to the price difference on male vs female clothes. Example: A simple black t-shirt no designs no difference will be 3 for the guys 7 for the girls. Happens in all stores all the time for no reason, at least here in the United States, but that's a hot topic for another time.
For our super small buddies like rats, gerbils, reptiles, and birds I would recommend dolls (lots of Barbie clothes and even some action figures have cloth clothes) or stuffed animal clothes. Most stores will have them in stock and if you want to splurge you could take a trip to build-a-bear; though build-a-bear clothes may be more suitable for small cats and dogs size wise. Also, if you don't clip your bird and wish for longer flights you may want to cut slits into the arms of any shirts to allow for room for the flight feathers (almost like a poncho instead of a t-shirt).
For our aquatic friends (fish, turtles, and axolotls) I would recommend washable markers and stickers. With these options you can change their "outfit" everyday with minimal clean up and no potential harm to them. I would suggest the dry erase markers for cleaning ease on the glass (could use eraser, whiteboard cleaner, or glass cleaner) and vinyl stickers (they come off of items a lot easier than traditional paper stickers).
You could potentially use fishnet stockings for turtles by cutting it into outfits, but I DO NOT recommend it as it could impede their ability to walk and cause harm to them in the long run.
For service animals I don't recommend full outfits as their leash/vest needs to be seen for work purposes. However, you could always add some cool vest patches, stylish neckerchiefs, or some cute collar charms to accent their working outfit. Just be mindful that the items added DO NOT impede their ability to work or cover up the patches/information that declares they are currently working.
Oh, and don't forget the upcoming holiday events. Yes, there are pet costumes for Halloween, Thanksgiving, and Christmas, but again it might be cheaper to get baby/kid outfits to enjoy the festive seasons in (with some minor alterations of course).
I hope this life hack serves you and your furry friends well!
clothing
I am an actor, published author,sketchbook library artist, model, award nominated singer/songwriter, IT specialist, entrepreneur, wife and mother.
Receive stories by Raven Diamond in

your feed