Peace in Cross Stitching
AKA: Therapeutic Stabbing of Fabric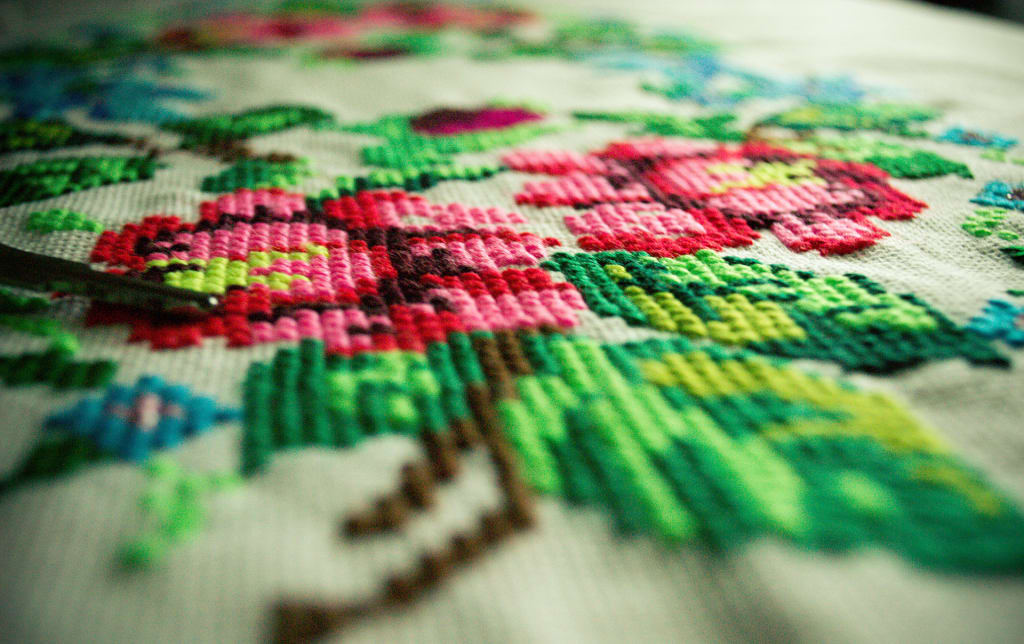 Image by <a href="https://pixabay.com/users/pexels-2286921/?utm_source=link-attribution&amp;utm_medium=referral&amp;utm_campaign=image&amp;utm_content=1842177">Pexels</a> from <a href="https://pixabay.com/?utm_source=link-attribution&amp;utm_medium=referral&amp;utm_campaign=image&amp;utm_content=1842177">Pixabay</a>
We are told to always be productive. That no matter what we do, we must always be challenging ourselves, always pushing ourselves, always growing. These are all good goals. As people, it is natural to strive to excel.
But it is so exhausting.
In the busy world we live in, we often feel guilty for just letting ourselves breath. Spending a few moments alone, doing something for yourself, is not selfish but actually healthy.
Something that I do when I need a moment of peace is cross stitch. It never fails to calm my mind. Cross stitching is a kind of embroidery that uses a cross-hatched canvas to make a picture using squares. You can make anything from a simple phrase to an elaborate portrait.
Like any form of art, it requires practice. Some people may have a natural talent, but Monet and van Gogh didn't become masters overnight. The first little bit can, admittedly, be brutal. Thread is very easy to tangle, it takes a very long time to make any progress, and you will stab yourself with the needle. It's inevitable.
But for me, it is worth it.
I have been cross stitching for almost a decade and I am still not near skillful enough to be considered a professional. I won't ever stop trying to get there though. I started cross stitching because I was frustrated with my own lack of natural artistic talent. I wanted to be able to create something with my own hands but would quickly get upset. To this day, anything I draw of pain ends up being a beautiful stick-figure.
I will forever be grateful that my mother didn't laugh at me when I asked for some material and a pattern. This was the new thing I wanted to try and she was supportive of that, even if she had her reservations. She warned me that it was difficult and time consuming as she walked me through the steps. She was right and I loved it.
I was able to take a plain white canvas fabric and thread and make a colorful picture to put in a 4x4 frame. It was uneven and the back was knotted. I had a pile of tangled thread that could no longer be used. My fingertips were so torn up that I could barely touch anything without pain. But I had made something that was completely, totally, my work.
From then on, I worked hard to perfect my skills (I still am, actually). The projects slowly got bigger and more complicated. I learned techniques for everything from french knots to untangling thread. I have thick calluses on my fingers and no longer bleed when I prick myself. Sleeping Beauty, I will never be.
But all I've done so far is talk about how I pushed myself to be better. How is that anywhere close to taking a moment to breathe?
I can't give a straightforward answer to that because everyone is unique. The small, repetitive motion of cross stitching may be incredibly frustrating to some people. For me, it clears my head. Other people see a beautiful landscape and draw it in a way that only they can, adding their personality in every stroke. That is a thought that makes me dizzy.
I am doing nothing productive when I am cross stitching. I don't sell my pieces and it isn't a marketable skill. Sure, I'm challenging myself but not in any way that makes me more valuable to society. All the growth I do is for a skill that will, realistically, never help me in my life.
But it makes me happy. It's an amazing feeling to look at a piece of artwork and say 'I made that'. The stress-relief it brings makes me more enjoyable to be around. In the craziness of today's world, sometimes the best thing we can do is simply something that makes us happy.
crafts
I love writing and was finally convinced to put some of my work out there!
Follow me @chachi_taylor on Instagram! I would always love to hear any reviews, constructive criticism, or to just talk about writing and books!
Receive stories by Jocelynn Taylor in

your feed