Pandemic Poolside
One young man's quest for joy while being trapped in an apartment in the city during a global tragedy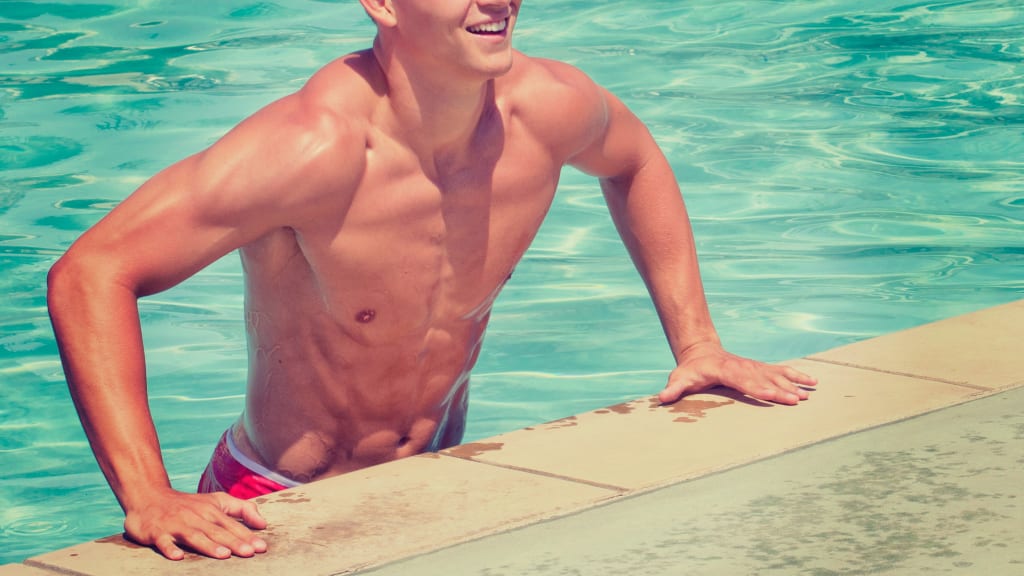 It isn't too often that a deadly pandemic suddenly sweeps the planet, upending all of human life as we know it. While this unlikely tragedy is now a reality that continues to unfold, things like work and school are up in the air. Many are out of a job and school enrollment is trending down.
In late March, 2020, with Covid rapidly spreading in the US and forcing the shutdown of life as we know it, I found myself alone in my downtown apartment, isolated, and terrified by everything that was happening. Upcoming travel plans for the tropics were cancelled. Grasping the magnitude of what was happening and seeing it unfold before my eyes felt like living a nightmare. I spent hours and days reading and hoping for better news, but none came. For some reason, or maybe actually just some heavier-than-normal substance (abuse), I decided that I needed to change my situation for the better. It was up to me to be the change that I wanted to see in the world! So I did what few, if any, and certainly none that I knew, would ever do to make proverbial lemonade out of lemons. This time, my friends were not around to talk me out of it either.
I mean, yes, we could still connect with each other virtually, or maybe even be risky and get together all low key socially-distanced, but based on the daily death tolls, this wasn't the best situation to go out on a limb and risk it.
Instead, if you live downtown in an apartment building in a major city that is suddenly very quiet, there is one recreational pastime that is truly a best-in-show for the spring and summer and it never disappoints: the swimming pool.
Since most of the year's pool season was already looking like it would be impacted by the Covid, I like to think I acted way ahead of the curve when i scored the deal of a lifetime for $29.95 on Amazon (minus the prime due to pandemic delays). The family play paradise pool was delivered in about a week. Without ever leaving home, except to go down to the lobby to pick up my package, I had 300-gallons of every landlord's worst nightmare to float on a raft in within just a few hours.
Staring up at a heat sunlamp I had hanging from the ceiling fan in my living room, I couldn't help thinking how really great it was that I didn't pay for hot water either. It wasn't all sunshine and rainbows making my entire vision come to life though, so don't try this one in your own rental apartment living room unless you're pro, like me, and unless you also own a tarp, some pool toys, tons of kinetic sand, a few palm trees, 100 beach balls, a "no" life guard sign, a heating sun lamp, assorted pineapple drinkware, an attachable rainfall shower head, 50+ feet of flexible pvc tubing, a decorative water fountain pump, and some large astro turf grass rug from your patio last season to complete the full effect.
Above ground inflatable swimming pools for families of 6 people do not offer much when it comes to instructions for setup indoors. That might lead some to assume they are for outdoor use only. In fact, they might even say in the instructions that they are, "intended for outdoor use only."
To me that just means there is a little more TBD work needed in order to get the pool up and running indoors. Often, some quick Google searches can fill in a lot of blanks. In this instance, my method was simple, I would ignore the setup instructions unless there was something that didn't work. Just to be clear, I was setting up my pool indoors. It was going in my living room, where I could ride out the pandemic in front of a 4k HDTV and a popcorn machine next to an even wetter "wet bar" that was within perfect reach of my hand grabber claw thingy.
Some people I spoke to about my redecorating plan felt the need to ask me stupid questions, like if I know what happens when a swimming pool leaks? Yes, obviously, I'm not stupid. I actually had a swimming pool that leaked once outside, so it would be exactly the same, only with hotter water that I didn't pay for, faker grass from the hardware store, and polished wood floors. Did I own the home I was putting a pool inside of? No. Of course not. Not at all. I can barely afford renter's insurance and if I did, I would never put 300 gallons in the middle of my living room. That would be stupid.
It's worth mentioning that no one was living below me in the building, so I wasn't really concerned about anyone else. Although that killed any chances of me on a flamingo raft crashing down through the ceiling onto someone's dinner table while they were eating. Which really sucks. Just kidding.
Safety measures were a top priority, so all of the precautions were taken. I already owned a tarp, so luckily I was pretty much half way there in terms of completing safety procedures right from the start. I also made sure I had proper sanitation treatment available like President Trump's recommended chlorine injections as well as other sanitizers waiting on deck. Even though it had a few ripped spots, placing my handy tarp underneath the pool was a key defense strategy. I mean, you can never really be too careful setting up a pool inside.
A random contractor who I happened to speak to around this time was also a real prick. Our conversation was stopped after he called me a moron. When I explained my plan, he expressed that possible damages could affect a large portion of my apartment building if I put a pool in my living room. He made a few comments about technical things like "structural stability" which I don't remember clearly and also may have been "instability". He basically felt if something went wrong, the fallout might trickle over into my neighbors' lives and make matters worse for them during the pandemic. I took his concerns to heart and decided to cap off the water level at the 'maximum fill line' instead of putting in a lot of extra water to make the pool deeper like I originally planned. Apparently water is also on the super heavy side. It actually weighs a lot more than people even realize (so just think about that next time you want to go on a so-called water diet).
Smaller sized pools definitely were not ideal for the resort vibe I had in mind. You can't really float on a raft in the littler pools or dive in. So I ended up getting a pool that was big enough to take up most of my living room, but was still pretty cheap and also wouldn't destroy the whole building. If my rough calculations were correct.
Given the complete lack of any instruction for setting up the paradise and play swim center inside a home, I had to figure things out on my own, like how to fill it or empty it without being able to use a regular garden hose or backyard. I knew some tubing would be involved. There is actually something I discovered that you can stick over any faucet to basically turn it into a hose. In order to empty the pool, it seemed like it would be easiest to use gravity. My super sweet and smart friend suggested that I just empty it right out of the window and down onto the street. All I would need to do was have a hose hanging out of my second-floor window. This was super easy, and during the pandemic there were also fewer people to disrupt my drain tube which ran across the sidewalk. It probably looked a little bit weird.
The shipping delays from the pandemic did result in other online ordering issues, including getting essential accessories for my pool, which didn't come until April. Other things that were delayed included: inflatable pineapple and flamingo drink holders, 50 pounds of kinetic sand (because regular sand is messier), and a "no life guard on duty" sign. Adding to these delayed items, there was also a limited number of fans for air flow. Controlling the indoor humidity was a major issue, especially since my pool was constantly being filled with freshly circulating hot water, which I don't pay for, making it pretty much like a giant hot tub with lots of steam. Luckily, I already knew how to manage this kind of thing from some mistakes I made when I turned part of the dining room into a live moss wall back in 2018.
With hardware stores still open during the pandemic, having one located just around the corner proved helpful. It was also convenient that I kept a large fake grass area mat in storage from the previous summer when I had it on my patio. It needed a cleaning, so I put it in the shower little and some nice smelling body wash did the trick before placing it pool-side in the living room. It made a perfect living room picnic lawn too.
My pandemic pool resort was not only a major success and pleasure, but also a huge hit after sharing pictures and videos. Eventually, I hung a rainfall water shower head from the ceiling fan above it, and just below the sun lamp, for added extra-ness. There was tons of pvc tubing connected to the bathroom for water, which was annoying to have crisscrossing the apartment, but it was worth it to me.
Any time I felt like it, or like several times a day and at night, I would randomly jump, dive, slide, hop, or fall right into the pool. Things got wet, and a cell phone I had barely two months was drowned and lost forever, but I always did my best to ventilate and dry stuff. Of course, once the weather outside got nicer towards the end of May, going outside became more pleasant, despite the pandemic.
The pool which was the centerpiece, or really pretty much just all of my living room - making for an in-home tropical resort stay-cation - was finally decommissioned to be taken out of service just after Memorial Day weekend, in anticipation of summer beach weather. Unfortunately, at the time, I didn't know the beaches were going to be mostly closed the whole Summer. Of course, this just meant that people were told not to go there because they were closed. I still went though, even if I had to go alone and get kicked out. Plus, at least I knew in the worst case scenario, I always had the inflatable swimming pool folded up and tucked away, ready for a rainy day. Or year.
Stay safe, stay healthy, and live your best life.