Nine Things You Need to Know Before Moving to Chicago
If you've made the decision to move to Chicago, there are a some things you need to know about it beyond the fact that it's called the Windy City and that the community goes all out for St. Patrick's Day Indeed, there are nine things to know about Chicago before making your move.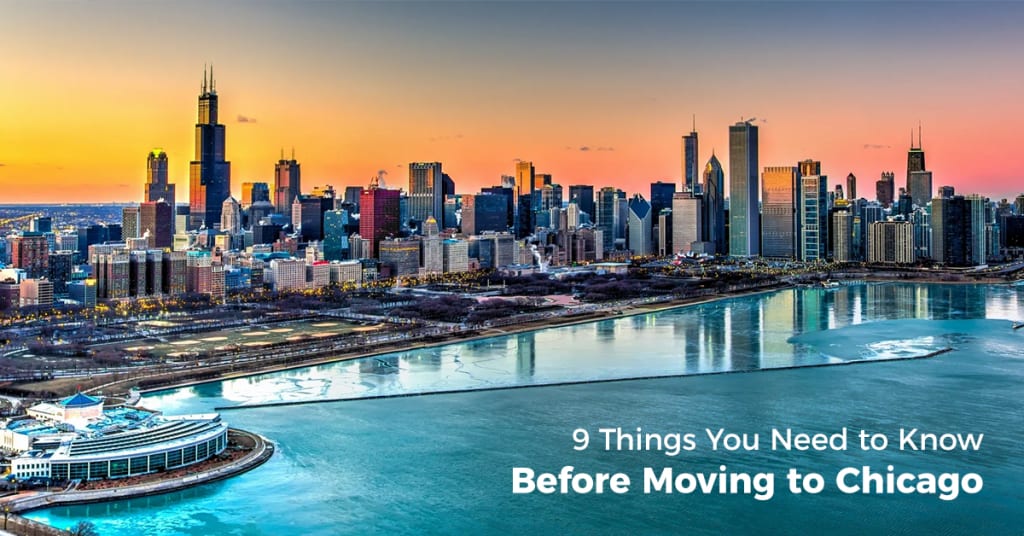 Moving to Chicago
When It Comes to Weather, Chicago is More than a Windy City
Weather guides life in Chicago no small way, particularly in the wintertime. Winters in Chicago can be challenging. The combination of lake-effect snow as well as low-pressure systems that drop in from Canada with regularity, a Chicago winter cannot be underestimated. Challenging winters generally are offset by pleasant springs, summers, and falls.
A Reliable Chicago Mover is a Must
Of course, this applies to any type of move, to or within any community. You need to make sure you've lined up a reliable mover decently in advance of your scheduled move date. As is the case everywhere, there are excellent Chicago movers and those that don't garner high marks. With that said, when it comes to a moving company in Chicago,
Reebie Storage & Moving consistently garner high marks for on-time arrival, outstanding care of property and possessions, and affordable pricing.
Get to Know Lake Michigan
You can't ignore Lake Michigan when you make Chicago your home. Rather than just glance at the majestic expanse of water, you really do need to get to know it once you get settled in your new home in community. Lake Michigan comes complete with an 18.5-mile lakefront. The lakefront has a great deal to offer. This includes two magnificent lakefront space, Millennium Park and Maggie Daley Park public spaces directly accessible from downtown Chicago.
As part of getting to know Lake Michigan, you will also want to take advantage of the beach scene. There are number of great beaches along the lake:
• 31st Street Beach
• Montrose Beach
• North Avenue Beach
• Oak Street Beach
You'll Know Your Neighbors
It's become something of a cliché in recent years when people say they don't know their neighbors. Even in an era of great connectivity, in some ways the digital age has separated us in some ways from others, including those people who live in your own neighborhoods. On of the things you need to know before moving to Chicago is that you will get to know your neighbors. The realty is that the Windy City has maintained the charm of the neighborhood and you will notice that as you settle in among the people on your new street.
A Car is Not Required
Most people moving to Chicago comes from locales in which the automobile is a must. Even in most communities with decent public transportation, people are wed to their cars. Such is not the case in Chicago. The fact is that you can easily survive, indeed thrive, in Chicago without a car. Chicago has an outstanding public transportation system. Much of Chicago is highly walkable as well. In addition, the city has over 200 miles of on-street protected and buffered bike lanes.
As an aside, when it comes to having a car in the city, there are some complications to bear in mind. Chief among these challenges is parking. Finding on-street parking can be difficult. Getting space in parking lots and parking structures can involve waiting lists and prove expensive.
You can Live Affordably and Comfortably in the City
You don't need to land in the suburbs to live affordably in Chicago. There is a decent inventory of affordable real estate within the city limits. In addition, you can enjoy the benefits of suburban life in the city as well. These include greenspaces and yards.
Chicago is a City of Festivals
Mention has already been made of St. Patrick's Day being a major event in the city. In addition, Chicago truly is a city of festivals. Festival season runs from May through Chicago and includes over 150 unique, entertaining events. In addition to these 150-plus major festivals, most local neighborhoods also host local street fairs that celebrate the heritage, food, and even music of these enclaves.
Meeting People in Chicago is Easy
In addition to getting to know your neighbors, meeting people in Chicago is easy. The city is known for open, friendly, and affable people. There are a variety of venues and activities in the City that provide great opportunities to meet others, including family-friendly destinations:
• Navy Pier
• Millennium Park
• Willis Tower
• 360 Chicago
• Lincoln Park Zoo
Chicago is a Sports-Centered Community
Sports are important to life in Chicago. The city is home to some very popular sports franchise that include:
• Cubs
• White Sox
• Bears
• Blackhawks
• Bulls
When you land in Chicago, you will quickly learn that with a good amount of frequency, conversations turn to sports and one or another of the teams that call the city home. In addition, recreational sports activities in which people from all walks of life are a significant element of life in Chicago.
Armed with assistance from the right mover, you will enjoy an easy transition into the city. Once you settle in Chicago, you will find your new hometown exciting and compelling. You and yours will be on the way to what can prove to be an idyllic life.