My Mattress Came In A Box, And Here's Why I Love It.
Getting a good night's sleep has always been a top priority of mine.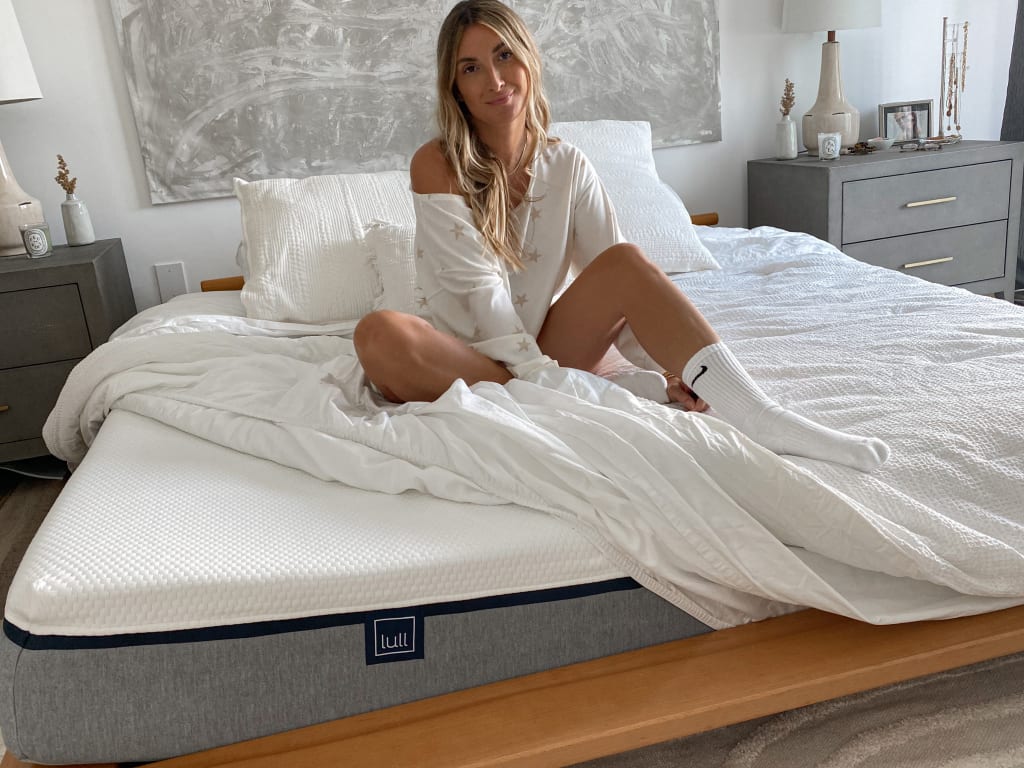 When I'm well-rested I feel so refreshed and energized throughout the day.
When I get great sleep I'm happier, and I feel healthier. So for the past year, I have been on a mission to upgrade my mattress to something that better suits my needs. Normally, I would shop for a mattress in person where I could test it out in person before buying, but under current conditions of COVID-19 I didn't want to do that. I knew with these unprecedented times, I had to stray away from my norm and choose a safer shopping option. I relied on the trusty Internet to research different brands within the mattress industry and came across Lull. I was very intrigued by this premium bed in a box mattress company and knew I needed to learn more. I immediately went to read the reviews to find out what everyone has to say about Lull, and was pleasantly surprised that the reviews were honest and informative. I was so impressed that Lull has over a 98% customer satisfaction rate and over 40,000 reviews online. Since I had already seen the ads on my social media and several influencers who had partnered with them, it seemed like the right move was to try for myself.
Sleep is very important to me. When I say VERY, I mean I spend a lot of time researching how to get quality sleep to make sure I wake up feeling rejuvenated.
I research things like what I should eat before bed, the right kind of pillows to sleep with, or the overall importance of a quality mattress. Getting a good night's rest can mean the difference between a great day and a 'meh' day. It can contribute to how we age, our general health, and the quality of our relationships, since no one wants to live with someone who is cranky and sleep deprived.
Since we're a young family that's hoping to expand, I know the importance sleep plays on fertility and first-time parents.
What really prompted me to upgrade my mattress in the first place were the studies I've read on the impact sleep has on fertility. I've always heard from my mom friends that sleep is the thing you miss the most when you become a new parent. I know that I'm going to be super busy when I become a mom so I figure getting a new mattress is giving me a head start on making my life a little easier when that time comes for me!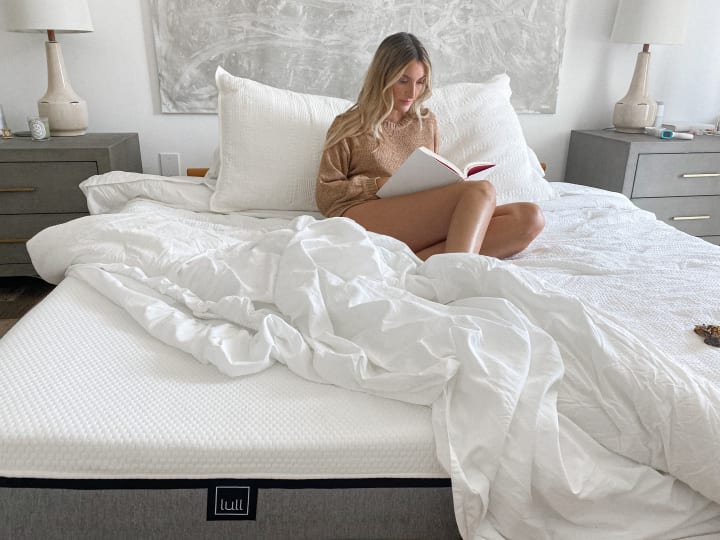 While shopping on Lull's website, I quickly found that all my hesitations from buying a mattress online quickly disappeared.
At first, I was a little nervous about what would happen if I ended up not absolutely loving my mattress. I was at ease reading that Lull offers a 365 night risk-free trial that allows their customers to try out their mattress in the comfort of their own home for an ENTIRE YEAR. You have the opportunity to return it for a full refund if not 100% satisfied, which reassured me in this purchase. While I am still within the trial period to return it, I feel confident I'm going to be sticking with my Lull. This 365 night offer really made the difference when I was hesitant to make such an important purchase online without the ability to try it out first.
My Lull Mattress arrived quickly in a compact cardboard box.
My husband was really impressed by how they managed to fit a a king size Lull Mattress into such a small box. Once we wiggled it out of the box, we removed the plastic wrapping and there she was! Our new mattress! Once we cut the protective packaging, it began to unroll by itself so we quickly put it in its place on our bed frame and within minutes, our new mattress was ready to sleep on.
Getting such a large mattress in such a small box, I expected it to have a strong smell or strange shape but I was pleasantly surprised at how quickly it took shape and left zero smell in the room. Lull's Mattresses are CertiPUR-US®-Certified, meaning there are no harmful chemicals, formaldehyde, or flame retardants used when making the mattresses. Buying a mattress that was toxic-free was something that I was adamant about so I was very pleased when I saw Lull's certifications listed on their website. With my previous mattress purchases, a strong smell had always lingered in the room but with Lull, there was no smell which made the experience even better.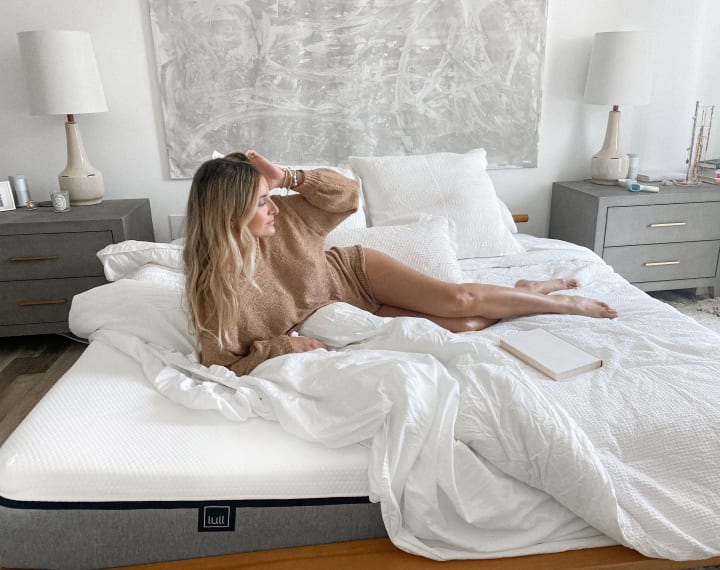 That first night, we were really able to test the mattress quality.
The first thing we both noticed and loved about our Lull was that it feels like the perfect amount of soft and firm.I am a side sleeper, unlike my husband, so finding a mattress that would be comfortable and fit both of our sleeping habits was a must. Lull uses a three-layer technology with the highest quality foam available to ensure that everyone will get a restful sleep in every sleeping position. The 1.5 inch gel-infused cooling top layer regulates temperature which is perfect for hot sleepers! The next layer is a 1.5 inch foam layer that offers support and motion distribution. These two layers made it more comfortable to sink into the mattress slightly without feeling like I was molded into it! This is especially true for people that sleep on their side. Since I sleep in a fetal position, my hips tend to hurt if I lay on one side all night. With Lull's memory foam I didn't feel the need to turn over so much and slept through the night. I'm so happy Lull met all my concerns and really checked off all the boxes!
I was so excited to have my first sleep on my new Lull Mattress, I even bought new sheets for the occasion! We both remarked how well we slept that night, mainly because neither of us woke in the night or felt the need to shift around to get comfortable.
I'm so happy I took the plunge and got my very own Lull Mattress! I highly recommend checking out Lull and their amazing products to upgrade your sleep.