My DIY Quilted Jacket
What I learned on my sewing journey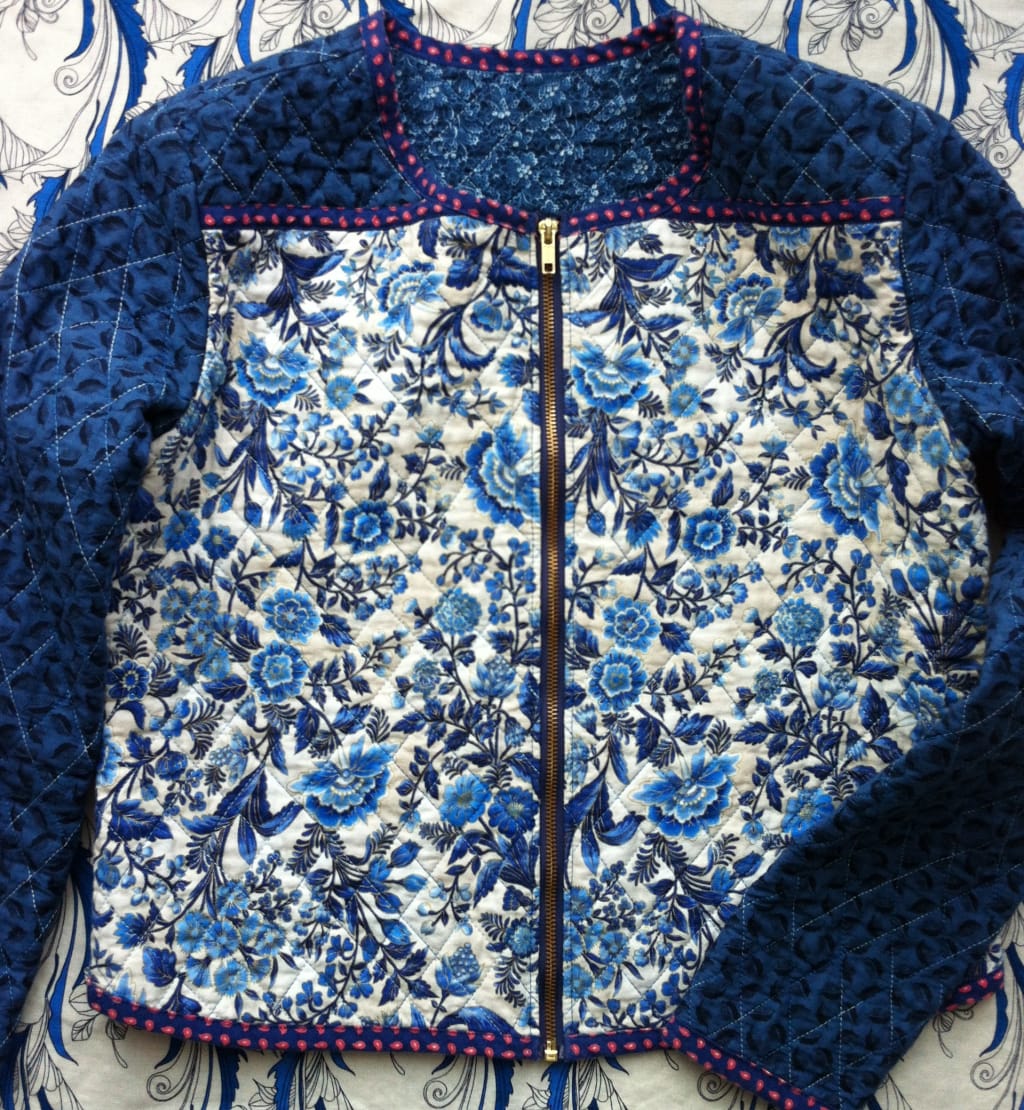 My DIY quilted jacket
The Catalyst
Growing up I was never interested in being a creator. I preferred dealing with numbers and majored in finance where my day job had no need for a creative side. What then sparked my interest in creative endeavors?
It all began with a tote bag that caught my eye in a museum gift shop during a trip to Chicago. At the time over ten years ago, the purse was priced at $70, way out of my budget. For reasons I still can't fathom today, my analytical mind decided I had the capacity to learn how to make this tote myself. Never mind I would spend a couple of hundred dollars buying a sewing machine and supplies to make said tote. The time I needed to learn how to sew didn't occur to me either.
I was on a mission when I got home from Chicago. I scoured the reviews online to find a reasonably priced sewing machine and a week later it showed up on my doorstep. This 4-star rated sewing machine almost stopped my sewing aspirations in their tracks. The thread jammed almost every time I sewed a seam. This was before YouTube and online blogging had become popular and resources to troubleshoot my issues were few and far between.
I continued despite the endless jams and with my how-to sewing book in hand, I proceeded to learn how to sew my first tote bag. I finally managed to finish and while it wasn't quite like the one I had seen in Chicago, I was proud of my first handmade item.
Return to Sewing
The thought of another sewing project with the "thread jammer" dredged up feelings of frustration. It wasn't worth the hassle.
Years passed. The machine was put away and forgotten until I moved and saw the box. I did need some new pillow covers to match the sofa. Maybe it would be different this time.
It wasn't - but this time online resources were available to help me troubleshoot the problem.
Since I didn't have any knowledge of sewing machines I had purchased one with a front-loading bobbin. I tried threading many different ways and adjusting the tension but I couldn't fix the jamming issue. Every online video I saw showed people using machines with horizontal drop-in bobbins that seemed easy to use. As a new sewer, I thought I had been using the machine incorrectly but I started to realize that maybe it was the machine that had been the problem all along.
I purchased a new sewing machine and no more thread jams! It was an amazing experience sewing seam after seam without interruption. The sewing possibilities were now endless.
I couldn't stop sewing now. Tote bags and pillow covers were just the beginning. Gradually I moved on to sewing clothing. Learning how to read patterns and sewing pieces together in the right order was a new learning experience. I sewed simple t-shirts and tops but continually challenged myself to make more complicated types of clothing.
My Quilted Jacket
Enter the quilted jacket.
I admired the quilted jackets sold by many major brands that cost well over $150. I thought it would be a challenging project to make one of my own at a fraction of the price.
The first step was to select the fabric, one of my favorite activities. I spent hours in the fabric store deciding on the color theme and finding coordinating prints to create visual interest. I finally settled on a blue tone with a navy blue print for the sleeves and shoulders contrasted by a lighter blue print in the front and back. I decided on blue because it was more versatile and could be worn with many other colors in my wardrobe.
After cutting out my jacket pieces, I used cotton batting and a walking foot to quilt each piece with a simple diamond pattern. The quilting process almost caused me to abandon the project. It took me a couple of hours over a period of a month to individually quilt each piece. The monotonous straight line sewing really tried my patience.
I was ecstatic when I finished quilting and was able to move on to sewing the pieces together. This created a new set of challenges. I had cut the batting the same size as the jacket pieces and this created bulky seams on the inside of the jacket. I ended up cutting away excess batting away to reduce the bulk. I finished sewing the pieces together and went to try on the jacket.
It was too tight around the chest. I didn't account for the batting creating a slimmer fit because of the bulk. I struggled to think of a solution. I used the same print and sewed an additional two inches to each side of the jacket. Since it was on the side and I used the same print the fix was barely noticeable. Disaster averted.
I covered all of the raw seams with handmade bias binding which was its own learning experience. I wanted the option to close my jacket and decided to sew in a zipper. Thankfully the extra couple of inches was enough to close the jacket and have room to breathe.
My long-awaited quilted jacket was finally complete.

Lessons I Learned
1. Don't quit when the going gets tough. If I had abandoned my tote as soon as I had a few thread jams, I wouldn't have experienced the joy I felt from learning sewing techniques and creating new items. If I had stopped quilting my jacket pieces because it was boring I wouldn't know I could complete a challenging project like that.
2. Things may not end up the way you envision but that's okay. The first sewing machine I purchased was not a good one and I wasted money on it. Instead of dwelling on my mistake, I moved on and bought a machine that worked. When the quilted jacket was too tight I thought of a solution and the end result was fine.
3. Think outside the box. After working on many sewing projects that went wrong I realized solutions sometimes required me to think outside the box. As a numbers person this was challenging at first but gradually became easier with practice.
If you feel creative inspiration has struck don't ignore that thought. Start finding your creative happiness today. The rewards may surprise you.
Thanks for reading and happy creating!

clothing
Sewist and fabric obsessed. Sharing my creative journey one story at a time. Blogging about my creations at www.madforfabric.com
Receive stories by Mad For Fabric in

your feed