Moving Mistakes to Avoid
Don't do these things when moving.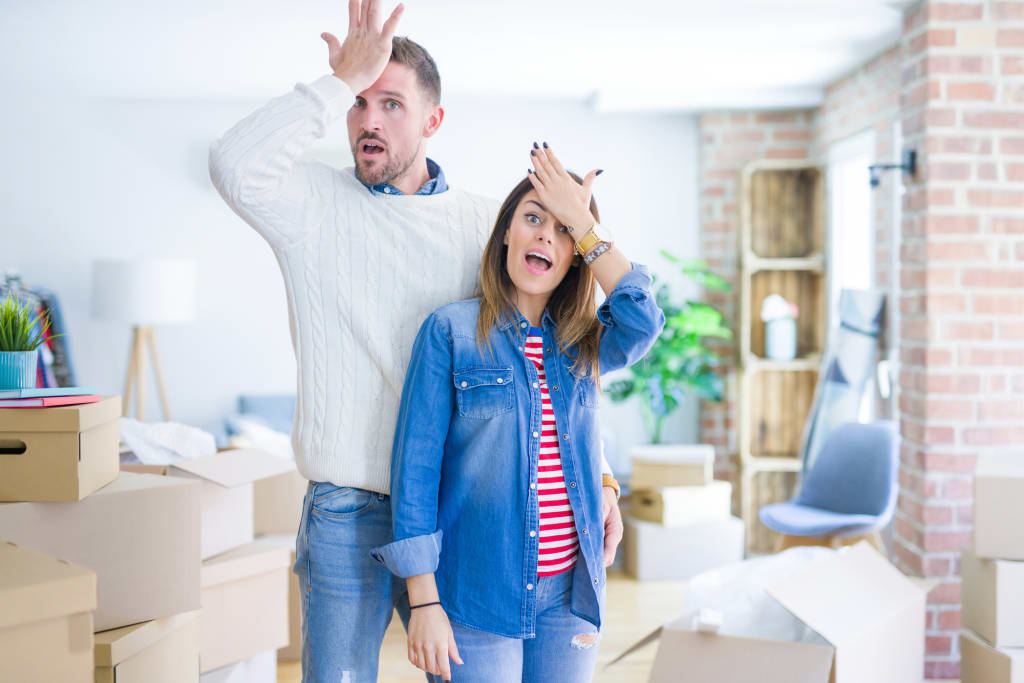 Moving Blunders Can Be Stressful - Avoid The By Following Solid Guidance
Problems You Need to Avoid When Moving
Did you just sell or buy a home and need to start the moving process? Moving from house to house is a task you probably don't often do and a complicated one at that. In such circumstances, it is understandable that things can and do go wrong. These moving mistakes can be not only stressful but also more expensive at a time you can least afford additional costs.
It is better to learn from other people's experiences, so let's look at common moving mistakes and how you can avoid them.
Doing The Moving All by Yourself
Hiring professional movers is an expensive cost. But doing all of your own moving, even with help from friends, is going to be difficult. It may be a reasonable option if you don't have too much stuff to move, but if you have a whole house full, you are quickly going to discover how difficult moving home really is. Finding a truck to rent and then doing all the packing yourself is not as easy as you think.
Moving heavy furniture through doorways and upstairs can be a demanding experience. Hiring professionals is going to save you a lot of time and could prevent a trip to the emergency room. If you need to save on costs doing yourself is probably the right move, but only if you have a smart plan in place. Make sure you have ample friends who can lend a hand before starting the moving process.
Failing to Research Moving Companies
Of course, if you are not strapped for cash, hiring a professional moving company is the way to go.  There are many movers to choose from, and if you don't do some research, you could run into moving problems.
A moving company might appear to offer a great deal, but what do their previous customers think of the service they provide? Check customer feedback and get estimates from a few different companies before deciding who to put your trust in. The prices from one mover to the next can vary dramatically. It will be prudent to have a checklist to compare one mover to another, so you don't get stuck with overpaying.
Don't forget if the mover does a great job; you should give them an appropriate moving tip. Tipping a mover is customary when a mover goes above and beyond, just like any other service industry.
Avoiding Having a Clear-Out
The longer you live in a house, the more things you are going to accumulate, stuff that you may no longer want or need. Sorting through your possessions and having a clear-out will lead to less packing and a more natural move. Taking things you really don't need anymore is not only going to cost you money but make your next place just as cluttered.
One of the best ways to remove unwanted items is to donate them to charity. There are companies that will come to your house and take away things you don't want for free! What could be better than that? You get to thin out your possessions while also providing assistance to someone in need.
If you have other things that are less likely to be taken by a charitable organization, it is smart to call a junk removal company like 1-800-got-junk. They will take away most things you no longer want.
When packing for a move, it is an ideal time to sort through the things you have no use for anymore. Pack the items you want to take to your new home and create a pile for things to donate and recycle.
Moving Insurance Coverage
Do you know how much insurance the movers provide for your possessions? It may be the case that they don't have sufficient insurance to replace your items should they be damaged in the move. While there are federal rules for interstate movers, the coverage isn't likely to offer the full value in the event of moving problems.
Though the chances of damage occurring are small, particularly if you have done your research, there is still a risk. You can get additional liability insurance either through the movers if they offer it or from a third-party business. Check your homeowner's insurance policy as well; it may provide you with some coverage for moving items.
Leaving Things to the Last Minute
Packing for a move invariably takes longer than you anticipate. There will be more items stored in closets and draws than you remember having. If you leave your packing too late, you are putting yourself under unnecessary stress. It could also lead to items being packed in a hurry without enough care to ensure they survive the move intact.
Instead of rushing, you could start packing things you know you won't need well in advance, perhaps even before you have a buyer for your home. You won't want to have to put up with boxes around your house for months, though, so store them in your garage or spare room. If you have more stuff than can be adequately managed, it might be wise to find a storage unit near your home.
Using a POD to store things on site is another option as well. As you get nearer your moving date, assume it will take longer to pack each room than you initially think.
Have An Essentials Bag
When packing, it is going to be very annoying and stressful to misplace items that you need on the day of the move. Make a list of things that need to stay out of the packing boxes and easy to find. It could contain things like toiletries, documents, medicines, phone chargers, and a fresh set of clothes.
Make sure everyone in your family does this. This should help you avoid someone panicking when they can't find something they desperately need, then adding to your stresses.
Setting a Moving Budget
Moving from one home to another is an expensive time which can see bills appearing that you weren't expecting. The movers will provide you with an estimate of their costs, but things could start to add up unexpectedly if you don't factor in costs for things like packing materials and travel expenses. You should have enough room in your budget to cover additional charges should they arise.
If you take some time to plan for your move, you will find it an easier and less stress-inducing process. Problems can still occur, of course, but you will be better able to deal with them if you have everything else covered. There is lots to know about moving. The more you know, usually the fewer troubles you'll run into.
Final Thoughts on Avoiding Moving Mistakes
Moving is a difficult task. Ask anyone who has done it before, and they are bound to tell you moving is an arduous task. What you really need to do is have a solid plan in place well before the move happens. Those who are prepared will avoid much of the hassles and stress that pops up in a complicated move. Don't be afraid to reach out to friends and family who have moved for some help and guidance.
Most moving mistakes can be avoided by having a sound checklist—best of luck.
About the Creator
One of the top RE/MAX Real Estate Agents in New England. A passionate writer who's work has been featured in many prestigious real estate publications including The National Association of Realtors, RISMedia, Inman News, and Credit Sesame.
Reader insights
Be the first to share your insights about this piece.
Add your insights