Modern Bathroom Design Ideas
The bathroom design ideas can play a significant role in converting your unhappy mood to a contented one and uplift your spirit to fancy the time. But to know about the modern bathroom design ideas, it is important to know the measurement of the bathroom. The design of the floor, door, window, and cabinet should be chosen according to the measurement. The length, breadth, and height should be known while measuring.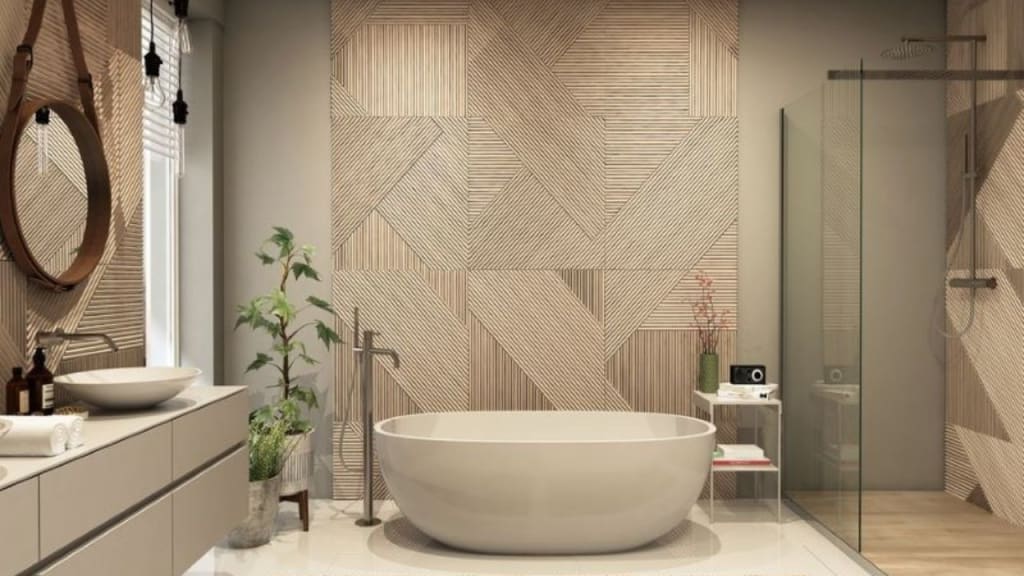 Modern bathroom design concepts can be used in most bathroom styles to create a charming mid-century look. The combination of geometric patterns with the angular and smooth design of accessories, furniture, and countertops, and the emphasis on high-quality natural or plastic materials are hallmarks of modern bathroom design.
Things to Know about Modern Bathroom Design
It is generally believed that modern design appeared in the early 20th century, but its "moment" appeared in the post-war period. A group of designers mainly located in Scandinavian countries in Europe gave birth to a design movement focusing on efficiency and aesthetic design, organically combining form and function, but without the decoration and decoration that always existed in the past.
Bathroom Renovation Plan
It is possible to make relatively simple changes to the modern bathroom design and transform the old, worn-out bathroom into a brand new space comparable to a five-star luxury resort.
Renovations such as replacing the sink in the bathroom, bathtub, and optimizing the entire facility can create miracles for the most hygienic space in your home. It can not only create a relaxing atmosphere for long days but also add value to your home.
As we all know, when you sell your house, the kitchen and bathroom will get the best return. Therefore, use these two options to build your own private retreat while redesigning your house to ensure the highest value of your bathroom.
Remember, preparing for your bathroom renovation as early as possible will help eliminate unnecessary stress from the overall renovation, so plan your ideas in advance, one step ahead.
If you are not sure where to start, follow these simple modern bathroom design ideas: Appreciate the interior design of your home. Do you want to keep the same decor or create a different style for your bathroom? Then, determine the starting point of the design.
Here are few steps that you can follow or add to your design:
1. Try to keep the bathroom bright and white.
2. Choosing a floating vanity will be a smart choice.
3. Maintain a sense of proportion.
4. Fit your tapware according to the theme.
5. Try to contrast the texture and be bold.
Bathroom Design Thoughts
This style is particularly popular with homeowners who wish to maximize the space of their smaller bathrooms. An element of modern bathroom design that can be a good addition to a small space is a raised or recessed sink, usually made of slanted stainless steel, with a round or slightly curved shape.
This efficient choice of lamps and lanterns can highlight the style, and at the same time achieve the dual function of saving space, because it does not require any space. The sink can be placed in a larger cabinet to create a stylish and airy effect. When choosing materials for a modern bathroom design, wood, stone, slate, glass, and ceramics are all at risk, as with any bathroom style. "But the way they are presented will determine how modern their design is."
You can also effectively combine materials in modern designs, such as combining natural wood and stainless steel in countertop designs, or creating ceramic and glass tile designs above the dressing table. . Emphasize relaxed simplicity. Many modern bathroom designs use contrasting base colors, such as black and white or gray, because simple color combinations sometimes do not arouse visual interest in the form of murals or wallpaper on the wall.
Designing the Bathroom
Whether you are planning to remodel a bathroom or install a new bathroom, you need to explore bathroom style ideas and options. Through your research, you will find a bathroom style that can express your personal aesthetic preferences and fit or complement the popular designs in your home.
Classic Design
If your personal style is simpler and less experimental, your bathroom style may be more classic or more traditional. Historical styles such as colonial are usually classified as traditional styles, but can also include early 20th century styles such as handicrafts and missions.
Generally speaking, traditional styles follow more historical rules in terms of lamps and tiles, with elements from real times.
Modern Design
In contrast, modern or contemporary bathroom styles usually incorporate the edges and smooth curves of modern mid-century design. They usually have contrasting patterns and textures to create updated designs that look classic and avant-garde at the same time.
Eclectic bathroom styles are also popular, and tend to seamlessly blend different and seemingly disjointed elements to create interesting and visually interesting designs. Geometric mosaics can contrast with the rural scenery.
At the same time, the claw-foot bathtub can anchor a design that also has unique and interesting works of art and decorations, which will be displayed on the shelf along with the basic accessories. Outdoor "untreated or recycled wood for cabinets or furniture, and other natural elements such as plants and flowers. Classic and durable porcelain bathrooms and toilets, as well as decorative patterns such as toilets, checkered patterns, wallpaper, and bedsheets. Further, integrating the design into the home theme.
Popular Design
Romantic, European or Victorian designs are also popular in bathrooms. These bathroom types usually take a more subdued and quirky approach, with tufted seats and bright pastel colors such as pink, pale yellow or blue. Mirrors are usually golden or silver and can be carefully designed for plants and animals. Other homeowners may want to imitate the bathroom style of a particular area.
Italian Design
The Tuscan bathroom is inspired by the Italian region known for its laid-back elegance. Natural tones and terracotta tiles can be used, as well as unique wall colors. Burnt orange, yellow and rust red are popular.
French Design
French-style bathrooms are usually decorated with exquisite mosaics in shades of light and shade, combined with woodworking furniture and mirror frames to create a warm and elegant style.
End Words
Designing a bathroom includes choosing the perfect flooring, windows, doors, cabinets, etc. It is quite difficult to select all of these things at once. You can find out more about modern bathroom design ideas here. Here you can find everything you need to know while renovating your restroom.
About the Creator
I'm a digital marketer and SEO expert. Blogging is my passion. I love to share my thoughts and ideas, read books and blogs, travel, play cricket. You are always welcome to read my blog.
Reader insights
Be the first to share your insights about this piece.
Add your insights