Making a Case for Homemade Gifts
First Place in Mindful Gifting Challenge
Why you should gift homemade and 3 creative gift ideas
I grew up in a Jehovah's Witness family. Most of my relatives wouldn't even acknowledge Christmas when it came around. I never grew attached to the holiday or developed any expectations because it was never emphasized growing up. My aunt told me Santa didn't exist when I was five and killed the magic then and there.
I did see my friends getting hundreds of dollars worth of items on Christmas, and I noticed the new clothes kids would wear upon returning from winter vacation. But oddly, the twinges of jealously came from the gifts I could tell were given with thought; a homemade candle, a planned vacation, a handwritten letter, or a scrapbook of hand-selected memories.
As I grow older and begin to grow my own family, I find myself longing to participate. It sounds sappy, but how effortless is it to buy a prepackaged cookie-cutter gift from the Target shelves and call it a day? We know that half the stuff we gift to one another goes unused, untouched, and unappreciated. Even worse, it ends up in a landfill or floating in the ocean, endangering the turtles.
Everything is changing, and "normal" is a joke. Why not dismantle how we celebrate Christmas? Let's move away from the buy first, think later, and give thoughtful, intentional gifts. Let's stop buying wrapping paper to use once before tossing it in a dusty closet and never thinking about it again.
Scientists are warning that we're running out of time to take climate change seriously. This year I am not buying wrapping paper, and I'm focusing on handmade gifts. There is so much already out there to repurpose or create that will bring your loved ones more happiness than anything you can find in a retail store.
Three Homemade Gift Ideas
1. Candles
It's easy and fun to create your own candles. You can melt the wax down from the remnants of other candles or wax cubes. But you can also make your own scent and create one from scratch. When you make the candles at home, you have full control over the quality of the product. Some members of my family are sensitive to some smells and only enjoy natural and subdued scents. You can customize the gift for the recipient.
The reason there's no modern-day Shakespeare is because he didn't have anything to do except sit in a room with a candle and think.

-Chris Cornell
Store-bought candles made with paraffin wax release toxins into the air as they burn. This is the case with most smoke; however, you can make your candles with soy or beeswax to reduce the effect on your health. Whether you repurpose old candles or utilize sustainable ingredients, you are saving money and mother earth.
2. Letter Series
"To send a letter is a good way to go somewhere, without moving anything but your heart. "

-Phyllis Grissim-Theroux
Have you ever received a letter you didn't know was coming? It arouses excitement and a warm feeling that is incomparable. "Someone wrote me a letter. A handwritten letter, they paid for a stamp!" Humans have the uncanny ability to devalue themselves. Gifting a letter is one of the best ways to remind someone they're important to you. That feeling lingers and returns in full force anytime they reread your words.
A letter is never ill-timed; it never interrupts. Instead it waits for us to find the opportune minute, the quiet moment to savor the message. There is an element of timelessness about letter writing.

-Lois Wyse
One Christmas, I was broke. Giving gifts just was not in the cards that year- but I wanted to give my mom something. She always loved it when I would write her a poem or a letter, so I decided to take it up a notch.
I gifted my mother a notebook full of pictures from my childhood with a letter to go with them on every page. I wrote to her about our life together, and what I loved. I told her my fondest memories and thanked her for the things I never have. Through writing, I could express myself without fear or reluctance.
She loved the gift and told me she spent hours reading every page and crying happy tears. Reading has a way of transporting you back to those moments. It's an incredible thing to get to see into someone else. My words on the page are a window into my thoughts and feelings.
I could never give my mother the sincere appreciation I shared through my words in person. The words never come out correctly. Yet, those tender moments of my youth and my praise for my mom are stained in ink forever. She can revisit them. I also left a few pages for future memories, to add to her book, and continue to share the more vulnerable parts of myself. The best part of this gift is it only cost me the price of a notebook. My mother gets endless happiness from it, and there isn't another item on its way to the dump.
3. Art
"No True Talent is fully organic. Yet the superior talented have not only control of study but that extra special, little gift at birth--fueled by passion.A built in, totally spiritual, unexplainable, New Age, fuckin cosmic energy bursting love for passion. And yes, they are an even smaller percent amongst the small percent. And they are special!"

― Kurt Cobain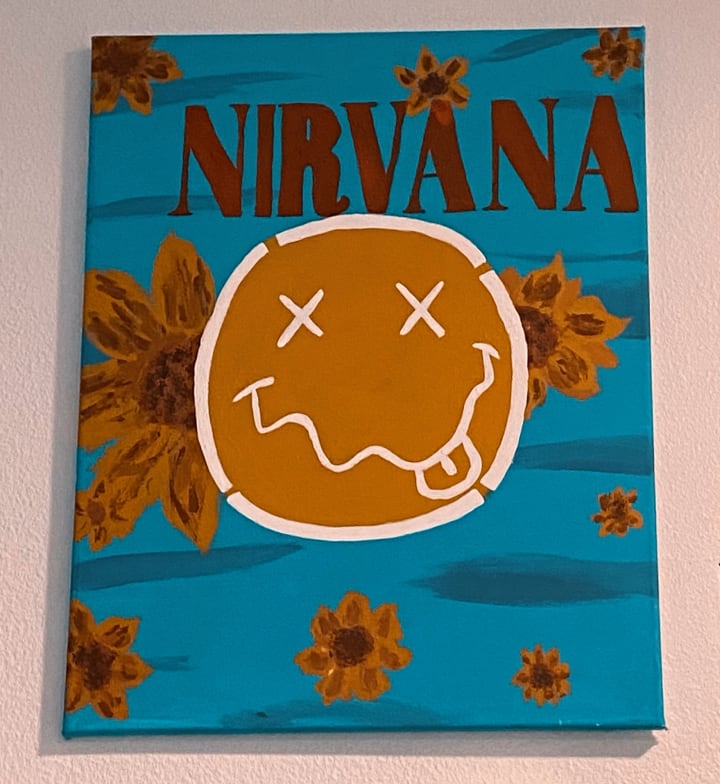 My cousin was more ingrained in Jehovah's Witness dogma. It was hard for her to make the shift and start celebrating any holidays. She has been in school, pursuing an art degree for the last three years, and her talent has been refined.
One day she texted me and asked my favorite band. "Nirvana," I shot back and forgot about the interaction. Weeks later, on my birthday, she showed up at my house with a Nirvana-themed painting.
Though I got this gift years ago and moved several times since, the painting always has a place on my wall. My cousin and I live in different cities now, but the illustration makes her feel close. When I look at it, I'm reminded of the care she took to gift me this. As the years pass, my gratitude never fades. I doubt my cousin gives much thought to the painting now, but our relationship is solidified and I feel validated as an important part of her life. More so than I would if I was given a pair of socks or an Xbox.
Alternatives for Wrapping Paper
1. Grocery Bags
To save the planet and a few extra bucks, I use brown grocery bags to wrap my gifts. Usually, I have a few lying around. First, I cut the bag so that it's flat, and I use the side with no logos. Once it's flat, the rest is the same as using wrapping paper.
The texture of the paper is a little thicker and stiffer than traditional wrapping paper. Which I like because it results in fewer tears and a more crisp final product.
2. Cloth
Cloth of any kind works wonders for wrapping gifts. I have several reusable canvas colored totes that I put gifts in and tie at the top. I finish the packaging with a bow or little garnish of some kind. I want the gift to look carefully put together but also minimalistic. Cloth is a wonderful alternative because it's reusable and doesn't get destroyed in the process of opening the gift.
Parting Words
"The way to develop the best that is in a person is by appreciation and encouragement." —Charles Schwab
Gift things that create a spring of happiness that will flow forever. Make your gifts say, "You are important to me." Feeling important is the most innate human desire. Satisfy someone's want to be appreciated, and you have a friend for life. Making something at home benefits you, your relationship with the recipient, and the planet.
"The roots of all goodness lie in the soil of appreciation for goodness." —Dalai Lama
Refurbish an old piece of furniture, paint your mom's kitchen, write a love letter, create a work of art. Acts of service are so fulfilling, and the more you put out, the more good things will come back to you. In this time of crisis, your letter, or candle, or card, will mean the world to someone. This year give a piece of yourself to your loved ones. It will pay in dividends of gratitude for longer than anything store-bought.