Kitchen Refurbishment Inspiration Tips : Find Your Spark
Sourcing ideas and themes for your home renovation can be tricky and overwhelming so these simple tips will help you narrow down those themes to create a design you'll just love.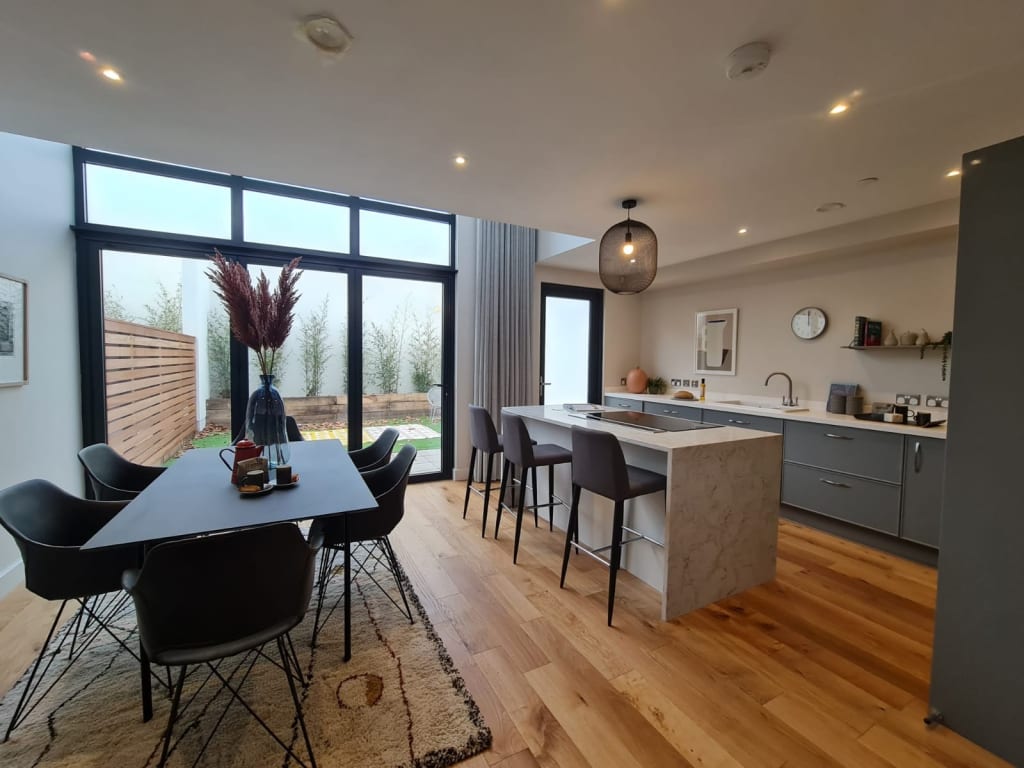 Source : https://www.broadway-group.co.uk/
Home refurbishment can be a fun and memorable experience, planning out your living environment and styling a home exactly how you want it. Home remodelling is how many people come to accept a house as their home. Putting your mark on a property can also be a scary and worrisome time as you struggle to find the perfect design or feel like you are missing key elements to make your home special.
The main thing to have in the back of your mind when you begin a home design project is an end goal, a vision that you can build the rest of the house around. Modern home design has so many different choices that it can be hard to form a clear image in your mind of what you want. So many different colour schemes, materials, styling options and it can feel quite overwhelming or leave you with a sense of wanting to try everything out, which isn't ideal. To help give you a clearer image of what you want, here are some tips on how to get inspired and get new ideas for your home. Home design isn't easy or always fun but choosing what you want should be.
Head outdoors - I cannot stress enough that one of the best ways to get an idea for your home is to leave it. Take yourself out of that headspace, out of that world. You are going to struggle to think of new ideas if you're just staring at the old ones! Get out for a walk and take inspiration from your surroundings or just take a chance to relax and remove yourself from that stressful environment.
Antique Stores - While modern design and style are always worth considering, don't restrict yourself to those options. A vintage touch can always add an extra element to your home and it can bring a delightful contrast to a room. Also, if you are just looking for inspiration, any new ideas are a plus and while the vintage look may not be for you, you may find certain shapes or illustrations that you want to include in your design.
Start a discussion - Never forget to ask your friends and family for tips and their opinions. Especially older relatives who may have already gone through a kitchen or home refurb project as they could have valuable insight into the design process and what pitfalls to avoid. However, what's also important is remembering that your vision is the one that ultimately matters. While it is good to get fresh takes and an outside perspective, don't let it overwhelm or take you out of the conversation. It's your home at the end of the day so avoid relying on other views that don't match up with your own.
Try online design templates - The wonders of the internet have really helped with the expansion of modern home designs. 3D virtual models can be very expansive and show a lot of detail and these tools are available on most interior designer websites.
Mood Boards - A mood board is simply a collection of inspiring décor photos and products typically revolving around a particular style or colour. Mood boards can get complicated but it is best to look at them as a starting block and grow them out. Start small and just add things you like or think works well. It will guide your home décor choices and really help you to narrow down what styles and colours you like and what you want to explore more of with your design choices.
So there you have it. A few tips and tricks to get your mind racing with innovation and inspiration. Planning your home refurbishment project is a chance to showcase your creativity and inner vision so take your time and explore as many options as you can, especially when you consider the price of most renovations. You might as well peruse the choices and make the right ones that make you the most happy. Good luck and happy designing!
Useful links
https://www.broadway-group.co.uk/kitchen-refurbishment
https://milanote.com/guide/create-better-moodboards
https://www.idealhome.co.uk/kitchen
Reader insights
Be the first to share your insights about this piece.
Add your insights