JAKE PAUL VS. TOMMY FURY - Big Fight
There is no disputing that Jake Paul vs. Tommy Fury is one of the biggest boxing events of 2023, despite the immediate dismissal of its authenticity by certain boxing aficionados. After two postponements, it appeared that the two adversaries would never square off in the ring, but now Paul and Fury have spoken out in advance of their fight on Sunday night in Saudi Arabia. Both males are carrying a significant amount of weight. Paul will get the opportunity to demonstrate that his skills are on par with those of a working professional boxer, while Tyson Fury wants to make his family and the WBC world heavyweight champion proud.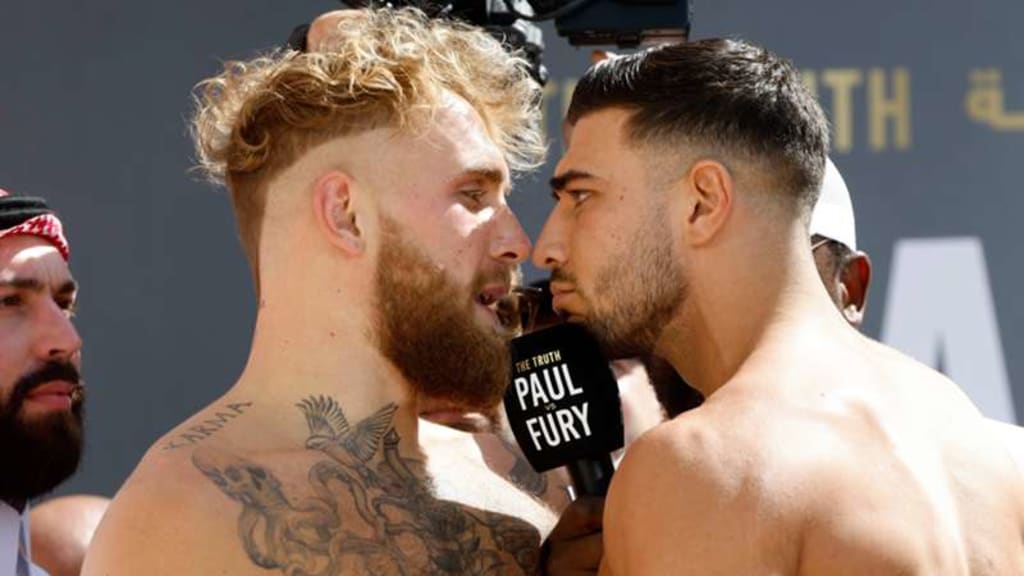 Jake Paul and Tommy Fury are two popular professional boxers who have gained a significant amount of fame and recognition in the boxing world. Both fighters come from different backgrounds and have different fighting styles, making their upcoming match highly anticipated among fans.
Jake Paul, born on January 17, 1997, in Cleveland, Ohio, is an American YouTuber, social media personality, and professional boxer. He rose to fame on the video-sharing platform, Vine, and later transitioned to YouTube, where he gained a massive following. Paul started his boxing career in 2018, where he won his first fight against fellow YouTuber Deji Olatunji. Since then, he has won all four of his professional fights, including a knockout victory against former MMA fighter Ben Askren in 2021.
Tommy Fury, born on May 7, 1999, in Manchester, England, is a British professional boxer and reality television personality. He is the younger brother of former heavyweight champion Tyson Fury and started his boxing career in 2018. Tommy gained widespread recognition after appearing on the fifth season of the British reality show, "Love Island," where he finished as a runner-up. Despite his fame outside of boxing, Tommy has a professional record of 7-0, with four knockout victories.
The two fighters have been going back and forth on social media, exchanging insults and challenging each other to a fight. On December 21, 2021, it was announced that Jake Paul and Tommy Fury would finally face off in the ring on March 26, 2022, in a highly anticipated boxing match.
The fight between Jake Paul and Tommy Fury has generated a lot of hype among fans and boxing enthusiasts, with many predicting a close and exciting match. While Jake Paul has a significant reach advantage over Tommy Fury, Fury's superior boxing skills and experience in the ring could pose a challenge for Paul.
As of my knowledge cutoff of September 2021, the estimated net worth of Jake Paul was approximately $20 million USD. His earnings come from a variety of sources, including his successful YouTube channel, where he has over 20 million subscribers, his various business ventures, sponsorships, and his professional boxing career.
Tommy Fury's net worth is estimated to be around $2 million USD as of September 2021. Most of his earnings come from his successful boxing career, which includes various endorsements and sponsorships.
It is important to note that these figures are based on publicly available information and may not be entirely accurate, as personal finances can be complex and difficult to estimate. Additionally, these figures may have changed since my knowledge cutoff of September 2021.
The fight is expected to be one of the biggest events in the boxing world in 2022, with millions of fans eagerly waiting to see who will come out on top. Both fighters are determined to win and have been training hard in preparation for the match. As the date of the fight draws closer, the anticipation and excitement continue to build, with fans eager to witness the historic bout between these two boxing titans.
WHAT TIME IS PAUL VS. FURY TODAY? TIME AND DATE:
Date: February 26, Sunday
Main card: 7:00 PM GMT/2:00 PM ET
(Approximate) Main Event Ringwalks: 10 PM GMT / 5 PM ET
A RECORD AND BIO OF JAKE PAUL
United States of America
Birthdate: January 17, 1997
Reach: 76" Height: 6' 1"
Six fights total.
Number: 6-0 (4 KOs)
RECORD AND BIO OF TOMMY FURY
British nationality
Birthdate: May 7, 1999
Reach: N/A; Height: 6' 0"
8 fights total
Number: 8-0 (4 KOs)
FURY VS. PAUL FIGHT CARD
Jake Paul versus Tommy Fury; Ilunga at cruiserweight Badou versus Makabu For Makabu's WBC cruiserweight championship, Jack
Maxwell Awuku vs. Ashton Sylve; Viorel Simion vs. Muhsin Cason at lightweight; Taryel Jafarov vs. Muhsin Cason at lightweight; Adam Saleh vs. Stuart Kellogg at cruiserweight; Ronnald Martinez vs. Ziyad Almaayouf at super lightweight;
Reader insights
Be the first to share your insights about this piece.
Add your insights