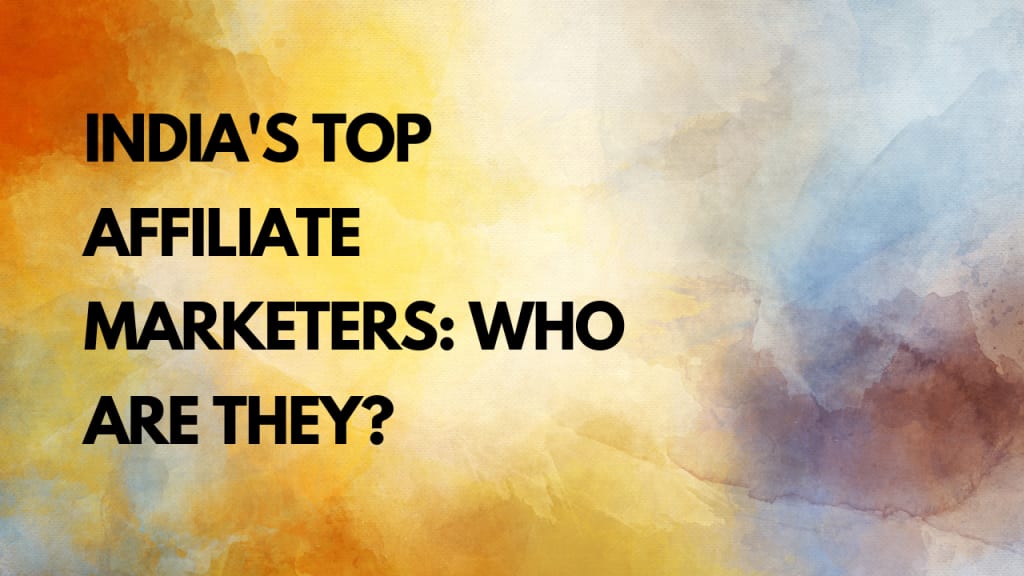 Are you familiar with India's top affiliate marketers? Have you wondered who the highest affiliate marketing earners in India are? In this article, we'll be taking a closer look at the number one affiliate marketer in India, as well as some other top contenders. We'll explore their success stories and uncover what makes them so successful. Whether you're looking to become an affiliate marketer yourself or just want to know more about the industry, this article will provide you with valuable insights.
Who Are India's Top Affiliate Marketers?
India's affiliate marketing industry has experienced exponential growth in recent years, with many individuals and companies earning substantial profits through affiliate programs. Among these top-performing marketers are names like Harsh Agrawal of ShoutMeLoud, Kulwant Nagi of BloggingCage, and Jitendra Vaswani of BloggersIdeas. These experts have established themselves as successful affiliates by sharing their unique perspectives on niche topics such as blogging, SEO, and digital marketing.
Harsh Agrawal is a renowned blogger and founder of ShoutMeLoud who has been actively involved in the affiliate business for over a decade. His expertise lies in creating compelling content that resonates with his audience while also providing valuable insights into various aspects of online marketing. Similarly, Kulwant Nagi has made a name for himself by teaching others how to make money through affiliate marketing. He is known for his popular blog posts on topics such as link building strategies and email marketing tactics.
Jitendra Vaswani is another recognized name in India's affiliate marketing community, having successfully built several profitable blogs that provide helpful tips on SEO techniques and digital tools. Alongside these leaders are numerous other talented individuals making significant strides within the Indian market's burgeoning field of affiliate marketing.
Success Stories: Kunal Desai
Kunal Desai is one of India's top affiliate marketers who has made a name for himself in the industry. He started his journey as an affiliate marketer back in 2013 and gradually made his way to the top by constantly learning and adapting to new trends. Kunal has been associated with several high-end clients across different verticals, including e-commerce, finance, travel, and more.
One of Kunal's biggest achievements was when he generated over INR 50 lakhs worth of sales for a single client during their peak season. His expertise lies in creating unique marketing strategies that drive traffic to his clients' websites while also ensuring higher conversions. Kunal believes that consistency is key when it comes to success in affiliate marketing and advises newcomers to be patient and persistent.
Kunal Desai's success story is an inspiration for many aspiring affiliate marketers who want to make it big in the industry. His hard work, dedication, and willingness to learn have helped him achieve great heights that many can only dream of.
Strategies: Leveraging Social Media
One of the most effective ways to promote affiliate marketing products is through social media. India's top affiliate marketers understand this and have leveraged social media to their advantage. They use platforms such as Facebook, Instagram, Twitter, LinkedIn, and YouTube to create engaging content around their niche.
These affiliate marketers know that social media is not just about posting ads but also building relationships with their audience. They create valuable content that resonates with their followers and helps them establish themselves as experts in their field. By doing so, they gain trust and credibility which ultimately leads to sales.
Furthermore, India's top affiliate marketers use various tactics on social media such as running contests, giveaways, collaborations with other influencers or brands to increase engagement and reach new potential customers. Social media has undoubtedly become an integral part of any successful affiliate marketing campaign in India.
Challenges: Cash Flow Concerns
For affiliate marketers in India, cash flow concerns are a common challenge. This is because the payment process for affiliate marketing can be slow and unpredictable. Many companies that offer affiliate programs have long payment cycles, with payments being made only once a month or even longer. Additionally, delays in payments due to technical issues or disputes can further impact cash flow.
Another challenge related to cash flow is the difficulty in predicting income. Affiliate marketing income can be highly variable from month to month, depending on factors such as seasonality and changes in consumer behavior. This makes it challenging for affiliate marketers to plan their finances and manage expenses.
Despite these challenges, many successful affiliate marketers have found ways to overcome cash flow concerns. For example, some diversify their income streams by promoting multiple products or services at the same time. Others carefully track their spending and adjust their budgets as necessary to stay within their means while waiting for commission payouts. Ultimately, managing cash flow effectively is key for sustained success in affiliate marketing in India or anywhere else around the world.
Benefits: Passive Income Streams
Passive income streams refer to money earned without active involvement in the process. For affiliate marketers, this means generating revenue through an online referral program. This type of marketing allows individuals to earn a commission by promoting products and services on their website or social media platform. Affiliate marketing is an effective way to monetize a website or blog, especially if there's already a significant following.
In India, some of the top affiliate marketers include Harsh Agrawal from ShoutMeLoud and Kulwant Nagi from Blogging Cage. These individuals have built successful blogs and websites that attract visitors interested in topics such as blogging, digital marketing, and entrepreneurship. By offering valuable content and recommending relevant products, they've been able to generate significant passive income streams.
One advantage of passive income streams is that they provide financial stability regardless of location or time constraints. Affiliates can earn money while traveling or sleeping – as long as their website is up and running! Additionally, passive income offers long-term benefits since once the content has been created; it continues to generate revenue for years to come.
Tips for Beginners: Start Small
When it comes to affiliate marketing, many beginners make the mistake of biting off more than they can chew. They may sign up for multiple affiliate programs and try to promote a variety of products all at once. However, starting small is often the best way to go. Choose one or two affiliate programs that align with your interests and skills, and focus on promoting those products effectively.
By starting small, you can gain valuable experience in running an affiliate marketing campaign without overwhelming yourself. You can learn how to create effective content that drives conversions, build relationships with your audience, and track your performance metrics to optimize your campaigns over time.
Additionally, starting with just one or two affiliate programs allows you to dedicate more time and attention to each program individually. This can help you develop a deeper understanding of the product offerings and provide better value for your audience through targeted promotion strategies. Ultimately, this approach can lead to greater success in the long run.
Endless Opportunities
India's affiliate marketing industry is booming, and with it come endless opportunities for marketers to earn money by promoting products and services online. The rise of e-commerce in the country has led to a surge in demand for affiliate marketing services, as businesses look for ways to reach new audiences and increase their sales. As a result, there are now many top affiliate marketers in India who are making a name for themselves in this lucrative field.
One such marketer is Harsh Agrawal, founder of ShoutMeLoud.com, one of India's most popular blogs on blogging and digital marketing. With over 1 million monthly page views and more than 1 million subscribers across various social media platforms, Agrawal has become an authority in the Indian affiliate marketing space. He has successfully promoted products from companies such as HostGator, Bluehost, SEMrush, and Thrive Themes.
Another top affiliate marketer in India is Kulwant Nagi, founder of BloggingCage.com. Nagi started his blogging journey back in 2012 while he was still working as an engineer. However, he eventually quit his job to focus on his blog full-time after realizing the potential that affiliate marketing had to offer him. Today, he earns six figures annually through promoting products from companies such as Aweber, OptinMonster, WP Engine among others. His success story serves as inspiration for many aspiring affiliate marketers who want to make a living out of their passion for blogging and online entrepreneurship.
In conclusion: India's top affiliate marketers are a testament to the potential of the market and should be an inspiration for those who want to succeed in this growing field. These individuals demonstrate that it is possible to make a living out of affiliate marketing, and their stories provide valuable insight into what it takes to become successful. From leveraging established networks to understanding the nuances of target audiences, these marketers have mastered the craft. They illustrate that success requires dedication, hard work, and an acute understanding of what will resonate with customers.
About the Creator
I'm a professional blog writer with over 10 years of experience in the field of content marketing. I specialize in creating engaging, informative, and SEO-friendly content for a variety of topics.
Reader insights
Be the first to share your insights about this piece.
Add your insights