Important Things Home Buyers Must Know about Flood Insurance
Flood insurance is important for any homeowner. So know these concerning things before getting homeowners insurance in Texas.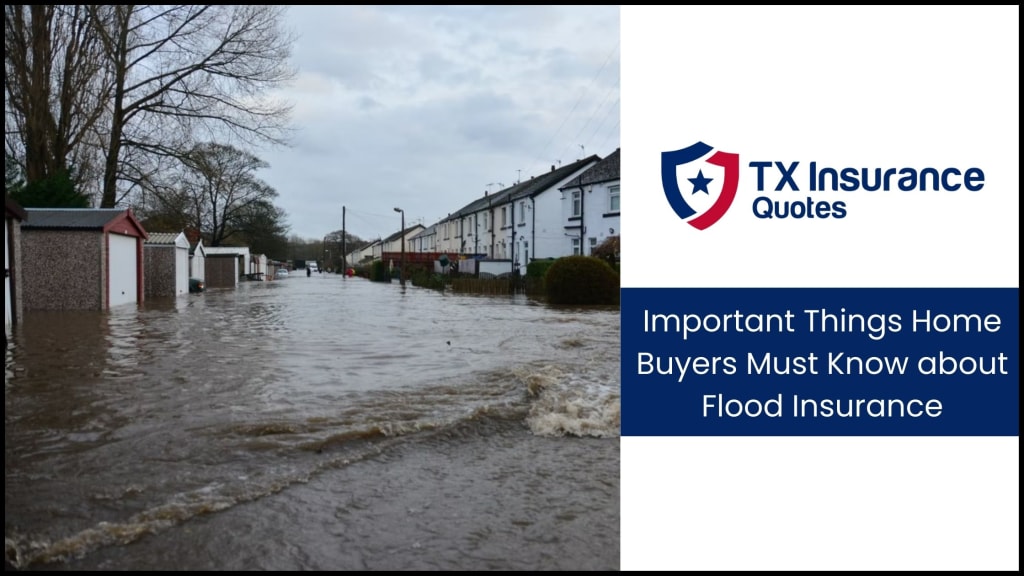 Important Things Home Buyers Must Know about Flood Insurance
A natural disaster can strike at any time and leave homeowners struggling to rebuild. One of the most common types of natural disasters is flooding.
In the United States, floods cause more damage every year than any other weather-related event. It can occur due to heavy rains, melting snow, storm surge from a hurricane, or dam failure.
No matter the reason, floods can be very destructive, leaving homeowners facing costly repairs. Flood insurance in El Paso, for example, is essential for all homeowners because the state is susceptible to flooding.
But, it can also occur in areas that are not typically considered "flood zones." So to protect your home (and your wallet), it's important to have flood insurance. Let's take a look at some essential things home buyers should know about flood insurance.
5 Things Home Buyers Should Know about Flood Insurance
1. Flood Insurance Is Not Incorporated in Standard Homeowner's Insurance Policies
The standard home insurance policy covers damage caused by fire, wind, hail, and lightning strikes. But, it does not cover flooding. In order to be protected from flood damage, homeowners need to purchase a separate flood insurance policy.
Your mortgage lender may require you to have flood insurance, depending on where you live. Even if it's not required, it's still a good idea to purchase a policy to protect your home. As per the federal emergency management agency (FEMA), insurance is a must for those who live in flood-prone areas.
Learn more about: Do Homeowners Insurance Include Flood Damage?
2. There Is a 30-Day Waiting Period Before Your Flood Insurance Policy Execute
Once you purchase a flood insurance policy, it typically takes 30 days for the coverage to go into effect. So don't take your time and hold off on buying insurance until a flood is already underway. If you wait until there's a flood warning to buy a policy, it will be too late.
The safest bet is to purchase flood insurance well in advance to be covered as soon as possible. In that home insurance company - TX Insurance Quotes can help you find the best policy per your need.
3. The NFIP Can Help With Some Flood Insurance Cost
The National Flood Insurance Program (NFIP) is a government-backed program that offers flood insurance to homeowners and businesses. If you reside in a community that participates in the NFIP, you may be eligible for a subsidized rate on your flood insurance premium.
The NFIP offers two types of policies- one for building the property and one for personal belongings. Coverage limits depend on the type of policy you purchase. The maximum limit for building property coverage is $250,000, and the maximum limit for personal belongings is $100,000.
Even if you have an NFIP policy, some types of flood damage are not covered. For example, damage caused by a sewage backup is not covered by the NFIP.
4. Understand Flood Risk History & Zone Designation Before Buying a Home
Before you buy your house, it's essential to understand the risk of flooding in that area. According to the data from FEMA, 98% of U.S. counties have experienced the highest risk of a flash flood.
People buy homes mostly in Florida and Texas because of the waterfront locations, but they don't realize that their property is in a high-risk flood zone. If you are thinking of buying a home in a flood zone, be sure to factor the cost of flood insurance into your budget.
It is something you need to consider not just when buying a home but also when you're renewing your policy.
Find Out Your Flood Zone
A and V are the two high-risk flood zones. B and X (Shaded) are moderate-to-low-risk zones. C and X (Unshaded) are low-risk zones. Finally, D and E are undetermined risk zones.
The A and V zones are typically the coastal areas, while the B and X (Shaded) zones are more inland. The C and X (Unshaded) zones are low-lying areas near a river or stream. At last, D and E zones are areas that have not been studied enough to determine the risk.
5. Flood Insurance Cost Depends on Many Factors
The cost of your flood insurance policy depends on several factors, including the amount of coverage you need, the deductible you choose, and the flood zone you live in.
You can also consider wet floodproofing your home to get a discount on your premium. Wet floodproofing is when you take measures to prevent flooding damage, such as installing check valves or waterproofing your walls. Dry floodproofing is when you take measures to prevent water from entering your home, such as elevating your electrical outlets or installing flood barriers.
The best way to estimate your flood insurance costs is to contact your insurance provider.
In Conclusion
Flood insurance can protect your home and belongings from damage caused by a flood. It's essential to understand the coverage you're getting and the factors that affect your premium.
NFIP allows people to buy flood insurance if they live in various cities of Texas like Laredo, Lubbock, McAllen, Odessa and Victoria from private insurance companies making it easier for homeowners to avail the insurance. Make sure you get flood insurance in Harlingen well ahead of time to save money on insurance!
house
About the author
Get an insurance quote from the most trusted homeowners insurance company - TX Insurance Quotes.
Reader insights
Be the first to share your insights about this piece.
Add your insights