I Replaced my Traditional Cleaning Products with Eco-Friendly Products for One Week, and Here's What Happened
Could Cleancult's products solve all my chemical cleaning woes?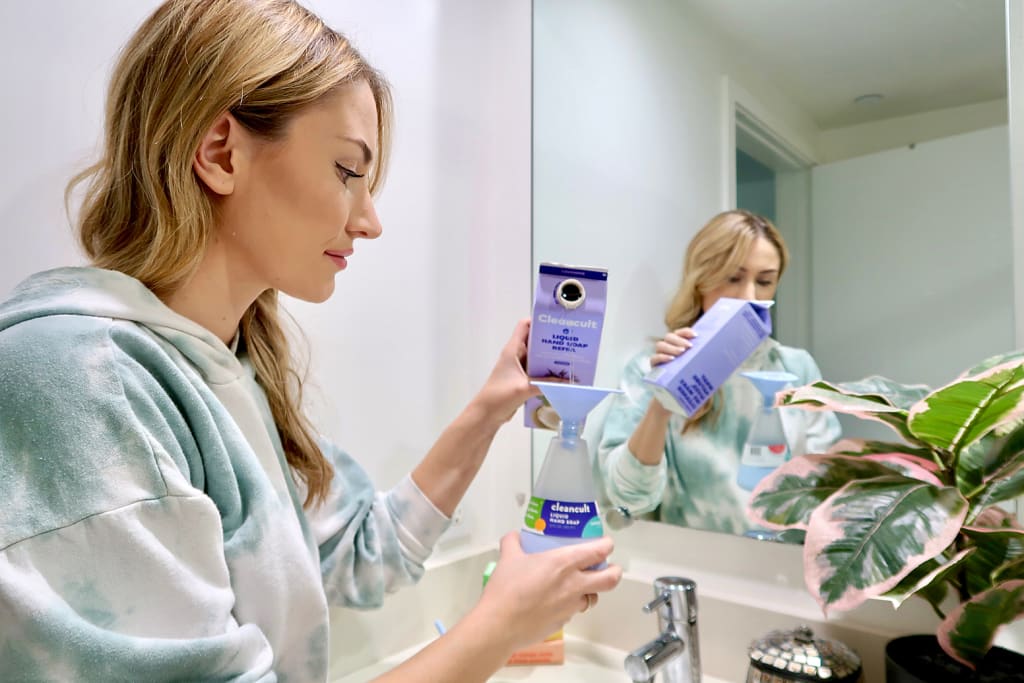 I've always loved the way my home smells and feels after a good deep-cleaning. There's nothing quite as satisfying as walking completely barefoot on squeaky-clean floors, pulling on a pair of ultra-soft sweatpants from the clean laundry, and having no dirty dishes in the sink. I love the feeling of walking by my mirrors and not seeing a single speck of dust on them, either! The one thing that I've never really been a fan of though, is the cleaning process itself. As someone who is sensitive to a lot of fragrances, dyes and perfumes (along with many other harsh chemicals that are typically found in traditional cleaning products), I've always struggled to find a cleaning product line that meets all of my needs. I've also been learning about the negative environmental impacts that many cleaning products can have, and let me tell you, there's a lot.
Did you know that these harsh chemicals that we've been flushing down our drains can contribute to water pollution? Not to mention, the non-biodegradable packaging that many of these products tend to come in can wreak havoc on our environment. When I first heard about Cleancult, the first plastic free, non-toxic cleaning brand, I was instantly interested in learning more about how I could still achieve a squeaky-clean home without negatively impacting our environment or my health. Many people are under the impression that transitioning to eco-friendly products means giving up the power of traditional chemical cleaners, and while this may have been true in the past with Cleancult in the picture now, I'm here to tell you about my experience switching from traditional cleaning products to eco-friendly & natural cleaning products.
I decided to test this experiment by using only natural, plastic-free cleaning products at home for 1 week. I went to Cleancult's website to browse what my options were. Immediately upon opening their site, I was greeted by a rainbow of glass pastel-colored bottles. The aesthetic alone made me want to order these! I was imagining how the sleek design of their refillable Hand Soap glass bottles would look on my bathroom sink.
The next thing that really stood out to me was that all of their products are non-toxic, plant-based, recyclable, cruelty-free and GMO-free. The Refills also come in recyclable paper containers so there's zero waste packaging.
It's really important to me to be able to feel good about the products I'm using and the brands that I'm supporting, and so far, Cleancult is checking all the boxes!
Since I wanted to get the complete package, I checked out the Bundles on their website. The Complete Home Bundle stood out to me because it seemed like a perfect mix of everything, and a great starter-pack for my new journey of cleaning products. The Complete Home Bundle comes with:
5 Refillable Glass Bottles (get rid of those plastic bottles)
- Refillable All Purpose Cleaning Bottle
- Refillable Hand Soap Dispenser
- Refillable Dish Soap Dispenser
- Refillable Liquid Laundry Bottle
- Refillable Tablet Jar
Refills
- All Purpose Cleaner (I tried it in the scent Orange Zest)
- Liquid Dish Soap (I tried it in the scent Lemongrass)
- Liquid Hand Soap (I tried it in the scent Lavender)
- Liquid Laundry Detergent (I tried it in the scent Honeysuckle)
- Dishwasher Refill Tablets (I tried it in the scent Lemongrass)
Essentials
- Bars of Scented Natural Soap
Bamboo Lilly
Sea Spray & Aloe
Grapefruit Basil
Juniper & Sandalwood
- Silicone Funnel
- Wool Dryer Balls
Cleancult offers discounts on products when you bundle, so I was able to try out all of these amazing products for only $89.99. I also decided to order extra Laundry Detergent, because I have ultra-sensitive skin and I'm always looking for a natural laundry detergent that works. Since keeping my home clean is definitely an on-going process, Cleancult offers a subscription so you can choose how frequently you want to receive your eco-friendly cleaning goodies. From packaging and shipping to the science behind their soaps, Cleancult makes it easy for you to have the most sustainable and cleanest clean. I simply filled out their form and told them how frequently I want to receive my products and then let them take care of the rest!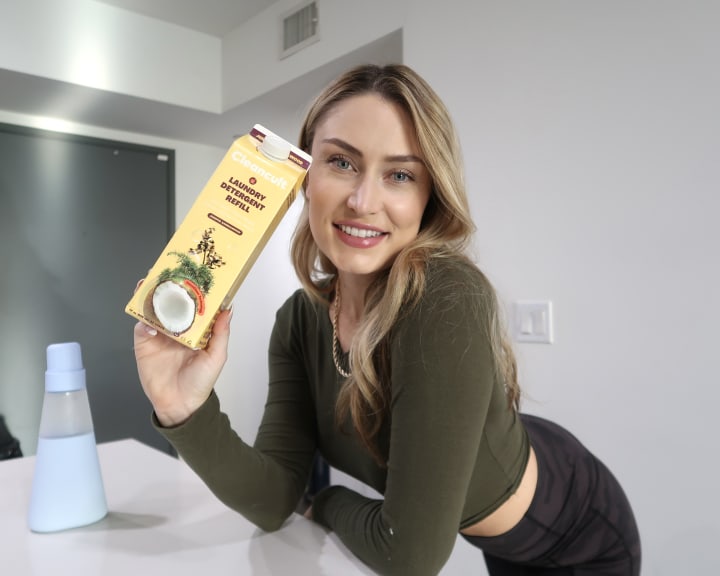 Once my package arrived, I was actually excited to get cleaning! I carefully took out all of the products, and I couldn't help myself, but the first thing I had to do was smell everything! Traditional cleaning products always have such a harsh scent to them, and it actually sometimes makes me feel dizzy. This was not the case with Cleancult at all! Each of the products is subtly fragranced using natural scents for a delightful yet light fragrance. There are a few unscented options as well. And all of the refills are packaged in milk cartons, which makes recycling easy! I got my sleek glass bottles out of their eco-friendly packaging and was excited to get pouring. My order included a silicon funnel so I could easily pour everything into their rightful containers and get my home looking chic and fresh.
First up, I tried the Lavender hand soap & the Lemongrass dish soap. All of their natural but effective formulas actually use CocoClean Technology, which harnesses the power of coconuts to provide a gentle yet effective cleaner. Plus, every ingredient is also labeled on the side of each product, so you actually know exactly what's in the products (and, bonus, you can even pronounce them!). The Lavender hand soap was so subtly fragranced, yet luxuriously kept my hands clean and soft after washing them. Like everyone, I've been washing my hands extra frequently lately, so it's nice to know that I can use this soap without having to worry about drying out my skin.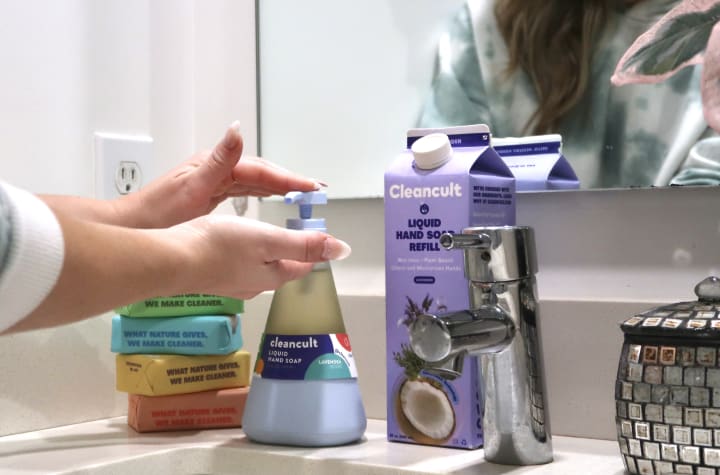 Next, I had to try out the Liquid Laundry Detergent. There are few things I love more than freshly cleaned sheets and laundry with an ever-so-subtle smell of freshness to them. I did my first load of laundry using the Honeysuckle Liquid Laundry Detergent. When I tossed my clothes into the dryer, I also made sure to add the Wool Dryer Balls into the machine. These 100% New Zealand Wool dryer balls are small but mighty! I noticed my drying time was much quicker, my sheets had less static, and my sheets were actually feeling much softer than usual! Plus, the Honeysuckle scent made it feel like I was relaxing on a bed of fresh flowers. *swoon*
Now that I had my clean sheets, clean dishes and clean hands, it was time to play with the rest of my goodies! I poured the Orange Zest All Purpose Cleaner into its corresponding container and got to work on cleaning up my shower & in between the tiles. I was relieved when, after I sprayed the cleaner all over my shower, I noticed I wasn't starting to feel dizzy as I normally do with traditional cleaners! The smell of ripe oranges filled my shower and all I had to do was lightly scrub it off to reveal a squeaky-clean shower. The final step in my cleaning routine now, was to test out the bars of soap and the dishwashing tablets.
I tested out the bars of soap in my next shower, and I immediately loved how fresh they smelled and how clean I felt after using them. What's amazing about all of the Cleancult products is that they are truly great for sensitive skin, like mine. My skin felt nourished, hydrated and of course, clean. After my shower, I popped one of the Dishwasher Tablets into my dishwasher and let it go to work! When I pulled each dish out, I was pleased to find them perfectly clean and just as powerful as the tablets that I had been previously using.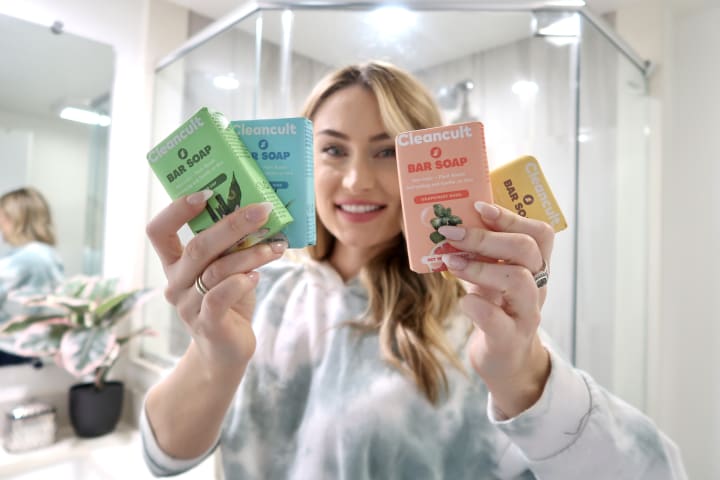 Overall, I'm extremely pleased with how gentle yet effective all of the Cleancult products have been. I love finding products that I can feel good using, have a mission in their product (Cleancult also partnered with carbonfund.org to make shipping their products carbon neutral), and also work.
If you're like me, and you're looking for a way to keep your home clean, your body safe and plastic out of our landfills, then you'll definitely want to order yourself a Complete Home Bundle ASAP!