I'm Such a Putz!
my obsession with building tiny putz houses during the holidays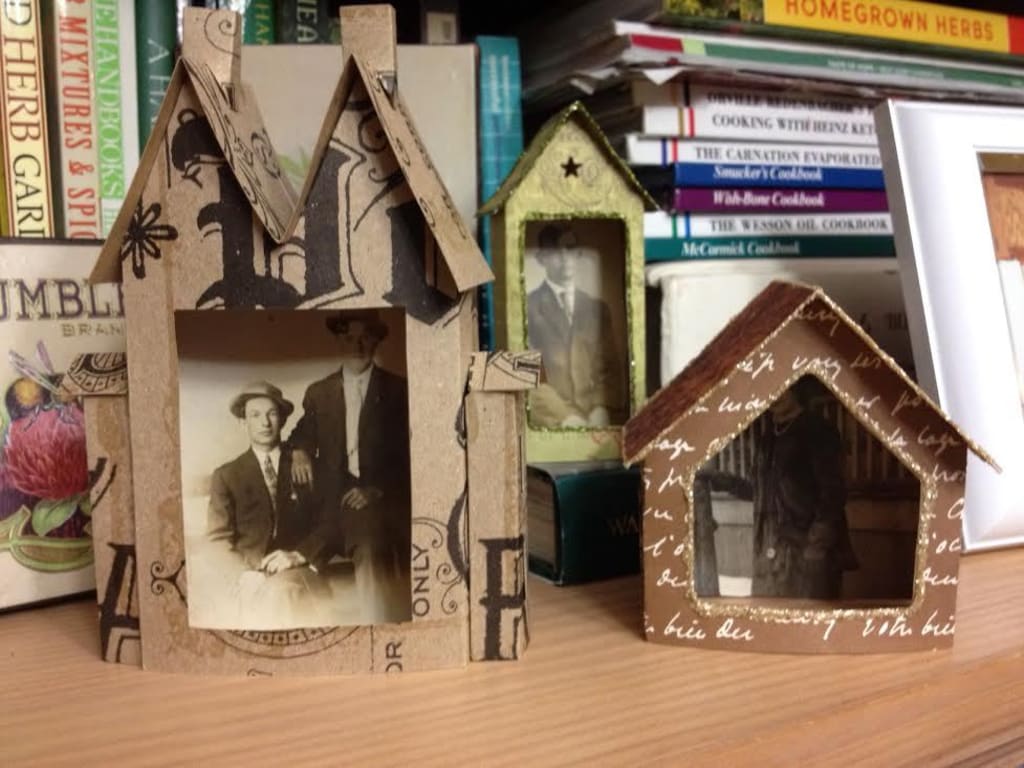 Just a few of the tiny "putz" houses I've made
I love visiting old consignment and antique shops. There's always something odd or interesting that I like to hunt for at these places. I've collected vinyl records over the years. I've obsessed over old sepia tone and black and white family photographs. Being a creative person, I always find something inspiring in these stores that feeds my creativity.
While visiting my local antique shops during the holidays a few years ago, I kept seeing tiny cardboard houses covered in glitter. They were everywhere! I thought they were cute, but most of them were in poor condition. They were faded or torn. Their decorations were missing or broken. Still, I was interested in these little houses and why I kept seeing them in every consignment booth. I wanted to know where they came from, so I started researching them on the internet.
I learned that they are called "glitter houses" or "Putz houses." Putz comes from the German word Putzen which means "to adorn or decorate." In the 1800s, Moravian families made these tiny houses from paper and would create entire villages to display at Christmas time. After World War I, sets of houses were mass-produced and sold at pharmacies and five and dime stores as Christmas tree and tabletop decorations. These houses had colorful windows, and holes were punched in the back for lights to be inserted. Their popularity faded during the 1960s. This might explain why there were tons of them in the antique shops!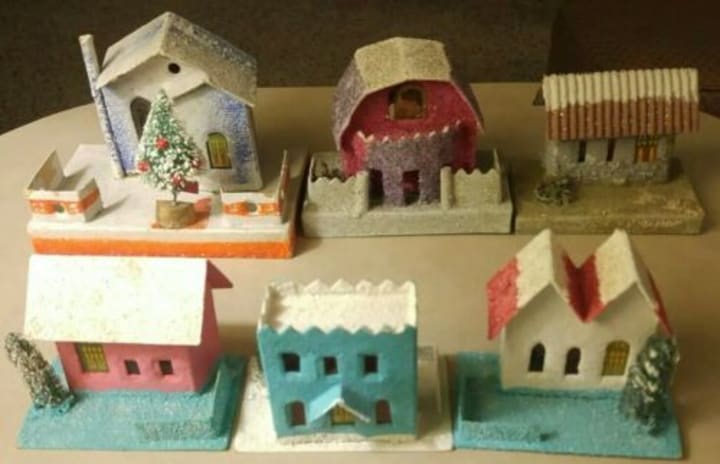 During my investigation, I also found tons of people on the internet who were just as fascinated by Putz houses as I was, and some people love to make them. I found entire blogs and websites devoted to them. There were blueprints of various houses based on the traditional styles. There were pictures on Instagram and Pinterest. I even found step-by-step guidelines and video presentations.
One blog I came across showed how to make simple Putz house Christmas tree ornaments from old holiday greeting cards. I had plenty of cards available so I decided to download one of the templates and give it a try. It was so much fun. I was hooked on this new hobby immediately!
Within days, I'd raided my local craft store for crafting knives, glue, paint, glitter, and a cutting mat. I went to every dollar store in town to buy up Christmas cards with foil designs or cards with glitter already on them that I thought would make a good house. I went back to my local thrift shops to find bottlebrush Christmas trees to glue outside of the houses. I scoured eBay and Etsy for little holiday figurines to add to my houses.
My obsession with my newfound hobby was all that I could think about. I was a planner. I was a builder. I was a decorator. I was a painter. I felt like a little kid, with a new box of crayons and a pad of colorful construction paper, eager to create and make something come alive right in front of me.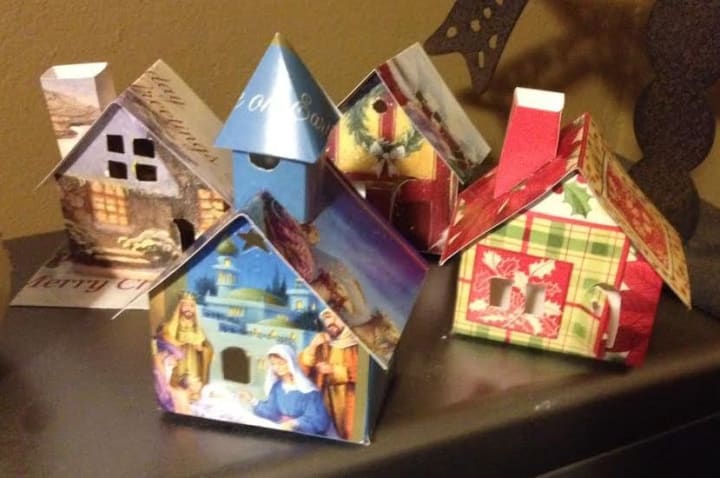 During the spring and summer, I like to be outside. I like to grow my own vegetables or tend to my flower gardens. I like to observe the life being lived out in my fish pond. The rewards I reap from these hobbies take a long time but they are very gratifying. They are filled with color, and they remind me to be patient.
Soon, I didn't want to just keep copying what I'd found on the internet. I wanted to find ways to make these putz houses my own. I started creating my own blueprints on graphing paper. I searched art supply and scrapbooking stores for tiny canvases to use for bases, fun hole punching tools, and colorful paper. I bought decoupage books for fun cut-outs. I experimented with making my own bottle brush trees. My hobby became complex and so detailed, but the excitement it gave me was exhilarating.
When winter approaches, I am pushed inside by the seasonal changes in nature and my hobbies change too, mostly to reading books and writing stories. My indoor creativity is fueled by words on a page or a glowing computer screen instead of flowers, vegetables, and wildlife. The progress is still slow, and these winter hobbies are all in black and white.
I think I fell in love with the craft of building these tiny glitter houses so quickly because I was doing something new and different with my hands. I was fueled, once again, by color and by progress. I could build a tiny putz house in just a few days. It satisfied that urge to create within me much quicker and I could see and enjoy my results in a new way.
I gave every single one of my little houses away as Christmas gifts that year. My friends and relatives were astounded by them just as much as I had been while learning to make them. The following year I got a head start and made entire sets of houses for my mother and sister. I now completely understood the craze I'd uncovered online for these tiny glitter houses. The joy of discovering a new hobby is not just in learning how to do it, but also in learning how to make it your own. And you gain even more satisfaction from a new hobby by being able to share it with others.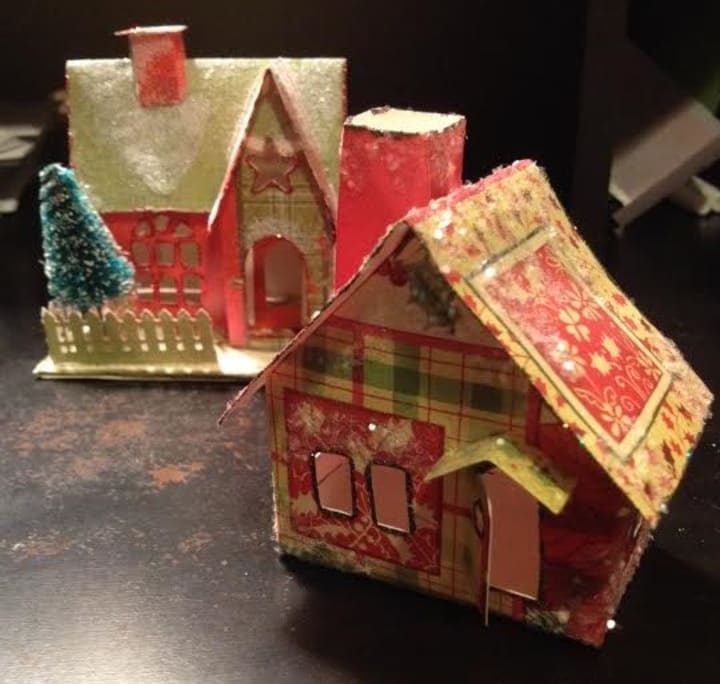 crafts
Author. Poet. Reader. Animal Lover. Blogger. Gardener. Southerner. Aspiring playwright.
Blog: www.shannonyarbrough.com
Twitter: @slyarbrough76
Goodreads: https://tinyurl.com/m4vbt2ru
My Books at Amazon: https://amzn.to/36n25yy
Receive stories by Shannon Yarbrough in

your feed