I Followed An Instagram Ad & It Led Me To A Sticker Paradise
Pipsticks' monthly sticker subscription has been a ray of sunshine in my life for years
As a kid, I absolutely loved stickers. They were my favorite part of every doctor's and dentist visit, and elementary-school Lacey lived for the glory of seeing a shiny star or a congratulatory dinosaur on top of my assignments. When my family traveled, I made a beeline in every gift shop straight for the metal carousel that held the postcard-sized Dover Little Activity Sticker Books.
The issue was that I loved stickers a little too much. Once I had them in my collection, I was loath to part with them by actually putting them on something. What if I later found an even more perfect location for that holographic chameleon sticker? Or what if the thing I stuck it on ended up getting lost or damaged?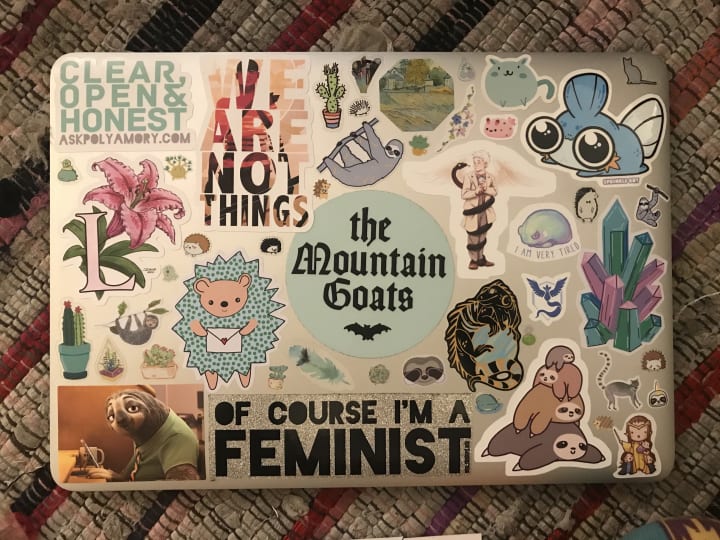 So I collected stickers, but I was never able to commit to using them. I'd later find out that this is an experience very common to those of us who experience anxiety. Even bestselling author Brené Brown tells a story of receiving a kit full of gorgeous art supplies, only to leave it untouched, worried about "using it up" or using it on the "wrong" thing. To her dismay, her mother ultimately got rid of it, having concluded that Brené's avoidance of the kit signaled disinterest rather than anxious adoration.
All that changed the day I discovered Pipsticks, a curated monthly sticker subscription. It's no surprise that Pipsticks ended up on my Instagram feed as a targeted ad. I love bright colors, cute things, and I'm an inveterate letter writer. At the time, they only had one option for subscribing, which was about $10 a month - now they have a "Pro" and a "Petite" pack to choose from.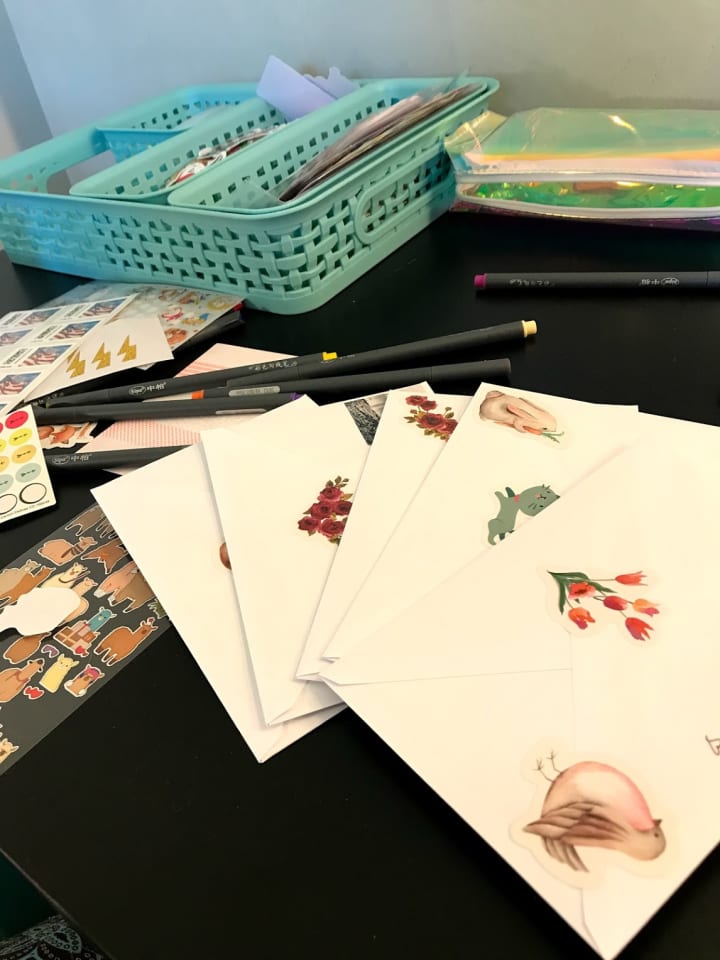 I could absolutely afford to spend $10 a month on stickers, and so I enthusiastically signed myself up. When my first sticker pack arrived in the mail, I was positively thrilled. Opening a Pipsticks pack is so much fun that I sometimes saved my deliveries for a tough day, knowing its holographic envelope, zine-style newsletter, and surprise stickers would always be able to turn my mood around.
One thing that made Pipsticks so great for me, an anxious sticker lover, is the sheer volume. Every month, I get tons of stickers, getting my brain out of the scarcity mindset that leads to sticker hoarding. My sticker collection is still pretty big, don't get me wrong - it organizes into two thick binders, sorted by color and theme - but I've also managed to cover every square inch of my life in fun stickers, from my waterbottle to my laptop to my daily planner.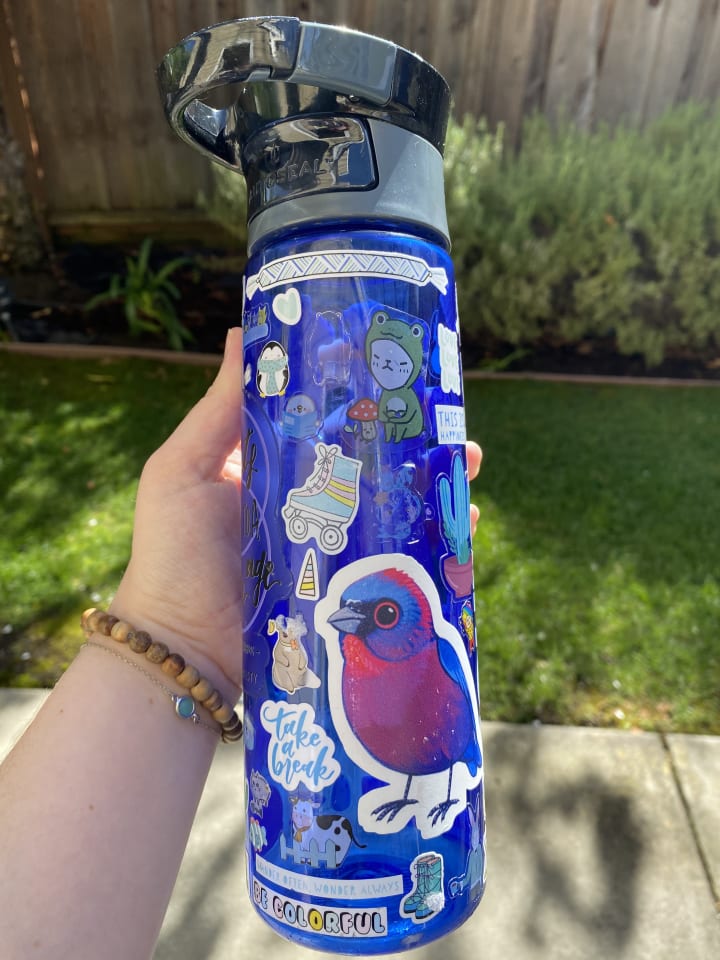 Plus, since the packs are often seasonally themed, I immediately have opportunities to use them - Valentine's Day stickers for cards and letters in February; Christmas themed stickers to add to gifts and decorations in December.
Pipsticks also saves me from the decision paralysis that can come with trying to purchase anything. I don't choose the stickers - I get a curated selection of cool stuff from the Pipsticks inventory. Sometimes, I get stickers I don't particularly like, which is actually awesome, because then I can use them freely on low-stakes projects or give them away to someone else.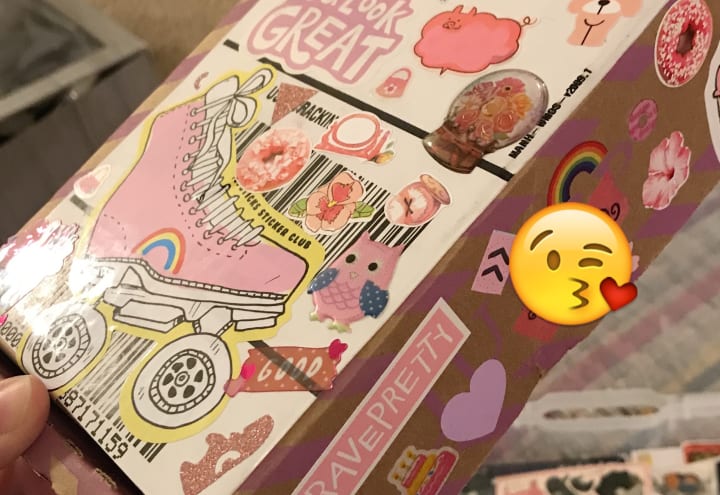 My Pipsticks subscription also leveled up my pen pal game. Every month's pack includes a pre-stamped postcard with space to decorate or color, making it fun and easy to stay in touch with far flung friends. The holographic ziplock bag that each monthly pack comes in is perfect for storing stickers, wrapping small gifts, or even keeping pens and pencils in.
In fact, I love Pipsticks so much that after a few years of being a faithful subscriber, I actually made a pilgrimage to their brick-and-mortar store in San Luis Obispo, California. I posed with their walls of bright stickers, got to peek behind the scenes at the room where each subscription pack is stuffed and shipped, and - of course - bought tons of stickers.
I love being a Pipsticks supporter, because it's such a positive, women-owned, small local business. Ten dollars a month gets me more stickers than my younger self could ever have dreamed of, plus a joyful surprise in my mailbox that feels good to receive and good to open. Of all the targeted ads I've ever followed, this one has been the best return on investment of them all.
If you're a sticker lover, a pen pal, or just want a little more color in your life, I can't recommend Pipsticks highly enough. And no, they're not paying me to say this - although I definitely wouldn't say no to some free stickers! Any tips on this article will go toward fueling my Pipsticks addiction, so if you liked this piece, go ahead and toss some sticker money my way!