How to vibe out your space
Tips and tricks for creating One Sweet Pad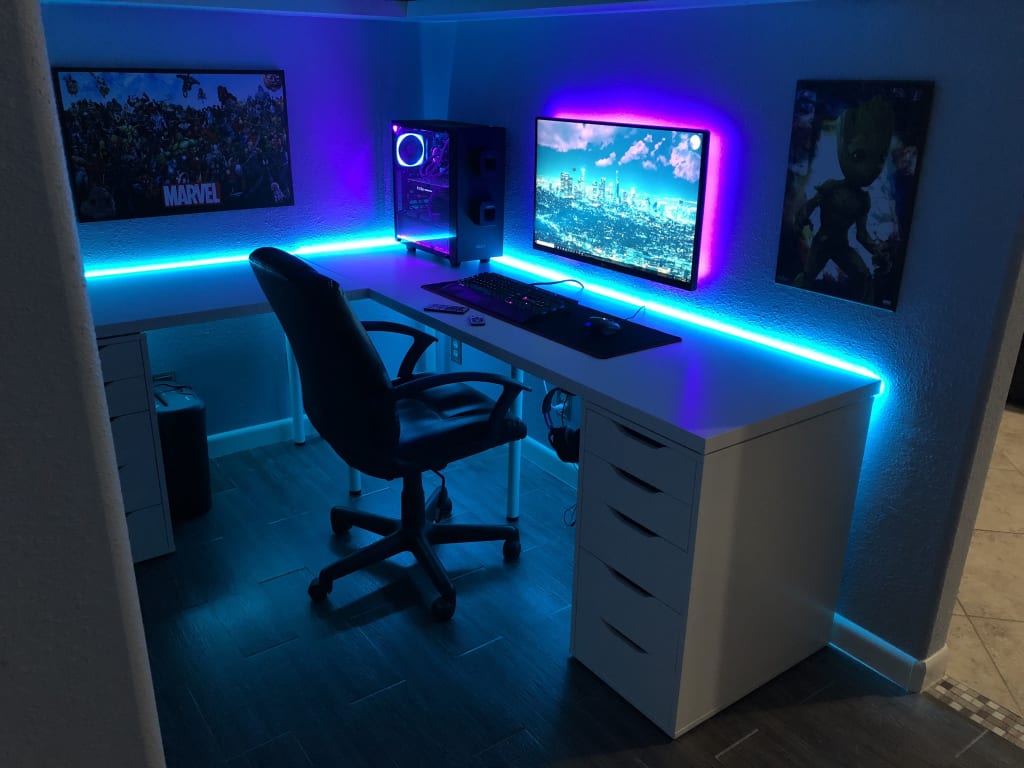 Photo is from: https://www.pinterest.com/pin/856246947878904003/
It goes without saying that the coronavirus has caused many of us to spend much more time at home in the past year. Ideally, one should be satisfied with the space in which most of their time is spent. But how does one create an awesome-tastic environment that doesn't make you go cabin-fever crazy? Here are some ways in which to create one decked-out place.
First and foremost: sufficient lighting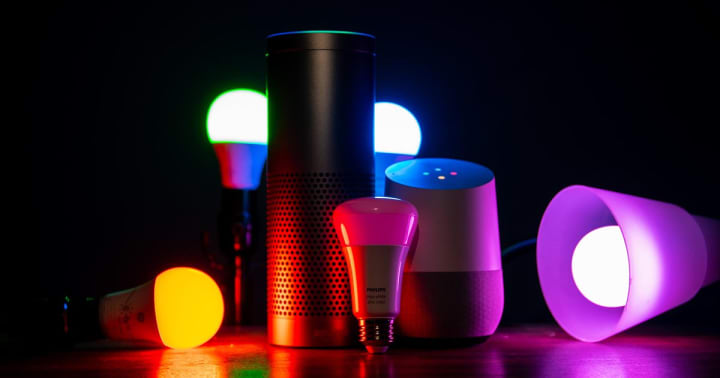 Lighting is a fantastic and usually inexpensive way to add some personality as well as a path to lessen some of the strain on your eyes. Most of these lights can even be controlled with your voice! Another upside is that these are also good for the environment as they are LED bulbs and will last way longer than traditional ones. My personal favorite brand of smart lights are the Phillips Hue. For around $60, you can purchase a starter kit which includes the wi-fi hub and two white bulbs. You can also purchase the color bulbs for $50 each. You can find the starter kit here and the color bulbs here. In addition to the bulbs, there are also light strips which are a great way to add accent lighting to different furniture and appliances. Now if you're wanting to spend less money that what the Hue brand costs, I recommend Monster Smart. I recently purchased their 3 pack of 6.5 ft. light strips controlled via a remote which cost me $30 and can be found here.
As well as geeky lighting
And if you're into nerd culture like I am, here are some lights that might tickle your fancy.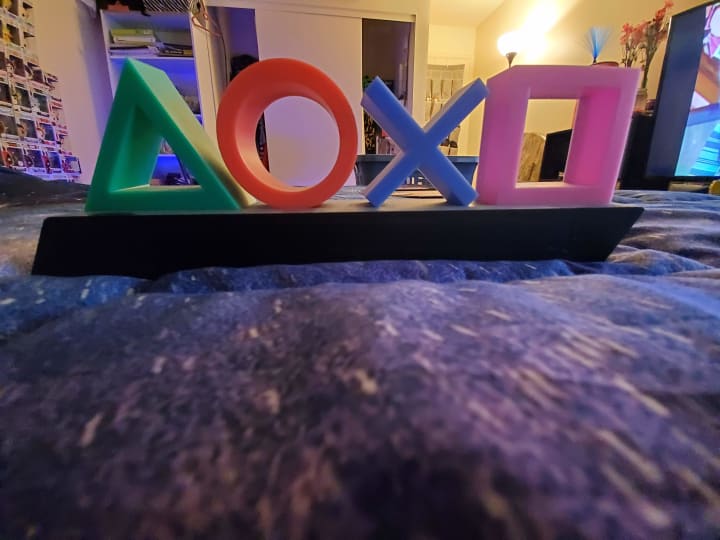 Each of the shapes on this adorable Playstation light flash in different cycles. It can be either battery-operated or powered by USB. I purchased this for $30 at ThinkGeek here in town, but you can find it available for purchase here.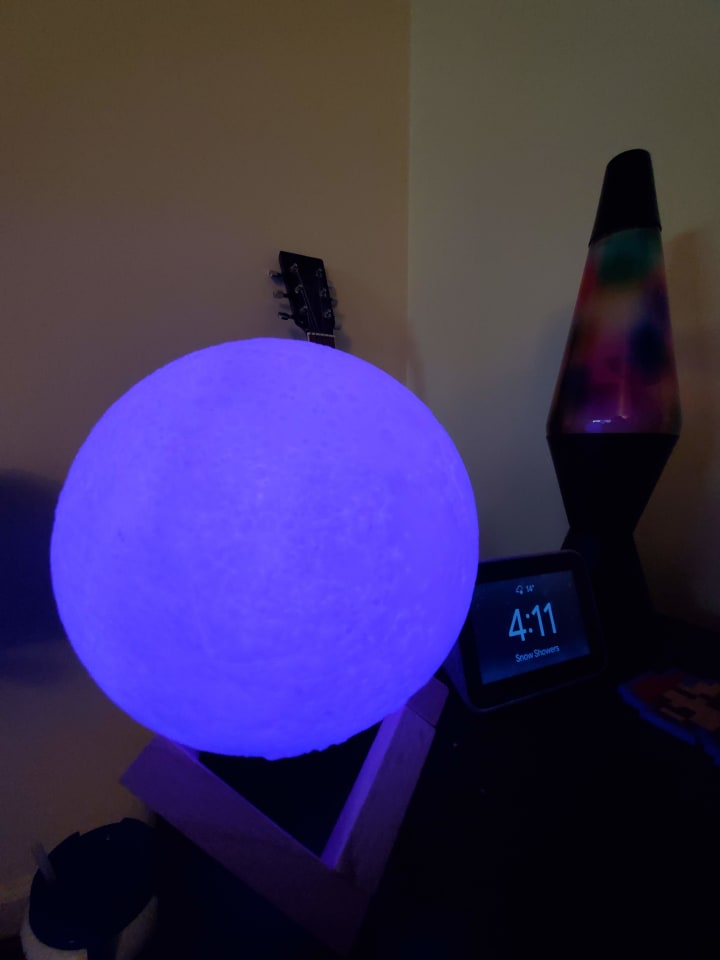 Depending on what theme you wish to assign your space, you can find other types of lights that pertain to your personality. Pictured here are my lava lamp, moon light, and not so sneakily hidden, my smart alarm clock. The lava lamp I acquired as an arcade prize, the moon light for $10 at Wal-Mart, and the smart home alarm clock for $80 at Best Buy.
And then there's smart devices
Now you might be thinking how can I control those smart lights with my voice? Most smartphones will allow you to do this, but if you prefer it, you can buy a smart home device. Google Home devices have shown a tendency to work better with Phillips Hue lights and therefore are my personal recommendation. There are many different sizes of the Google Home, from the inexpensive mini, all the way up to the $300 Google Home Max. If you're on a budget like me, the Google Home Mini is the way to go. Normally they cost $50, but you can often find them on sale at Wal-Mart for $29. Not only do these devices control and customize how you want your smart lights set up, they also can provide a multitude of routines and information, as well as fun minigames: all done hands-free!
Surround yourself with imagery and art that is connected to you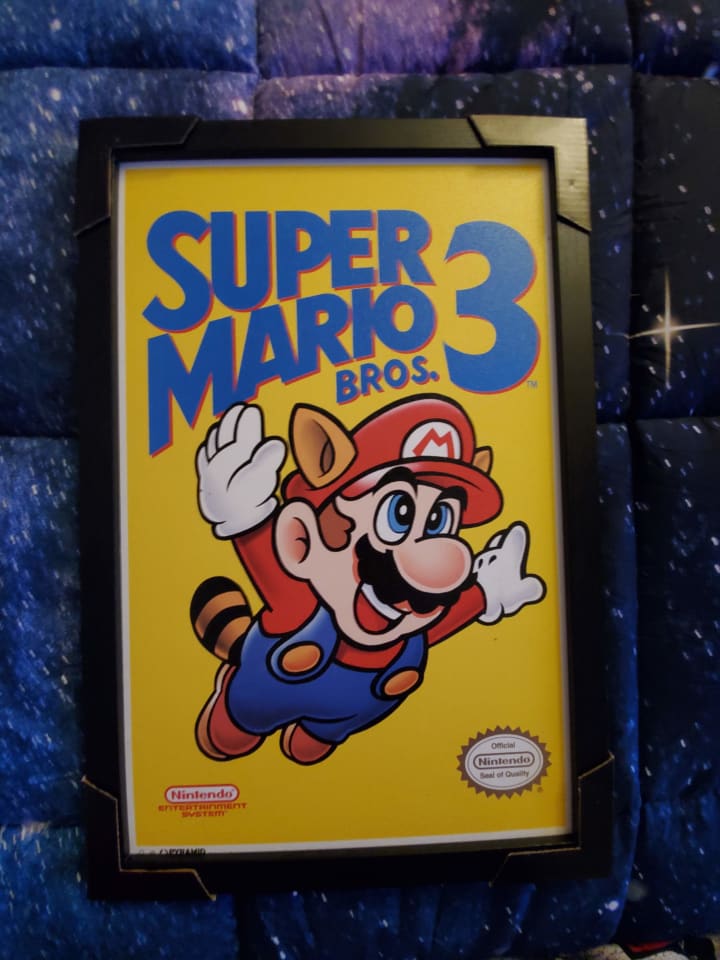 I purchased this wall art at a pretty cool place called Mega Replay, a store that sells different pop culture and media items that people often bring in to sell for cash. Now while I do enjoy my retro games, I specifically bought this piece to serve as a reminder of my first story that was selected as a top story by Vocal.
Personal Photos are great to commemorate moments, too
What better way to display meaningful moments than to put your personal photos in frames? I often find hanging up my own pictures tends to give me an extra dose of oxytocin, especially during Covid times. You'll also want to space them out and group them appropriately as well to stay organized.
In addition to tapestries
If you're unfamiliar, tapestries are a form of art generally woven together mechanically. They look something like this.
Not only are there traditional-looking tapestries such as these, there are also trippy ones such as these.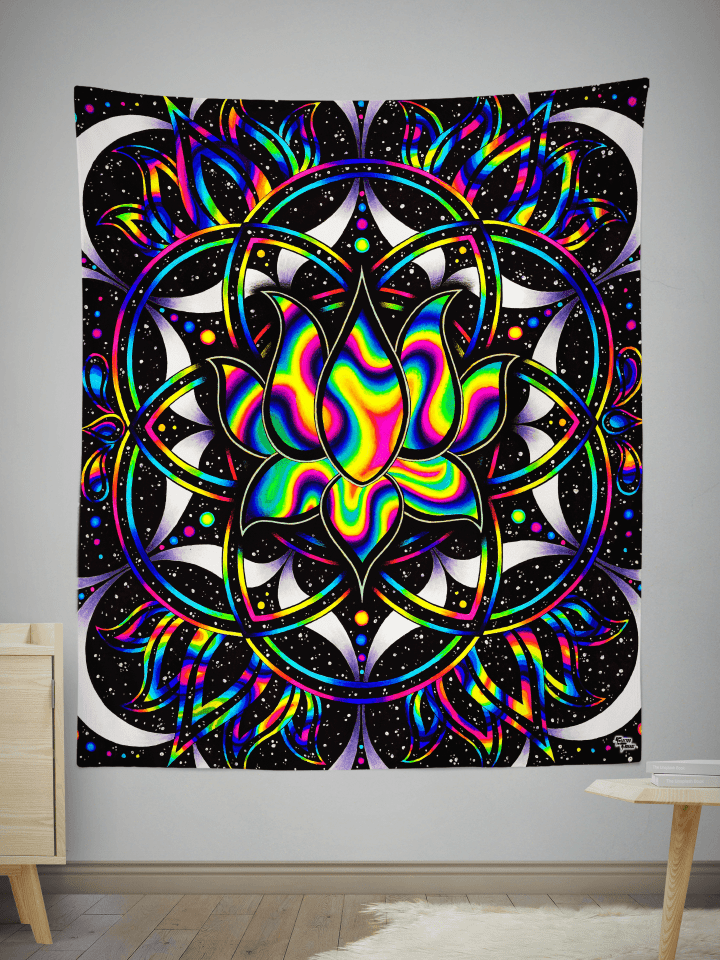 If your imagination can devise it, it probably exists on a tapestry somewhere.
Figurines!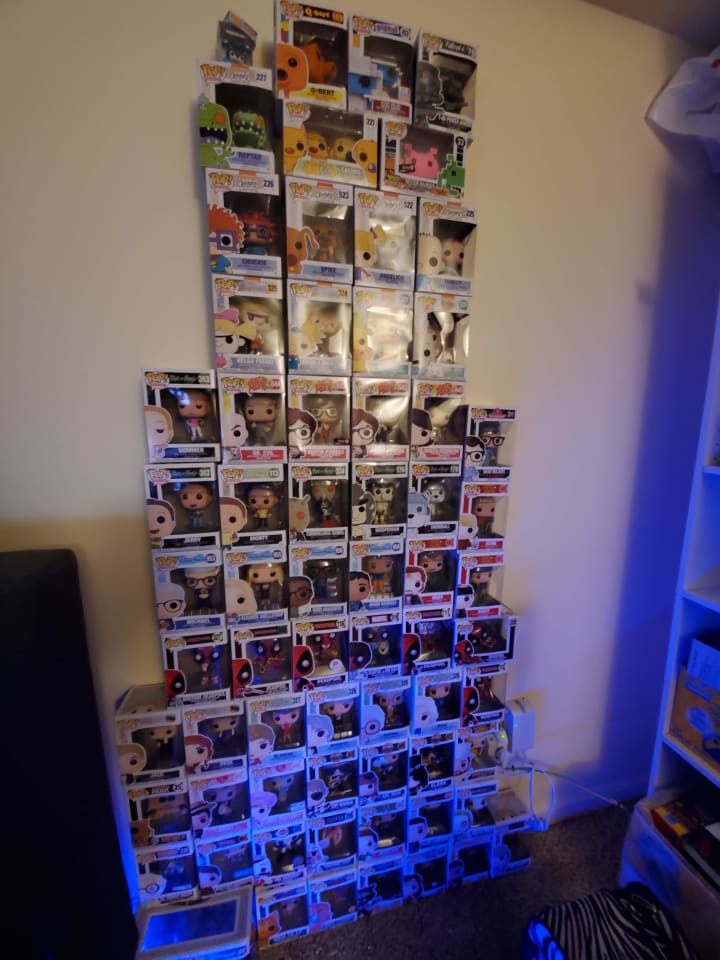 Along with wall art, Funko Pop! figurines are an amazing way to showcase your pop-culture interests. Most of these tend to cost $10 and there are collectibles for just about any icon you can think of. You can find Funko Pop! figures literally just about anywhere, but I do recommend Amazon for finding these as they tend to be the least expensive on there versus going to an actual store IRL.
Make sure you have a plush palace to sleep in
Consider this: when was the last time you purchased a new set of bedsheets? According to NBC News, you really should be replacing your bedroom items every two years. After contemplating this I realized I definitely needed some new bed threads! The idea came into my head: galaxy print. After searching through Wayfair, Amazon, and Wal-Mart, this was the comforter I ended up purchasing.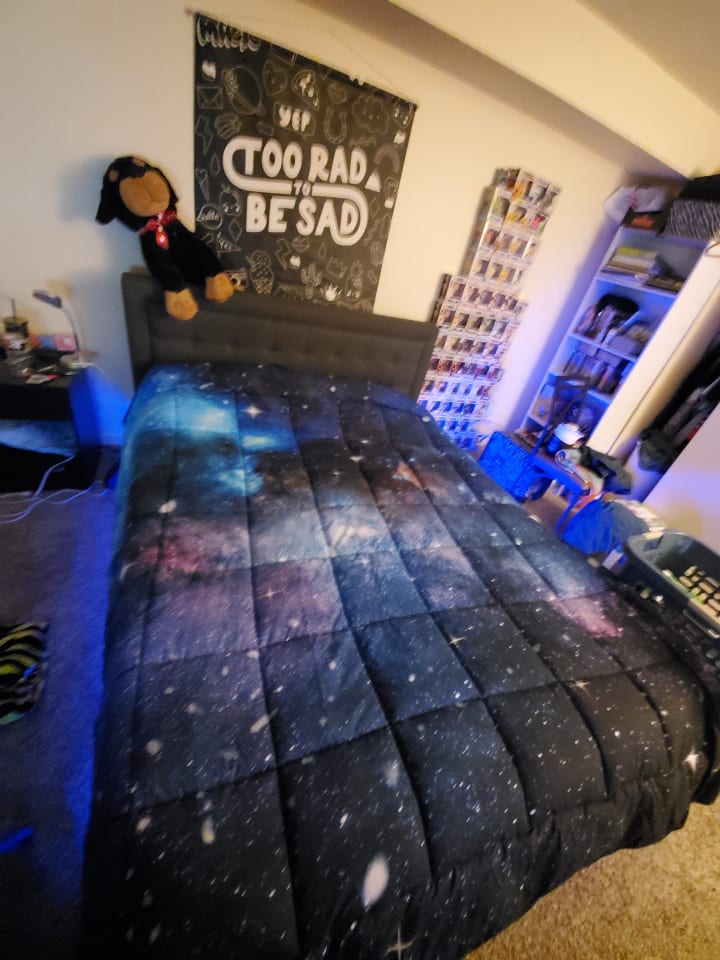 I also purposely set my light strips to the color blue so as to retain the space theme. Now the bed sheets I purchased on the other hand were called jersey sheets, a specific type of knit pattern that tends to feel more comfy. I wanted to make sure the color matched the comforter and so I purchased the sheets in black.
So? (A Conclusion)
When it comes to designing a space that is all about you, the only limitation (besides money of course) is your imagination. There are options out there that suit any personality type as well as budget. What are you waiting for? Buy some lights, put up some art, obtain some Funkos, and get going to creating that sweet, sweet aesthetic!
Sources
https://www.nbcnews.com/better/pop-culture/here-s-how-often-you-should-replace-everything-your-bedroom-ncna844686

Grace Linn
Just a girl in a pandemic world. 24, Fort Wayne area. I write about the interests that are near and dear to my heart. Some of those include The Golden Girls, erotic fiction, Nintendo, & the daily struggles of life. Please read to know more.
See all posts by Grace Linn →