How to Use a Planner Effectively, Obtain Results, and Not Get Worn Out
The Learnings of a Late-20s Millennial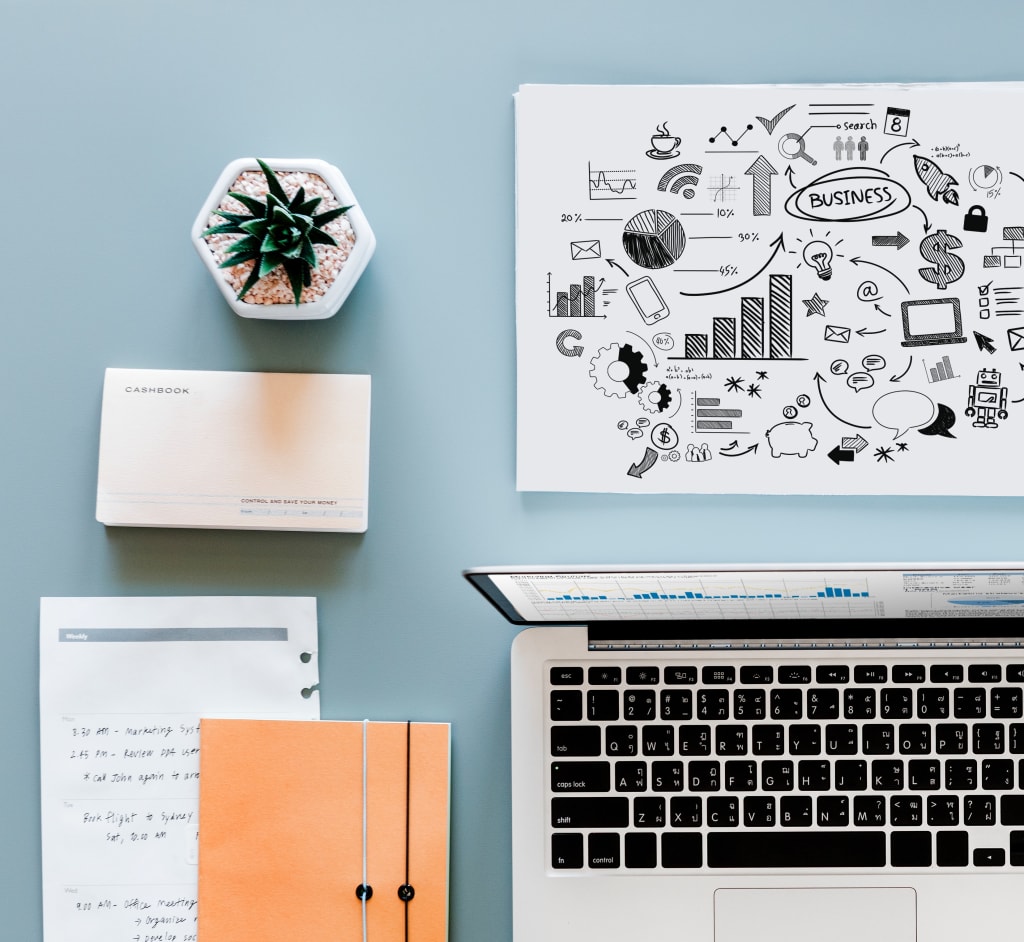 Photo by rawpixel on Unsplash
I just want to say and start out in this way: this is my way of doing things. Surely, all our brains work differently, and some ideas will work and some won't. That's just how learning about ourselves is.
One day, during my time at my university, it was finals week time and that meant studying till I dropped. My hardest class's exam was the next day, and it was a lot of material to figure out and study so I could at least pass. So, I did what everyone else was doing and pulled an all-nighter. I had done so before (surely not a lot, I did it maybe five to six times my whole college life), and I was usually okay with them as long as I didn't pull two in a row. But not that night. Anyways, I was up studying.
Okay, let me stop myself here. I was out of it, exhausted, had lack of good food probably, definitely lack of sleep, and lots of junk food flowing through my system, but I was staring at a textbook and class notes so I can say I was studying. I took breaks I'm sure, but taking a break during an all-nighter is just, well, the worst. Why am I stopping studying? I am sacrificing sleep for this, and I'm just eating gummy bears and making a playlist on Pandora. It's okay. I'll just eat something and drink more coffee.
I'm debating just jumping to what happened after I got to class. How about I deliver the punch line first, and then fill you in with the details? Okay. Great.
I had a full-blown panic attack during the exam. The dream, right?
Not.
I got to class, very out of it. Sat down, was fine. Got my exam, was fine. Opened up to the first page, was fine. I think I got to question two or three when I got a full blown anxiety attack that started happening. What is happening?Ahh! And of course, I'm panicking at how I'm panicking. I couldn't snap myself out of it, and I went to the front of the class and told the TA since the professor hadn't arrived yet. She told me she would be there soon, and just to try and calm down and encouraged me to sit in my seat. The professor finally arrived, and she immediately told her about me, whereupon she signaled for me to come up, and the professor walked me out into the hall.
After explaining about my anxiety attack, she said something to the effect of "Okay. Wait here for about 30 minutes or so, and I will have you take the exam in my office." I waited, still recovering, and eventually, she reappeared and we walked together. I sat in her office and finished my exam while she went back to the class. I was allowed to take as much time as I needed. I am so thankful she allowed me to do that for my exam that day, but one thing I know looking back six years later—if I had slept the night before, planned better, and prepared myself sooner, I wouldn't have experienced that and probably would have remembered more.
Fast forward some years, and I can still say that planning accordingly whilst allowing myself time to recharge from the day's activities is one of the hardest things for me to learn, and accept sometimes, about myself. I found out I can't just "do it". I need incentive whether it's 'You will no longer have to think about it anymore if you do it so just get it done,' or gummy bears after each paragraph (I prefer this one). I need adequate rest, food, and people-interaction. I need to actually see people, study with people, eat dinner with people. And along with that I also need proper placing of times to take care of things that need to get done. Even if I want to watch a movie, I know myself, and think 'I will not be able to take care of the dishes after it finishes, so I need to do them now.' There is a balancing of tasks and rest time that needs to take place during my day or evening. So what's the best way for me to balance?
You'll notice there are certain trends on social media or Pinterest where people take up artistic methods of planning out their days and weeks. I am not artistic so this simply doesn't work for me. I tried it out, and my lack of creativity got in the way. But I like the way it looks, so what can I do? Too small of a planner and I am not able to write out everything I want to, because I do like to emphasize certain things but minimally note others. I sometimes like to use multiple colors and other doodles as well.
I began to realize and consider what it was I wanted to journal. Was it just what I needed to do that day? What I needed to take care of that week? Or did I need a place to at least try and be creative on the page and allow myself a way to draw those cool arrows you find on things like doormats at Urban Outfitters? Were cross-sectioned lines with numbers in top left-hand corners going to help me be productive and get stuff done?
I realized I needed to start looking for a life planner. A planner that was formatted differently than any other. I looked at several, but either it wasn't the look I wanted, the font I liked, nor the price I could afford. I didn't want to spend $50 on something like a planner. I didn't need Italian leather. I just needed a sturdy, bigger-than-two-pieces-of-paper-put-together, mark-up-able journal-like planner. I liked the thought of being able to jot down things in detail. Was that too much to ask? I searched and searched when finally, I posted on my IG (handle: marissasblog!) and asked for help in this area. I got several responses back, and I checked out all of them. But one especially got my attention.
The Passion Planner: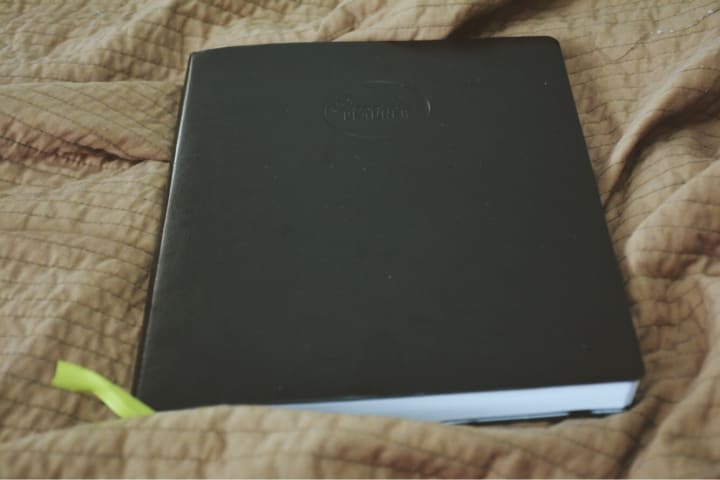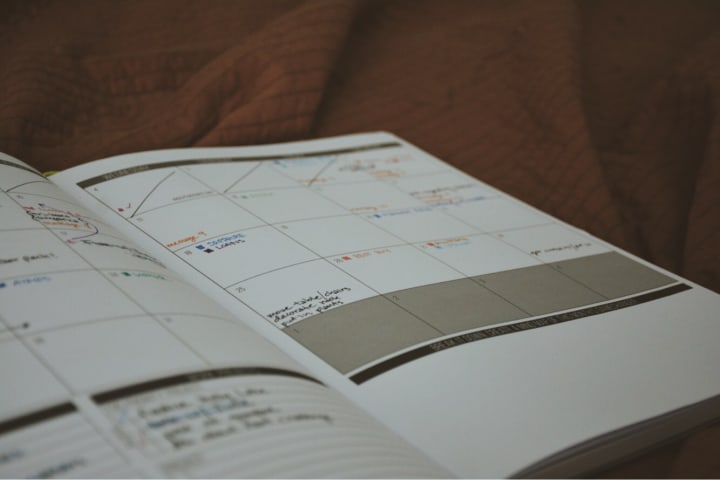 There are pages on how to figure out your goals, prioritize them, blank spaces to draw or sketch on, a full-sized calendar for the month, inspirational quotes, and for each week there are lines for each day noted in half-hour time slots. At the end of the month, there are questions such as are you happy with your goals you met, what things you are grateful for, and how you felt about the previous month. It's very interactive, helpful, and there are little boxes where you write down positive things that happened that week.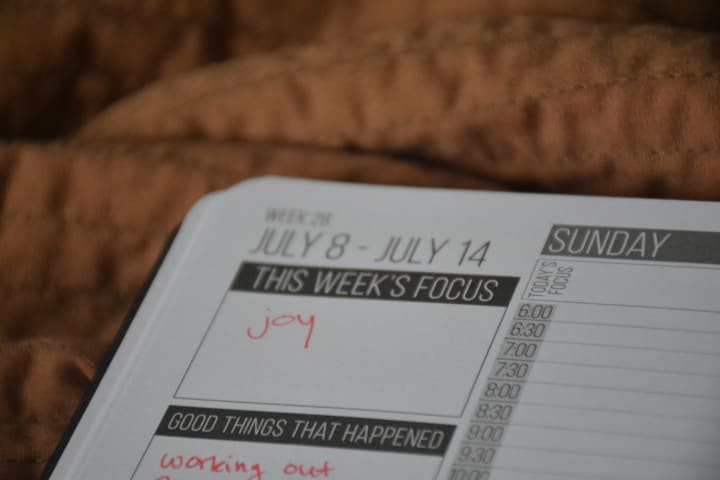 In short, a fantastic buy for just $1 + shipping and tax, and still a fantastic buy for the $35 it usually costs. The journal I purchased from them is 8.3" x 11.7". It also comes in 5.8" x 8.3". Go check it out! They are taking pre-orders for next year, and the journals are looking pretty snazzy.
No matter your planning goals, buying the right one is important and might be worth a little investing in, seeing as in my case it could determine whether I am motivated to even utilize it or not. I also like to use cool pens, colors I like, and a system of fonts (my favorite is all small caps). Once you find your style or what works for you, and what helps you plan better, that is what matters.
So how does one not get worn out? Plug that time in! If you know you need a break here and there, put it in the planner either by writing it down or knowing you will take a break afterward. Please keep this important note in mind: I have somewhat flexible hours with my job, especially in the summer, and we also don't have a family yet or relatives living with us. We just have a dog. And plants. So I want to remind you what I said in the very beginning—this is just how I recharge. They are just suggestions. Sometimes my way of recharging is doing a house chore, but having a Chef's Table episode on as I fold laundry, or cook a meal. Or even just making a cup of coffee and reading.
As for anybody, of course, life happens and planned breaks might need to be put aside or moved around. And for me, I'm learning to take care of myself and what my capacity for each day is. To help take care of my energy, especially if a week is busy, I try to not do too much over the weekend. For those who don't like to sit and do nothing, relaxing doesn't have to mean being sedentary, but rather doing things in a productive way on your own time.
I'm still learning, but having my planner helps me learn in a prioritizing way, reminding me how I plan is important, and that goals can be attainable, while not feeling worn out all at the same time.
how to
About the author
A late 20-something, who enjoys being a wife, writing, cooking, baking, making coffee, and documenting much of what I eat.
Email: [email protected]
Reader insights
Be the first to share your insights about this piece.
Add your insights