How To Save Time In The Kitchen
Family Dinner Ideas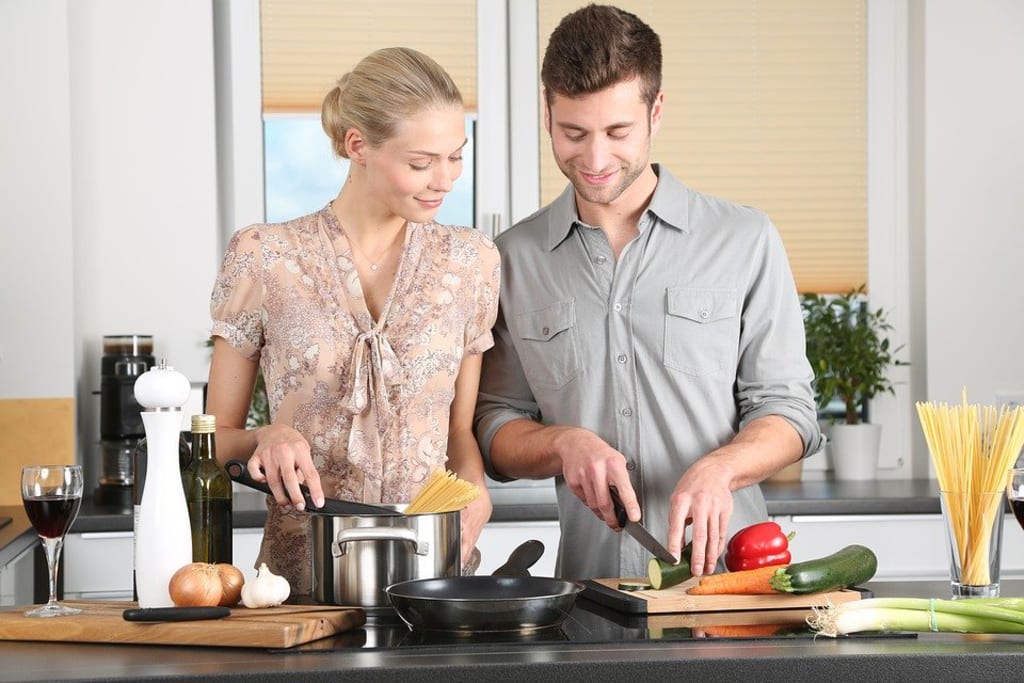 If you like cooking and prefer to feed your family with your hand-cooked food majority of the time, you may end up spending most of your day in the kitchen. Being in the kitchen and making delicious food for your friends and family can be therapeutic for you.
However, you may be wondering about cooking the Best Easy Family Dinner Ideas that do not consume your entire day. If you work, managing kitchen and work can be difficult because both of the spaces require time, hard work, knowledge, and effort. However, using the hacks mentioned below, you can save a lot of time in the kitchen just by managing time efficiently.
1. Organise Your Kitchen
The easiest technique to save time in the kitchen is by organising it. Not only will it save time but also simplify cooking for you.
a. The best way to do so is to keep the commonly used spices and ingredients handy and while storing the other ones carefully in the shelves.
b. You can also store the cutlery/cups/plates close to the sink so that keeping them in their space does not take a lot of time.
c. If you have children, keep their snacks and drinks at a height where they can reach on their own. This way you will not have to help them every time they want to get something to eat or drink.
d. Always use containers that are easy to open and transparent.
e. If you do not have transparent containers, label them. This way, whenever you need something that you do not use frequently, you would not have to scour your kitchen searching for it.
2. Buy Chopping Equipment
1. If you cook regularly, you will know how much time chopping takes on an everyday basis. You may even shy away from cooking meals that demand finely chopped ingredients. A chopper will save a lot of time and it will hardly take five minutes to finish all the chopping. You can even ask your children or spouse to use the chopper to cut down the vegetables.
2. You must know that dishes that cook for long like soups, stews, etc., you can coarsely chop the vegetables and let them break down as they cook and then puree them in the end. When your dish is ready to be served, you can then add finely chopped vegetables for visual appeal.
3. You can even buy pre-chopped vegetables and fruits to save time.
3. Plan Well
Planning here means looking at the ingredients available at your home and then deciding what you will be making.
1. For example, if you have some of the lunch left, you can use the ingredients in the dinner meal and that would save a lot of time while preparing for the meal.
2. You should also take out things from the freezer beforehand if the recipe asks for cooking those ingredients at room temperature.
3. Another way to plan is to make a temporary meal plan while keeping the things available in your kitchen in mind and shop according to it.
4. Clean Your Kitchen Every Time You Cook
1. You may be thinking that doing so would take more time than cleaning your kitchen at night. But you should know that if you keep unwashed utensils waiting to be cleaned, the leftover food would get stuck on it and you would require more time and effort to scrape them off.
2. Cleaning your kitchen after every meal would hardly take ten minutes but when you come back home from a hectic workday and have your dinner, seeing a pile of unclean dishes would be the last thing you would want to look at.
3. Moreover, cleaning is also important because when you are cooking you would require your pan, knives, spoons, etc. and halting your meal preparation to wash those dishes first would end up eating up your time.
5. Get Ready-Made Ingredients
You may want to feed your family only with freshly cooked meals every time due to their benefits but buying some frozen foods, sauces, bread, etc. would save you a lot of time.
1. You can buy burger buns, pizza bases, bread, pasta, noodles, etc. from the store instead of making them at home.
2. Ready-made sauces also are a must-have in your cupboard for the times when you want to make quick meals.
3. Another tip would be to cook tried and tested recipes when your guests are coming over. You can try new recipes later when you are completely free.
4. Frozen foods such as french fries and packed food like chips, pastries, juices, etc. would make your life easier. This way, you would not have to start from scratch whenever your kids demand for food or unexpected guests enter your home.
The Bottom Line
Apart from the above-mentioned hacks, involving your family in your kitchen also saves time. Delegate the work amongst your spouse and children and promise them a tasty reward for the help. You can also invest in devices like a chopper, mixer grinder, garlic press, hand mixer, electric juicer, etc. to save time.
food
About the author
Reader insights
Be the first to share your insights about this piece.
Add your insights