How to pay for your electricity bill in Mexico
Avoid additional fees and service interruptions
Living as an expat in Mexico can be an exciting adventure, but navigating the country's utility services can be a bit daunting. One of the most important utilities to manage is electricity, so we will be focusing on this for this article.
First thing you need to know is that in most cases your rent does not include the price of the services. It's important to talk to your property manager or landlord to confirm whether this is the case or not. This can help avoid confusion and ensure that you are not paying for services that are already covered for.
It's also worth noting that electricity in Mexico is charged differently than in some other countries. There is only one electricity company in the country, the Comisión Federal de Electricidad (CFE), which is goverment owned and sets the prices for electricity services. The cost of electricity service includes a fixed monthly rate and a cost for each kilowatt-hour (kWh) used. This means that the more electricity you use, the higher your monthly bill will be. The cost per kWh depends on several factors including your location, the month of the year, your total consumption in the last year and your consumption for the month.
Calculating the bill and ensuring you are being charge fairly is a bit of a mess, so for now let's assume the value is always correct and lets get back to how to pay your bill.
Step 1: Obtain your CFE bill
The first step in paying your CFE electricity bill is to obtain the bill itself. The bill will typically be sent to your address in Mexico. It's important to keep track of when your bill is due, as late payments can result in additional fees or service interruptions. How often will you receive this bill? It depends, some localities receive and pay the bill monthly and others bimonthly. Look at your bill if it mentions the word "bimestre" then you pay every 2 months.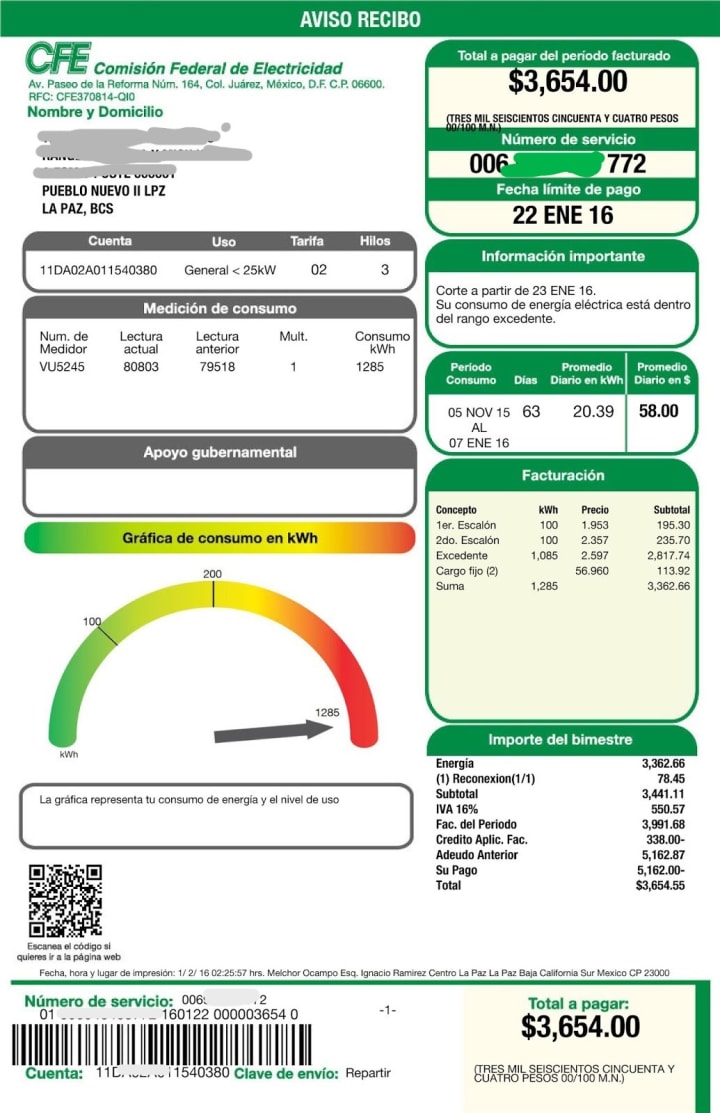 Step 2: Determine your payment options
Once you have your CFE bill, the next step is to determine your payment options. CFE offers several methods for paying your electricity bill, including online payments, and payments at authorized payment centers. You can choose the payment method that is most convenient for you based on your location and personal preferences.
Option 1: Pay your bill at an authorized payment center
You can pay your CFE bill at an authorized payment center. These are typically located at convenience stores, supermarkets, or other retail locations throughout Mexico. To pay your bill at a payment center, simply present your CFE bill and the payment amount in cash or by card. The payment center will process your payment and provide you with a receipt. For example you can visit an Oxxo, take your bill present it to the cashier and pay there.
Option 2: Pay your bill through the CFE app
If, like me, you don't yet feel confident speaking spanish or don't feel like going out of your house, you can always pay through the CFE app.
Just follow this steps:
Create an account. I am lazy so I just selected the Google icon and linked it to my account, that way I didn't fill out any forms or have to remember a mail and password.
Link your account to your bill. You'll see a message stating "Añadir servicio" click on it then on "Escanear" the app will ask permission to use your camera allow it to do so. Scan the bar code in the bottom of your bill. Don't worry you'll only do this once.
You'll now see a screen the total amount due to CFE (don't panic the amount is in mexican pesos) click on "Pagar".
The app will ask you to add a credit or debit card do so by pressing "Agregar tarjeta" in the screen you'll have to add an alias for the card, the name registered in the card, the card number, the month and year for the effective date of the card and the CVV. If you want the app to remember the data, toggle on the "Guardar datos de tarjeta" that way the next time you want to pay the bill you'll only have to click on the name of the card. Now press "Pagar".
You'll be redirected to the page where the amount due is shown. It will often times remain unchanged. Don't worry and don't try to pay again. Just close the app and check again the next day.
As you can see paying your CFE electricity bill in Mexico as an American or Canadian expat doesn't have to be a difficult process. By following these simple steps, you can ensure that your bill is paid on time and avoid any unnecessary fees or service interruptions.
Reader insights
Be the first to share your insights about this piece.
Add your insights