How to Make a Wall Collage
Quick, Easy, and Cheap! The college kid's guide to collage!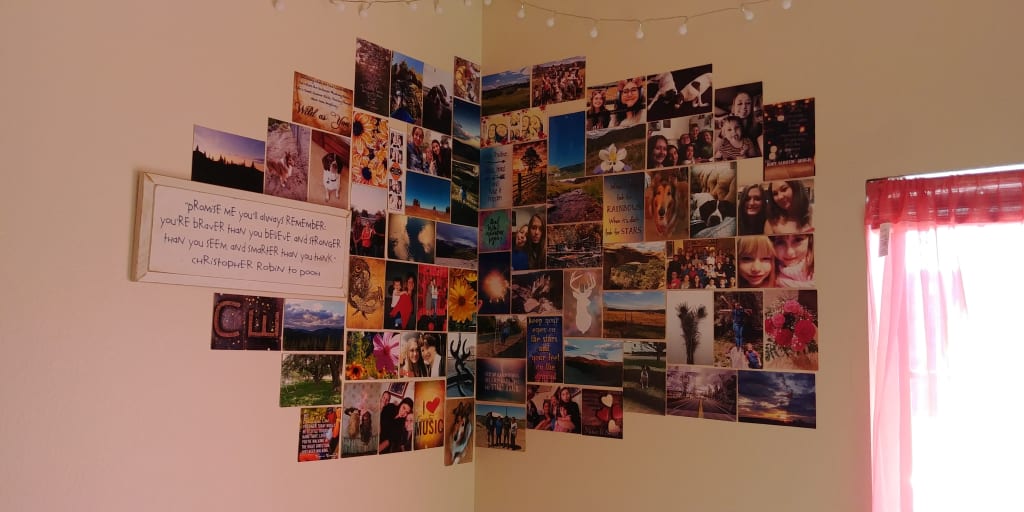 Are you trying to decorate that blank boring wall, and make it something interesting? Maybe you're moving into the dorms, or into your new apartment or house. I have a simple, easy, and cheap way to help you decorate that wall. And when you have to move out, or are ready for a change, it's easy to remove.
First, find pictures! Go on your phone/computer and make a folder of pictures to print. If you already have pictures printed, then great! I had a bunch I took with my family and friends I wanted, along with hundreds of pictures of my dogs! I also take a bunch of pictures of flowers and the mountains that I added to mine. You can also go online and download pictures you think are cool too. I have a mix of all these on my wall.
Next, go through your pictures. Filter through all the photos you gathered. Sometimes you'll add a few you decide you may not want or some of a certain subject that you have plenty of. You'll also need to make sure all the pictures are ready to print. I run most of mine through my favorite photoshop app and edit them to look better or add a bit of pop to them. You can also make them all black and white, or add a certain filter to all of them.
Print! If you're lucky enough to have a printer that can print pictures then good for you! If you're like the rest of us, go to Walmart or Walgreens to print your pictures. Before you go, make sure your pictures are on a flash drive. Most of these stores have a kiosk that you can plug in the flash drive, select the pictures and you'll either they print them right there or have an hour wait time. WARNING! You must go through all the pictures and make sure the right size is selected, and it hasn't cropped pictures you don't want to be cropped. At Walmart, the cheapest sizes are 4x6 and 4x4 prints, but you can get any size you want.
Buy mounting tabs. I use Loctite Fun-Tak mounting tabs. It is a kind of putty that you can use to stick the pictures on any surface, and it is removable.
Hang! If you want you can look up plenty of templets or designs to guide you. You can place the pictures in certain patterns or randomly place them. I found a spot on the wall I wanted my collage to be and started placing the photos in random orders. Many times doing this is like a big puzzle. You may have to rehang several pictures to get what you want and try several times to see what works. If all your pictures are the same size and orientation then that makes things easier but if you have random sizes this will take time to piece it all together.
Tips and Hints!
When using the mounting tabs tear small beads from the putty and place them on the corners. This is plenty and holds well.
Mix it up! Make all the pictures colorful and have different subjects and sizes! I have pictures of dogs, flowers, lyrics, sunsets, family, and just random things.
Or don't! Make everything the same theme. Maybe you want the collage to be black and white pictures of your dog or flowers that have a blue tint. It doesn't matter! Be creative!!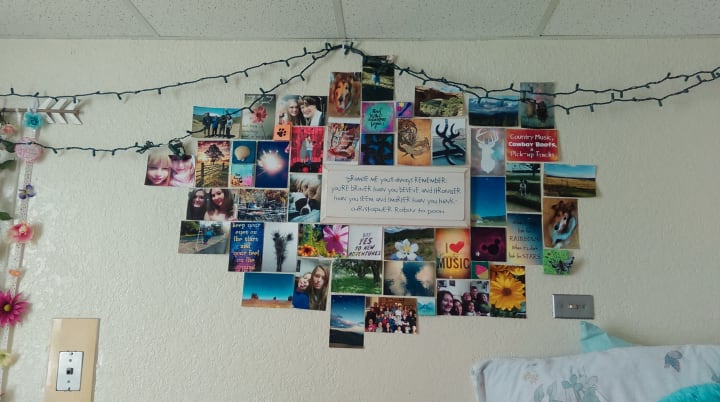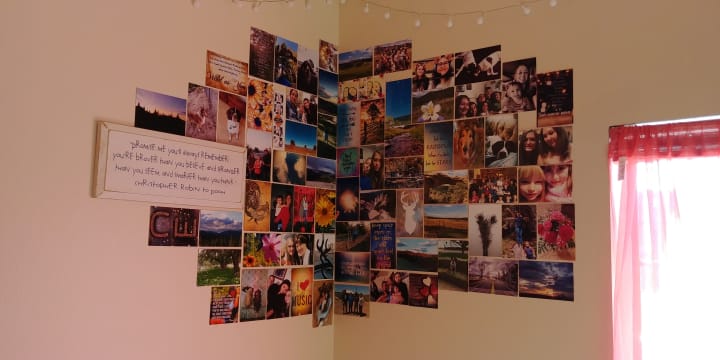 I hope this inspires you to make something cool! Thanks for reading!