Winter carries with it many joys including the holiday season, sweet candy, hot drinks, and magical times; It also occasionally brings a bad snowstorm. Snow is incredibly tricky to handle and navigate with a vehicle because of the ice on the road and other drivers around you. Unfortunately, a little over 20% of car crashes are caused by difficult driving conditions caused by the climate.
While most people would rather stay cozy in their homes throughout the winter, they eventually need to leave for work, buy groceries, meet friends/family, and more. When driving in the winter, and especially when snow or ice is around, it's crucial to know how to navigate the roads safely.
This article dives into the most important tips for driving safely in the snow.
Take the Most Direct Path
If your vehicle gets stuck in snow, it could be extremely difficult to get it to move. To help prevent this from happening, aim for taking the most direct path to your destination as possible. With the least amount of turns and stops in your route, you greatly minimize the chance to get stuck in the snow.
Avoid Back Roads
In states that regularly experience heavy snowfall every year, there must be a comprehensive plan of action to keep all the main roads as clear as possible from snow accumulation. Sadly, not all roads can be included in this as the costs are too high, so back roads and smaller roadways might be snowy and extremely difficult to navigate.
In a heavy snowstorm, you want to try your best not to take the road at all. But, if you have to, use the main designated roads and be extra alert of all your surroundings.
Use Your Lights
In heavy snow, it doesn't matter if it was 7 AM or 7 PM when it comes to using headlights, you are most probably going to need to drive with your lights on at all times. Not only does this help you better navigate the roads and see more clearly, it also serves as a sign to make your vehicle more visible to nearby drivers to minimize the chance of accidents.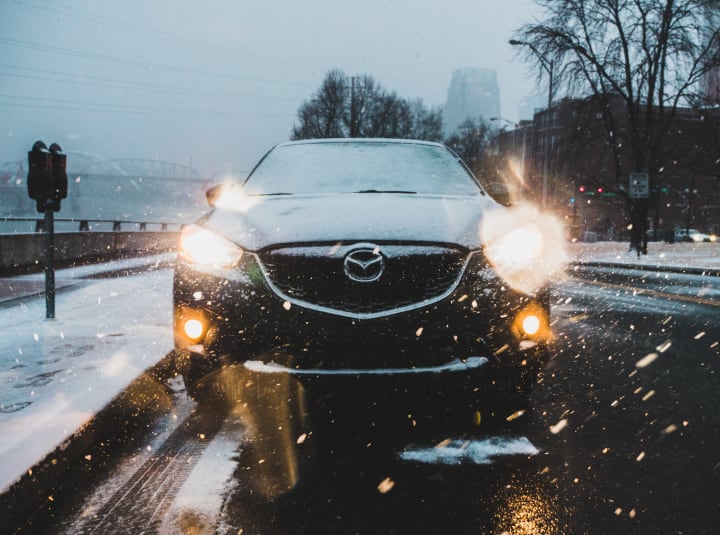 When possible, use your vehicle's high beams to make the icy surface more visible. But be careful not to blind incoming traffic with your high beam headlights.
Be Alert & Stay Focused on Your Surroundings
People have busy lives and sadly, not all drivers on the road are fully alert of their surroundings at all times. As a result, you should assume every driver around you might not employ the safest driving practices in rough weather and drive defensively. In simple terms, this is a practice where you focus on your surroundings to prevent an accident from happening. Whether by acting quickly, or taking your distance from a seemingly reckless driver, driving defensively helps you get out of danger in tough situations.
In the event that you were involved in an accident because of the bad weather conditions, you may be able to hold someone responsible and collect compensation. According to Dallas car accident attorney Aaron Herbert, even if you do not have another driver to blame, you will be able to file a claim against the city or state.
What to Do If Your Car Gets Stuck in the Snow
Having your car get stuck on the road alone is scary, imagine that happening in the middle of a snowstorm; it would be extremely difficult to get out of that situation. To minimize your risk of injury in a situation like this, follow these tips:
Call for help! Use your mobile phone to call for help if possible.
If you're stranded and don't know of any near-by destinations in a snowstorm, try not to leave your car to walk somewhere. You could get lost or lose sight of your car which will greatly minimize your chances of survival.
Make your car as visible as possible. If you have any bright colored clothes in the car you can hang them on the antenna to be more visible to any people driving by.
Conserve your fuel. In this situation, you don't know how long it will be before someone reaches you to help. Try and only use the engine for heat and to remove the chill from your vehicle.
About the Creator
Ahmed spends parts of his day writing about safety, cars, health, and fitness. The rest of his time is spent juggling between working out and cooking Michelin-star dishes!
Reader insights
Be the first to share your insights about this piece.
Add your insights