How to delete your old Facebook posts in bulk
Here in this article, we will go through some simple steps, using which you can delete Facebook posts in bulk.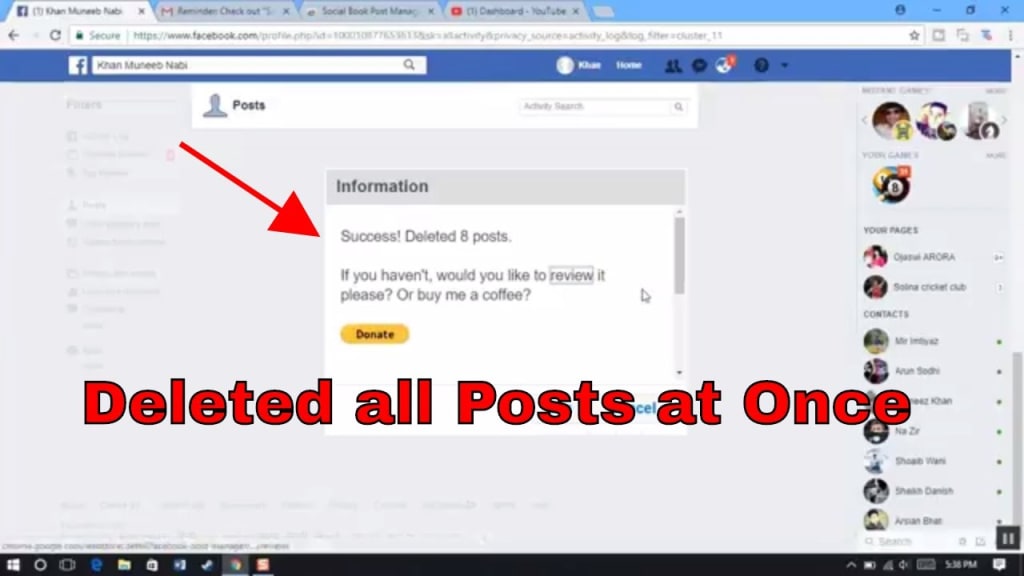 via: Google
Let's admit it, each time we open our Facebook account, we feel embarrassed about our old posts. Many of us have shared pictures of our worst looking state with some cheesy captions.
Or we have updated posts that make no sense at all. And looking at those posts after hitting maturity leaves us with an Ewww!
Imagine, your stalker going through all those pictures and posts, probably will stalk you never again! Imagine your colleagues from the office check your post back from school days where you were at your craziest peak. Well, you do not want that awkward face of your colleagues when they meet you next time.
So if your Facebook is filled with posts and pictures that will make you appear insane in your present life, it is better to kick them off.
Here in this article, we will go through some simple steps, using which you can delete Facebook posts in bulk.
At very first,
you need to open your Facebook account. You have to open it using a mobile application only.
Unfortunately, at present, the desktop site of Facebook does not provide the option of deleting posts into the bulk.
After you have your Facebook app opened on your phone,
you need to go to your profile.
From there, you have to tap on the three-dot menu.
After that, you have to go to the Activity log, followed by Manage activity.
There, you have to open the pop up which says, Your Posts.
On that page, you can see all your posts. You can select all the posts you want to delete. There is another option of Archive, which will hide your posts.
Tap on whatever button you want to, delete, or Archive accordingly.
Finally, you are successful in removing all those embarrassing posts from your feed.
You can still see those deleted or archived posts as labels in your posts section.
After the deletion of posts, Facebook keeps it in its recycle bin for 30 days, in case you want to retrieve something. After 30 days, it is permanently gone. So make sure that if you have deleted something by mistake, restore it before 30 days.
These simple steps will help you in deleting your posts in bulk, which will save you from all the embarrassing moments that happen due to them.
The steps are straightforward, you have to use its mobile application. We hope the facebook company will evolve its desktop site to deleting posts in bulk very soon.